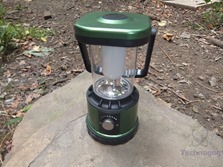 We're going outdoors for today's review and it's an LED lantern from a company called Galactic Lighting. This lantern is very small but it's very bright and has varying levels of brightness and it uses standard AA batteries for power. The lantern is sold as an outdoors product as well as something for indoors but I don't think I would take it outdoors at all as it's not weather resistant and it seems a bit fragile and not what I would call rugged. For the home and kids or maybe a blackout it would be fine, but I wouldn't take it camping or hiking. Read on to learn more…

Specifications and Features
LED Lantern – Bright & Portable By Galactic Lighting – MANUFACTURER GUARANTEED
-This is Ultra Bright – for its size this will be the brightest LED lantern you own
-Very Efficient, low power consumption requires only 3 x AA batteries which are readily available.
-Highly portable, 0.4 Lb and very small (6″ height, 3″ width and depth), you can carry more than one in a backpack
-Super simple to operate, you could switch this on in the dark, ideal for a blackout situation.
-Solid construction, made from tough and light durable materials and great for outdoors and travelling.
It's so easy to use the LED lantern can be used by children (great for bedtime reading or studying). The portability and small weight of the LED lantern means it's ideal for putting in your backpack, in fact it's so small and light you could carry 5! Using readily available standard AA batteries means you won't have to worry about trying to power it by waiting for recharging or looking for rare battery types. The tough plastic makes this very durable and is ideal for most environments and conditions.
Product Dimensions: 3 x 3 x 6 inches ; 6.4 ounces
Price: $16.99 (from Amazon at time of review)
The Review
Let's start with  quick video unboxing:
The box is very plain, just black with the Galactic Lighting logo on it and the name of the product. When you open the box you'll find the lantern wrapped in bubble wrap and a little card with basic instructions on it.
The lantern is very small at about 3 x 3 x 6 inches and weighing in at about 6.4 ounces. It's made of plastic and honestly it feels more like a toy than something I would take camping with me as I would be afraid to break it.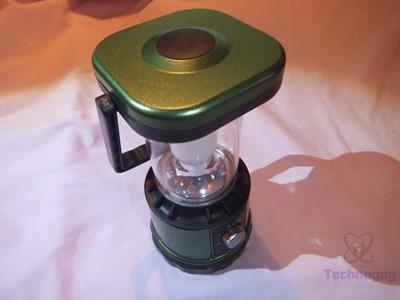 The middle section is clear with a white inside that is the actual light source, you can't see the LEDs unless you take it apart but the white section work as sort of a diffuser to spread the light around more evenly.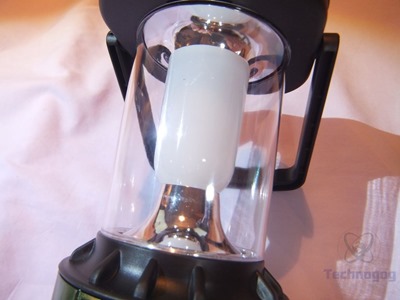 The power switch is actually a dial that rotates to the right and adjusts the brightness from low to bright as you turn the dial. The dial does have an audible click when you turn it on and off which I like.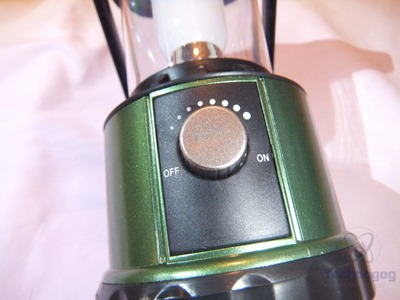 The entire bottom screws off to reveal the battery compartment, the lantern needs three AA batteries for power which are not included.
I will say that the lantern is nice and bright, it would be great for kids for reading at night or to use in case of a blackout.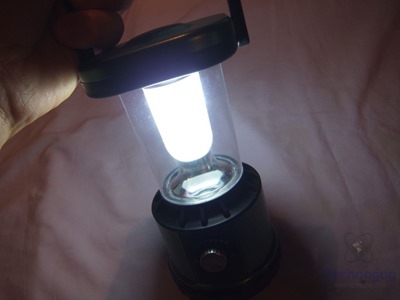 So it's small but it does provide a lot of light and it could be used for camping if you're careful. It troubles me that something being sold for outdoor use is not more rugged and water resistant or water proof, there isn't even a rubber seal for the battery compartment. It just really feels more like a toy than something I'd think of when I think of going camping and outdoors really. It just seems fragile like if I dropped it it would break the first time. Sure for indoors as an emergency light or a kids light it would be fine, but I wouldn't take it camping with me.
Conclusion
The Galactic Lighting Portable LED Lantern is not a bad product if it was sold as something for kids or maybe for household use.
I certainly would not want to take it camping or hiking with me as it's not weather proof and it just feels very fragile, like a toy really.
Pros:
+Small and portable
+Lightweight
+Very bright
Cons:
-Not something for outdoor use
| | |
| --- | --- |
| Grading | Scores Out of 10 |
| Overall | |
| Design / Aesthetic | |
| Value / Price | |
| Performance / Usage | |

Disclosure: This product was given to us for review by the company for review purposes only, and is not considered by us as payment for the review.
To learn more about our review policy please visit this page HERE.