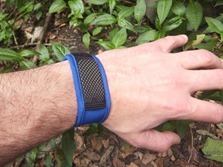 Today I've got a quick review in the home and garden category or could be home and health or actually both as it fits in both of those categories. I hate mosquitos, I think everyone does, and I have woods behind my house and when I take my dogs out back it seems I get attacked by mosquitos and it's rather annoying. I've always wanted to get something to stop them from biting me but it just wasn't a priority but I was offered something for review and I jumped on it. Today for review I have the MosquitoAway Mosquito Repellent Bracelet that comes with a bonus clip as well and it's an all natural product that keeps the bugs away. It's made from  citronella, geranium, peppermint and lavender so it does have a nice odor to it and it does work, when I wear it I don't get bit, and that's a good thing. The only bad thing about it is that the refills only last about 15 days and then you have to buy more. Read on to learn more…

Specifications and Features
MosquitoAway Mosquito Repellent Bracelet & Bonus Clip! 2x FREE Repellent Refills – [No Spray, DEET-FREE] Natural Pest Control Product for Bugs & Insects – Perfect for Children, Girls, Boys, Adults, Women, and Men – Blue/Black
-NO SPRAY TECHNOLOGY – No more having to spray yourself or your loved ones to protect against mosquito bites. All natural ingredients! Use the bracelet anytime you are outdoors. Fits all sizes as it is adjustable.
-FREE 2 REFILLS – Comes with 2 refills for 30 days (720 hours!). When your refill is finished, simply remove and replace when done, no need to throw away your bracelet to buy another one.
-FULLY ADJUSTABLE AND VERSATILE – The bracelet is fully adjustable and will fit everyone in your family. The clip can go on a belt, backpack, purse, stroller, or anywhere else you can manage to clip it!
-LIFETIME GUARANTEE – Not happy with your mosquito bracelet? Simply contact amazon and we will issue you a full refund once the item is returned back, no questions asked.
-Love the outdoors? You'll love MosquitoAway! Perfect for any outdoor sport such as football, baseball, basketball, volleyball, or golf (playing or watching).
Great for fishing, camping, hunting and even just picnics and BBQs. Perfect travel mosquito repellent since it's not a liquid and is lightweight.
Would you like an all-natural, DEET-free, comfortable, and super long-lasting mosquito repellent that you can wear without smelling like a chemical factory? If so, the unique MosquitoAway is for you!
Ingredients: citronella, geranium, peppermint and lavender.
Fast. Easy. No mess. No Spray No Deet. Just put a MosquitoAway band on and you're good to enjoy the outdoors! It will be the best, and certainly the most convenient, mosquito repellent you've ever used.
This bracelet and clip are fabric with the active pellets to be placed under the protective mesh.
Each pellet refill last for 15 days or 340 hours!
Eliminates risk of inhaling aerosols.
The bracelet is highly adjustable with velcro.
Allows the skin to breath while it is worn.
Safe for all family members, lightweight, adjustable, and even waterproof!
The clip is great for lending to a friend who is not prepared!
No greasy feeling. No strong smell. This is due to the non-aerosol spray technology!
Price: $14.97 (from Amazon at time of review)
The Review
Let's start with a video unpacking:
The packaging is half cardboard and half plastic and it's easy to open and you can see everything.
Once you open the package you'll find the bracelet, clip and two refills.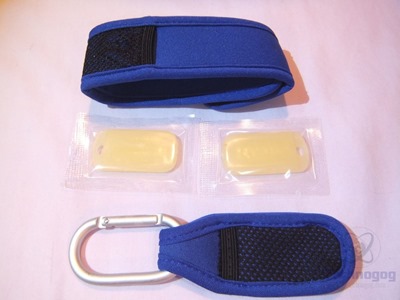 The bracelet is a soft nylon material with velcro on the back so you can wear it.
On the top is a small mesh or net pocket to put the refill into.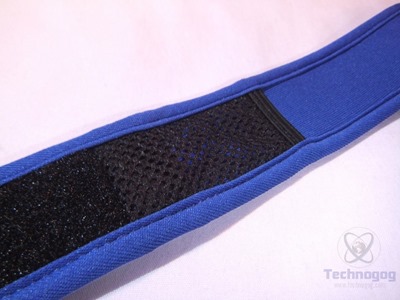 The included clip is the same material and it has a carabineer on it so you can attach it to you backpack or belt loop or wherever.
The repellent refill is small and white and has a waxy texture to it and a pleasant odor really.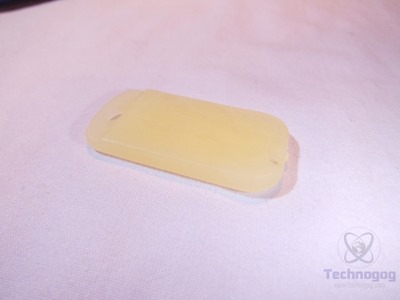 You just slide the refill into the pocket on the bracelet or the clip and you're done.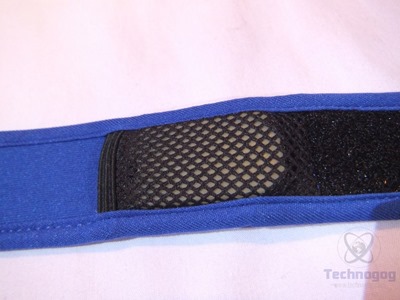 I wore it for testing and I'm happy to report that it really works.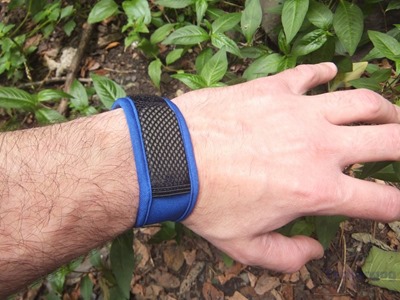 The bracelet is soft and very comfortable to wear, it's lightweight so you really don't even notice you're wearing it.
Refills will cost you about $6.50 for two or per month as each should last about 15 days. I guess that's no too bad as you'll only need it for a few months of the year. Still though the overall cost is a bit high as if you figure out that you need four months worth of protection it would cost you the $15 for the bracelet which includes a month and then you'll need three refill packs which will cost about $20, so it's about $35 in total. (I rounded up of course with those numbers, so it will be slightly less than that) If you have more people in your family you'll need one for each of them so the cost goes up even more.
Is $35 worth keeping the mosquitos away? I guess so, I know I'm happier with no more bites on me.
Conclusion
The MosquitoAway Mosquito Repellent is not a bad product all in all I think, it does work and I like not having mosquito bites on me.
The bracelet is very comfortable to wear for long periods, you won't even notice it after a while.
The odor is pleasant and you'll really don't even notice it when it's on your wrist unless you bring you hand near your face, but even then it's not bad so it's not a concern.
The only issue is the price, or the overall cost, you'll have to weigh the cost versus mosquitos bites as it were.
Here in Pennsylvania where I live mosquitos aren't that big of an issue, but I know elsewhere they can carry diseases and actually be dangerous so the MosquitoAway Mosquito Repellent would be well worth it in those areas for sure.
Pros:
+Comfortable
+Does work
+Smells nice
+Includes wrist band and clip
Cons:
-Have to buy refills at extra cost overall
| | |
| --- | --- |
| Grading | Scores Out of 10 |
| Overall | |
| Design / Aesthetic | |
| Value / Price | |
| Performance / Usage | |

Disclosure: This product was given to us for review by the company for review purposes only, and is not considered by us as payment for the review.
To learn more about our review policy please visit this page HERE.