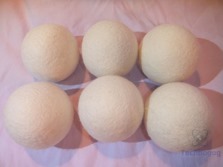 Saving money. I don't know about you but I look for ways to save money anyway I can and there are lots of products out there that claim to help you do that but they really don't as they're just gimmicks. Today for review I've got a product that I thought was just a gimmick, I've always wanted to try them but just didn't want to spend the money as I wasn't sure as I thought they were a gimmicky product. Well they aren't, I've tried them and they really do work. The dryer balls I have today for review are from a company called i-Gruv and they're 100% wool and yes they truly work to reduce drying times, I've tested them over and over again to be sure and they work. I'm truly impressed. Read on to learn more…
Specifications and Features
Dryer Balls i-Gruv, set of 6 XL Pack, HandMade with 100% Pure Eco Friendly Organic Wool, Natural Fabric Softener for Laundry and Clothes, Reusable Anti Static Felt, Hypoallergenic, Great for Babies, Baby Cloth, Diapers, Gifts Basket, and Sensitive Skin. No Dryer Sheets, #1 money saving mom
-100% Natural New Zealand Wool
Imported
-100% NEW ZEALAND WOOL GUARRANTIED. We aim to always deliver authentic product by the use of certified wool to center of the Ball, others use fillers, we don't, we only do High Quality Products
-HAND MADE & HIPOALLERGENIC. These balls are made by hand in eco-friendly environments, they are safe for use on delicate skin.
-SAVE YOU MONEY + PAID BY THEMSELVES + MORE! Dryer Machines are expensive energy consumption, these Wool Dryer balls can be used for 1,500+ Cycles, will reduce your drying cycle by 25%-40% They will absolutely pay back.
-SOFTENS LAUNDRY NATURALLY & REDUCE STATIC ON YOUR CLOTHES no use of chemicals from dryer liquids or dryer sheets, excellent for those with delicate skins or babies. Static reduced will help reduce the amount of pet hair that would remain in the clothes.
-EXCELLENT GIFT FOR A BABY MOM: An indispensable element for drying cloth diapers and baby clothes crib sheets, give time and money back to the busy household.
EVERYWHERE WOMEN & MEN ARE RAVING ABOUT THIS AMAZING IMPROVED DESIGN 100% NEW ZELAND DRYER BALLS! 6XL Dyer Balls Package, enhance your experience now! Concerned of the use of chemicals & synthetics?- High Energy Bills?- Tired of waiting for the dryer to finish before you head out?- Clothes keep a lot static attracting dust and pet's hair?- Felts inside your winter jackets accumulate in only one area after the drying cycle? Buyers around the world trust the Innovative designed products by i-Gruv. 100% Satisfaction or money back warrantied, 1,500+ cycles
Price: $17.34 (from Amazon at time of review)
The Review
Let's start with a video unpacking:
The i-Guv balls come sealed in a plastic bag for shipping and then the balls are inside of a cloth drawstring style storage bag to you can reuse to keep the balls clean when not in use.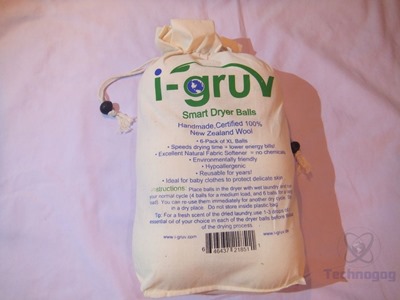 You get six dryer balls in the pack and according to the instructions you'll use four for a medium load of laundry and all six for a large load.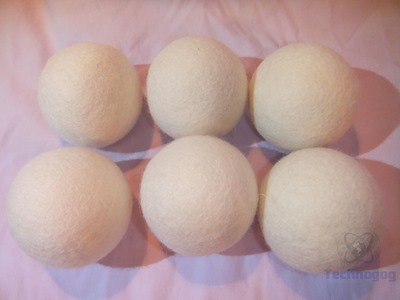 The dryer balls are soft and have virtually no scent to them, whatever cleaned wool smells like is what they smell like, there is really no scent. You can add your own scent though with an essential oil if you wanted to.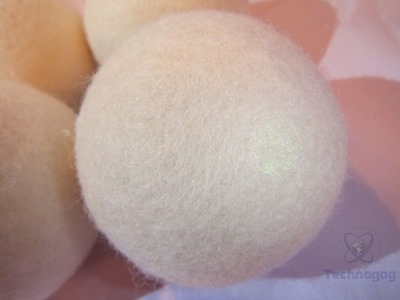 The balls are slightly larger than a tennis ball.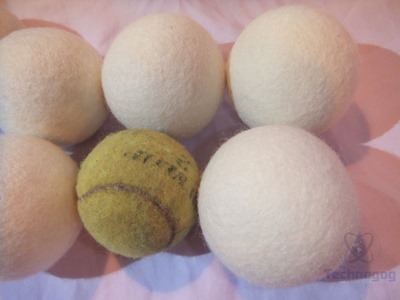 For testing I did laundry, guess that's kind of obvious though right as how else would I test them?!
Anyway, we have five of use in the house, me, my wife and our three kids and we do laundry almost everyday, at least five days out of seven so that's a lot of usage on the washer and dryer and of course the utilities.
My wife wasn't so sure about these and said I should use them on my clothes first, which I happily did and I'm impressed. I'll be honest I thought this might be a gimmick product but it really works as far as reducing drying time.
I did my laundry and yes it does reduce the drying time, especially of heavy things like my jeans.
As far as softening the fabrics, yes it works I think. I'm a guy so I really don't care much is my clothes are all soft and cuddly, but they weren't as stiff as they normally are when I wash them, so yes it does work.
As far as reducing static, that was hit and miss. For example I did three loads of clothes and one of them had a bath towel in and when I went to unload the dryer I got zapped when I grabbed the towel, but the other two loads were fine. I guess it just depends what's in the loads as far as how much static will be reduced. Reducing static isn't that big of a concern for me so it's not a big deal that it didn't work every time.
I did my laundry but I also really put them to the test to check the drying time. I have a very large blanket on my couch because of my dogs and I wash it every week and it takes at least 1 1/2 drying cycles to fully dry and I have to pull it out and turn it inside out as it were to get it to dry all the way. I used all six balls with the blanket and I only had to run through one drying cycle and I didn't have to turn the blanket around at all. That right there is worth it, it save me time and money.
As a side note here, I should warn you that if you have dogs don't let them see these dryer balls. The package had just got here I was was inspecting them and my dog saw them and got all excited and actually tried to grab one out of my hand. So, keep them away from your dogs if you want to keep them.
Conclusion
They really work, that's all I need to say about these. No seriously, they really do work and I'm very happy with them.
We have five of us in the house and we do laundry all the time so anything that can save time and money is a welcome addition to our household and the i-Gruv dryer balls do both.
The i-Gruv Dryer Balls are highly recommended, give them a try and you'll love them too!
Pros:
+They really work
+Handy storgae bag

+Natural




+Reusable
Cons:
-None
| | |
| --- | --- |
| Grading | Scores Out of 10 |
| Overall | |
| Design / Aesthetic | |
| Value / Price | |
| Performance / Usage | |

Disclosure: This product was given to us for review by the company for review purposes only, and is not considered by us as payment for the review.
To learn more about our review policy please visit this page HERE.