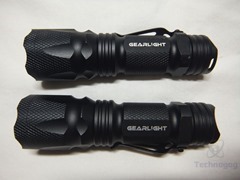 If you've visited here before you'll know I like flashlights, I've got all shapes and sizes because I like them and I find them very useful. Today for review I've got a pair of LED flashlights from a company called GearLight, the lights are the M3 LED tactical flashlight and they use a single AA battery for power. The M3 flashlights are very well made and can be adjusted from spot to flood and they have three lighting modes, low, high and strobe. Read on to learn more….

Specifications and Features
GearLight M3 LED Tactical Flashlight [2 PACK] with Belt Clip, Batteries Included – Zoomable, 3 Modes, Water Resistant, Small Mini Light – Best Everyday Carry Flashlights
This compact and tactical flashlight is the perfect gift for a father, husband, scout, or college student for any occasion.
The tough, all-aluminum body makes it suitable for extreme conditions both indoors and outdoors. You can count on it during storms, floods, power outages, earthquakes, and natural disasters.
Tough and small, this torch can be conveniently packed in your backpack, bag, glove compartment, camping gear, or survival kit. The flash function is a life saver when doing roadside repairs or signaling for help. Highly reliable and easy to use, it is the perfect flashlight to have while hunting, hiking, fishing, or camping.
FLASHLIGHT FEATURES:
-Long Lasting Ultra-Bright LED
-Smart Power Management Allows for Hours of Continuous Use
-3 Light Modes (High, Low, Flash/Strobe)
-Instant Adjustable Zoom
-Weather, Water, and Shock Resistant
-Small and Lightweight
-All-Metal Construction
-Powered by a Single AA Battery
Price: $13.99 (from Amazon at time of review)
The Review

Let's start with a video unboxing and move on:
The flashlights ship in an attractive looking box with plenty of information on it about them. Inside you'll find the lights individually wrapped in bubble wrap for protection and then the user guide.
The M3 flashlights use a single AA battery for power which is included for you. Since they use a single AA battery the lights are small in size, just about 4 inches long but the light beam is adjustable from spot to flood by sliding the front section in and out. When slid all the way out the light is just 4.25 inches long. The lights have a clip on them so you can attach to your pants or bag or wherever and there's also holes in the tail end so you can attach a lanyard. The lights are nicely made out of aluminum and feel sturdy. They're supposedly weather, water and shock resistant.
The flashlights come with batteries installed for you but there's a small piece of plastic that inside that prevents the connection from being made that you'll have to remove. The switch is located in the tail cap, it's a red rubber button. The tail twists off to replace the battery and you'll find a rubber gasket inside to keep the weather out.
The front also has a rubber gasket around the lens to keep the weather out.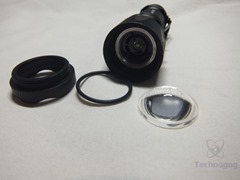 The light has three modes for low, high and strobe or flash and you change modes just by clicking the tail button. The light is adjustable from spot to flood and it's fairy bright for it's size, it's not super bright but bright enough for most uses for sure.
Conclusion

The GearLight M3 LED flashlights are very well made in my opinion, they have rubber gaskets at both ends which means they will keep the weather out for sure and the all aluminum bodies make them rugged and durable. The lights can be adjusted from spot to flood easily and you can change modes just by clicking the tail button.
I can't find anything wrong with these lights, for their size they're bright, more than bright enough for any uses. I've been using these lights for many things over the past couple weeks and the battery still works so battery life is decent.
The M3 flashlights are small and portable, you can have one in your bag or purse or glove compartment or tool box or even a desk drawer.

Pros:
+Well made
+Rugged and durable
+Water and weather proof
Cons:
-None
| | |
| --- | --- |
| Grading | Scores Out of 10 |
| Overall | |
| Design / Aesthetic | |
| Value / Price | |
| Performance / Usage | |
Disclosure: This product was given to me for review by the company for review purposes only for free or at a discounted price.

To learn more about our review policy please visit this page HERE.