About two years ago I reviewed a product from Genius, the Kids Designer graphics tablet, and I'm happy to report that my youngest son still uses it to this day and very much enjoy it. The Kids Designer tablet is a great product for children but Genius has decided to improve upon it with the Kids Designer II Graphics Tablet which is what I have for review today. This second generation tablet looks very much different from the first and this one includes a wireless pen instead of wired like the first one has. If you have young children then this is certainly a product your should look into, my kids love it and I think your will too.

As usual we start off with pictures of the box and it's bright and colorful with pictures and information on it.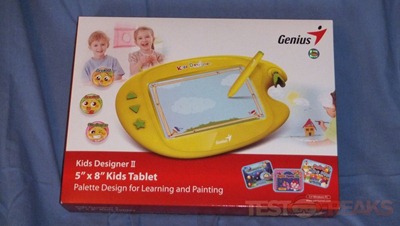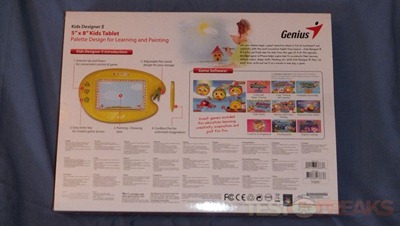 When you open the box you'll find the actual box with the tablet and everything in it, the tablet is wrapped in thin styrofoam for protection.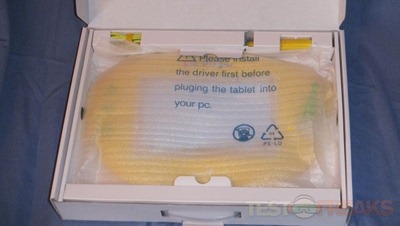 Here's the tablet along with the pen and packet.
In the plastic bag you'll find a driver and software CD, along with instructions and a single AA battery for the pen.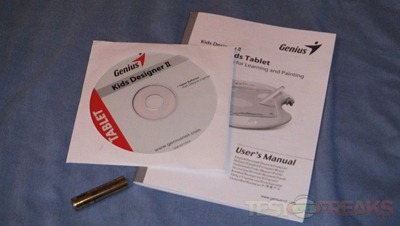 Here's the pen itself, it's bright yellow and fat.
To put the batter yin you'll need a screwdriver to remove the end cap and then slide the cover off.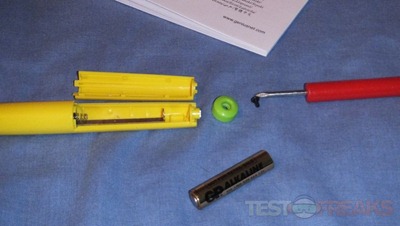 The center of the tablet is far from plain like other tablets that's for sure. The usable area is 5" by 8" as it says above and it looks like the sky with a border around it and paintbrushes in the corners.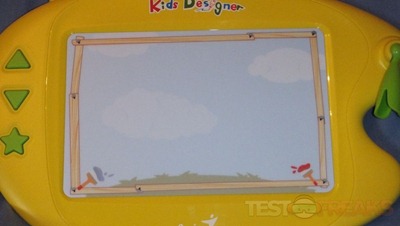 The tablet is plastic as you might expect but it feels durable and well made. It's rounded and fun shaped, sort of like paint palette that an artist might hold while painting at his easel.
On the left side of the tablet are three buttons, the two triangles are for volume up and down and the star is select.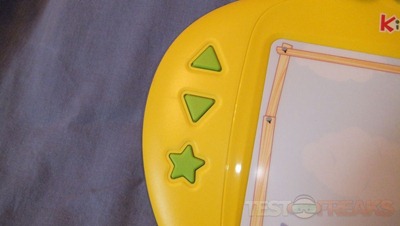 On the right side is the pen holder that moves up and down and all around.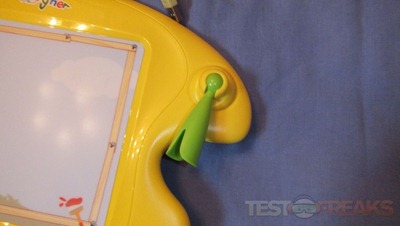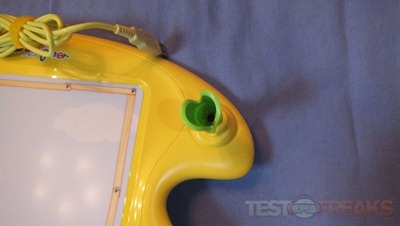 Then here's the pen in the tablet holder, it holds it in place well.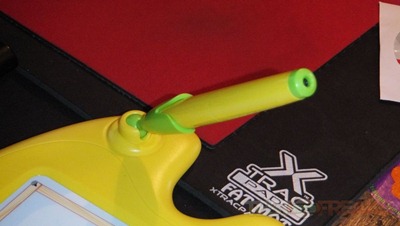 The back of the tablet is just plain really with an ID sticker on it and four feet.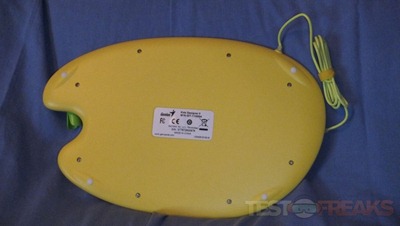 Here's what the original Kids Designer looks like and I'd say the Kids Designer II is a nice upgrade and improvement over the original design. The wireless pen is great but I'm not sure about it and little kids being able to not lose it. The first tablet has a wired pen which is limited but it's lessens the chances of losing it. The Kids Designer II is much kid styled than the original and I think it's more attractive. There's nothing wrong with the original, my son still likes it and still uses it, at least he did until he got the Kids Designer II.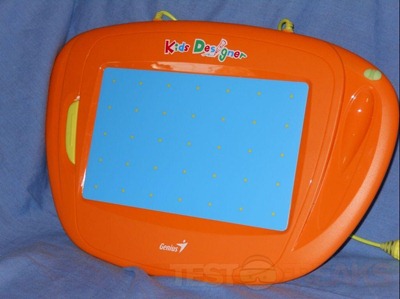 Specifications: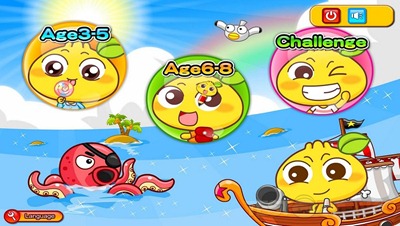 Selecting Ages 3-5 you'll be taken to a menu with seven games on it.
The games are:
Shadow Dancing:
1-2-3:
Colorful Painter:
Math Hero:
Learning Board:
Paint the Eggs:
and Magic Box:
Selecting the Ages 6-8 menu offers only three games.
Pet Party:
English Flipping Fun, which is actually three games inside:
and lastly Fish Catching Fun where you catch fish.
The last menu choice is Challenge with five games to play here, these are harder games for more advanced kids. My 7yr old very much enjoys these games.
Travel the World:
Listen and Learn English where you have to listen and then find the object.
The last three are really just games, and not what I would call educational but I guess they do teach skills like matching and coordination.
Animal Keeper:
Lightning Bumper which is a rather fun racing game:
The last game is Candy 3 Plus 1 which is similar to other popular games out there today where you mix and match colors.
So that's all the apps and games included and I'd say it's a  nice selection overall, more than enough to keep any child busy for hours and hours.
Conclusion:
The Genius Kids Designer II graphics tablet is a great product for kids, I know my youngest loves it, and even the older one like to play with it as well. The tablet is well made, and it's large and child hand friendly. The bright colors and fun shape make it very attractive for kids surely. The included suite of apps is fairly large and they're all great for hours of learning fun.
Bottom line here is that my youngest loves it, and he's very happy with it. He spends a lot of time using it with the included games and using it for other things as well. If you have young children that like computers and games then I can recommend this to you. It's safe, it's fun, it's educational, and it works great.
Most games out there are violent, especially many of the web based ones, and just not really for kids but they have easy access to them even though I have parental controls set on their computer. It's nice to see a product like this that's actually useful and kids think it's fun and they're actually learning while enjoying themselves. The Kids Designer II is just plain cute fun and learning that any child will sure love and I think parents will like it too.
Pros:
+Well made
+Fun and educational
+Bright and colorful
+Lots of great apps included
+Easy to use for young children
Cons:
-None really
| | |
| --- | --- |
| Grades: |   |
| Overall | |
| Design | |
| Performance | |
To learn more about our review policy please visit this page HERE.