I've reviewed Bluetooth streaming devices before, both that are used for headsets and specifically for  using with speakers, they can all be used for both of course though. Anyway, the one common thing between them is that you can only use one device at a time with them but Grace Digital has come up with something different called the 3Play which allows you to connect three different devices at the same time via Bluetooth and switch between them automatically. For example you and two friends could connect your phones and you could all take turns playing music through your speakers thus allowing you to share your music. The 3Play works and it's a unique device that I found useful and fun. Read on to learn more…
Unboxing
The 3Play comes in a white box with a window that shows the 3Play and of course the back has information about it.
Inside of the box you'll find a microUSB cable, 3.5mm double ended cable, the 3Play itself, a USB AC adapter and the user guide.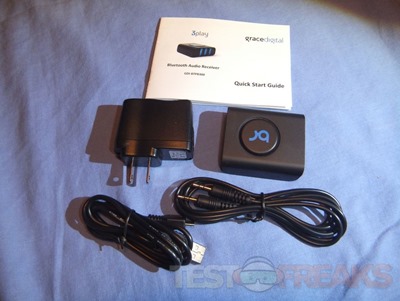 The 3Play is small with dimensions of about 2" x 2.25" x .75" and of course it's made of plastic. On the top you'll see the Grace Digital logo on top of the multifunction button.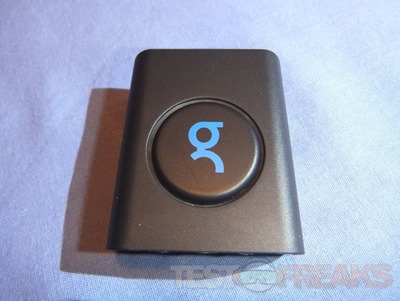 On the front edge you'll see three clear strips which are LEDs that light up blue.
On the back edge you'll find a microUSB port along with the 3.5mm jack.
On the bottom you'll find the ID label and rubber non-strips or feet.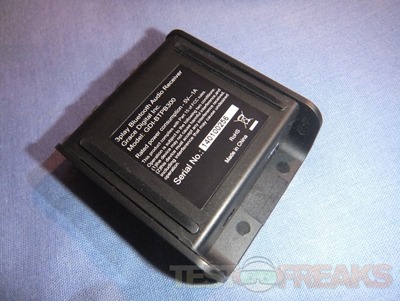 Specifications and Features
MODEL: GDI-BTPB300
3Play music Bluetooth 4.0 receiver with aptX connects up to 3 Bluetooth devices simultaneously with memory to pair up to 7 devices. 3Play brings a Bluetooth party to your A/V home stereo receiver, car stereo, or powered speakers.
Features:
3play will connect up to 3 smartphones or tablets simultaneously. No need to unpair the 1st device to pair the next device. Just hit play on any of the 3 paired devices and the previous device pauses and the next one takes over the party
Plug the 3play Bluetooth adapter into any stereo, powered speakers, or car audio system's RCA, mini or digital toslink input
Power the 3play via included USB or power supply. Integrated battery last 8 plus hours of portable playtime
Supports aptX, AAC and SBC High bit rate
Works with any Bluetooth enabled device. For older android devices the free Grace 3play Bluetooth app may be required to optimize the 3play party functionality. After the initial installation the app works completely in the background when streaming to your 3play.
Size & Weight:
Width: 0.8 in Depth: 2.3 in Height: 0.2 in
Weight: 2 oz
Price: $99.99 (from Grace Digital)
Price: $39.99 (from Amazon at time of review)
Testing and Usage
Around the button are LEDs that are blue and red.  These are used for pairing and for charging and light up depending on the mode or use.
The directions say to use the 3Play with the power adapter but I didn't, I charged it and just used it with no issues. Not sure why it says to use the power adapter, but I guess it's just in case it runs out of power, but it's good to know that you don't have to use it.
The directions also say to go to the Google Play store and download the Grace Digital app but in the manual it's the wrong name, but I found it and got it. All it does is run a service on your Android phone to allow the 3Play to work correctly, but you don't have to have it installed.
I used the 3Play primarily with my HTC One and PS Vita and when you pair with the 3Play the LEDs light up for each one.  Pairing is simple, just double click the button and the LEDs start blinking red and blue to let you know it's in pairing mode an d then you just pair it with your device. Worked perfectly, no problems at all.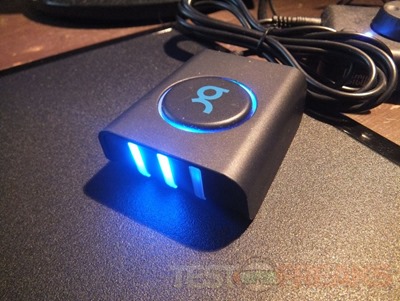 My computer audio system is 5.1 surround and it has a 3.5mm audio input jack so I used it with the 3Play and I played music through my HTC One and it sounded great, no issues there.
I often use headphones with my Vita as I've found the volume level just isn't loud enough. I've got three kids who make a lot of noise as kids do so I use headphones so I can hear better. I connected the Vita to the 3Play and used it with my 5.1 sound system and wow is all I can say, playing games on the Vita with 5.1 sound is amazing. I should note the sound system does have a surround button for the input audio, so so it simulates surround of course, but that doesn't make it bad at all, quite the contrary, it's just amazing and adds a whole new depth to gameplay on the Vita.
The sound was clear and crisp with no dropouts.
One small issue is that the 3Play is supposedly to automatically switch between devices when you press play and it didn't quite work with the Vita and the HTC One which I believe is the fault of the Vita as it's essentially always playing sound so it's not the fault of the 3Play I just had to disconnect the Vita to play the music from the HTC One.
Another small issue is that you can use a Toslink connection with it but it's not included, you need a 3.5mm adapter to Toslink. I was sad when I learned this as I wanted to hook it up to my home theater via Toslink, but the 3.5mm to my computer audio system worked fine.  It does say on the box that the Toslink adapter is not included but not on the Grace Digital website.
For some odd reason the prices vary wildly on this 3Play adapter from $40 to up to over $100, it's odd as Amazon has many of these for sale with all different prices. On the Grace Digital site it's selling for $99.99, but the cheapest on Amazon is $39.99 which is well worth it at that price.
Conclusion
The Grace Digital 3Play is a surprisingly versatile little gadget that does what it's supposed to do.
The 3Play let's you connect three devices at the same time and switch between them very easily with just the press of a button.
It's Bluetooth and I found connecting and pairing no problem at all to my HTC One or my PS Vita. Range was fine as well, then again how far are you going to be going from the speakers?
The price on the Grace Digital is very much worth it if you can get it at the lowest price of about $40, the prices are all over the place though for this product.
There's not much else to say about it really, i t works and it works well, it does exactly what it's supposed to do.
Pros:
+Works with or without power adapter
+Pair three devices simultaneously
+Simple to use
+Small and portable
+Works great
Cons:
-Must buy toslink adapter
| | |
| --- | --- |
| Grades: | 9 out of 10 |
| Overall | |
| Design / Aesthetic | |
| Value / Price | |
| Performance / Usage | |
To learn more about our review policy please visit this page HERE.