Up on the review block today I've got the Grace Digital Micro System that works over your wi-fi network to bring you music right over the internet or your network. The system consists of a head or base unit and two bookshelf style speakers that combine to make decent little audio system. It's also an alarm clock with a built-in snooze button so the system can even wake you up. The Micro System allows you instant access to hundreds of channels of music so you'll always find something for you or your family and friends to listen to.
So we'll start out with the box, it's got a lot of information on it with nice pictures.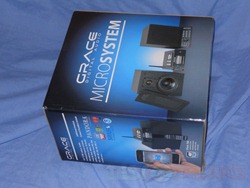 Inside you'll find everything packaged nicely, the speakers are protected and the accessories are in two other boxes.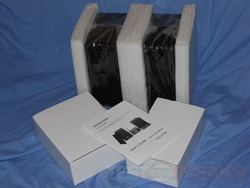 Inside of the smaller box you'll find the remote with batteries, audio cables, speaker wires, wi-fi antenna and the main power supply.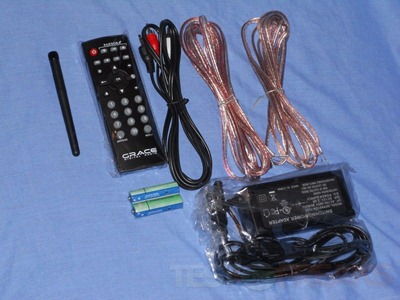 The remote is fairly simple and the layout looks familiar, but it can be not exactly user friendly to use, or at least a little bit confusing.
The main unit looks nice actually, it's got a brushed metal housing. It's actually heavy for how small it is, and it feels well made.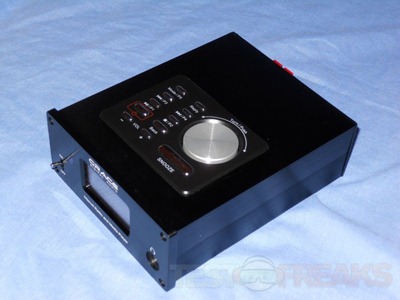 On the bottom you'll find four rather large feet that are high to allow airflow beneath the unit.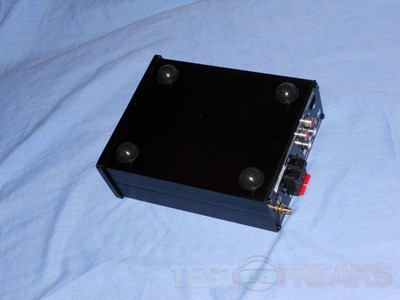 On the front you'll see the LCD display, IR sensor, power switch and a headphone jack.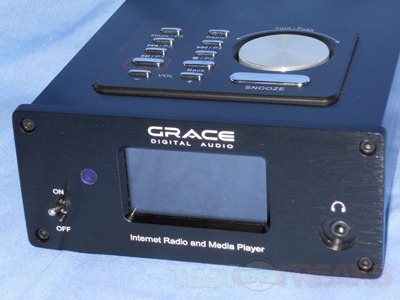 On the top of the unit is a full set of controls with a navigation dial and even a snooze button for the alarm clock. You'll find volume and the common player controls there for you at your fingertips.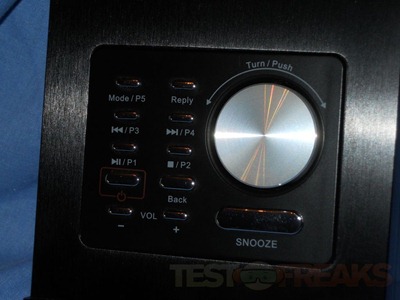 On the back you'll find connections for USB, auxiliary line in, line out, speakers, wi-fi antenna and power.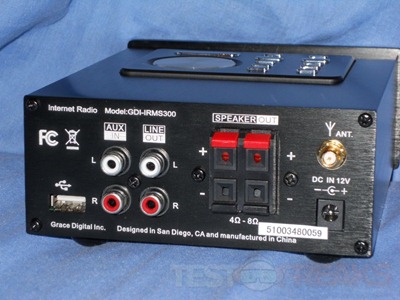 The speakers are small, but nicely made, they appear to be wooden with removable covers. On the back of them you'll see the bass tube port and speaker connections.
Specifications:
Micro System
Wi-Fi Stereo Shelf System
Model#: GDI-IRMS300
Play Internet radio, music services, itunes and windows media player in any room of your house
The new Grace Wi-Fi Stereo Micro System (GDI-IRMS300) is perfect for your apartment, den or office. Listen to and create Pandora stations, NPR, Rhapsody, your local and international AM, FM and HD radio stations, iheatradio and even Sirius XM Internet radio without a satellite dish Direct from your broadband DSL or cable internet connection. No computer needed.
Fully Integrated Pandora Capabilities
Thumbs up, thumbs down, skip, and even pause Pandora stations just like you're on your computer but without a computer! You can even bookmark songs to listen or purchase later from Amazon or iTunes. Even use the Free Grace iPhone app to control your radio.
Remote Control iPhone App
The Grace Remote control application allows you to go where no IR remote has gone before. Control 1 or more of your Grace Internet radios from you iPhone or iPod Touch. You can change the volume, turn it on or off, find stations and set presets or even set any one of your five alarms.
High Contrast LCD Display
The adjustable 4-line, backlit LCD display makes it easy to view your selections, adjust your audio settings or display song title and artist details.
Equalization Settings
With the Pandora Wi-Fi internet radio you can adjust the dual band equalization settings to make your music sound like it's being played live in front of you.
Why you should buy this radio:
* You are looking for a wonderful sounding bookshelf stereo system to listen to crystal clear AM / FM / HD radio stations with no static and no fading! And the best of what the internet has to offer such as: Pandora, Sirius XM internet radio, NPR, iheartradio, BBC, 50,000 plus local and international radio stations. Weatherbug and Rhapsody coming in Q1 2011.
General:
* Listen to over 50,000 Radio Stations, Podcast, and on demand content
* Supports online music services: Pandora, NPR, iheartradio, Live365 and PREMIMUM SIRIUS XM internet radio ( weatherbug and Rhapsody coming Q1 2011)
* Compatible with the Grace iPhone/ Touch remote control application
* 4 line high contrast backlit display
* Displays Station, Song Title & Artist info
* Full function remote w/ 10 presets and Pandora up / down and skip buttons
* 5 presets on radio + 99 favorites saves on radio my stuff folder
Audio:
* 16 watt RMS ( 50 peak) Grace Digital class D amplifier
* 2 Large soundstage speakers with 3.5″ mains and 1″ tweeters
* 3.5mm Stereo headphone jack
* RCA output jacks
* RCA input jacks to play and connect your iphone, ipod, CD player or any audio source
* Built in dual band equalizer
* Supported audio formats: AIFF, AIFC, WAVE, CAF, NeXT, ADTS, MP3, AAC, Ogg Vorbis, FLAC, WMA
* Supported playlist formats: ASX, M3U, PLS
* Supported streaming protocols: HTTP, HTTPS, RTSP, WSMP, Shoutcast
* Built in media player streams your audio files from your PC or MAC
Networking:
* True 802.11n wireless connectivity for best in class range
* Works with all 802.11b/g/n routers
* Supports WPA Personal, WPA2-AES, and 64/128-bit WEP encryption
* USB connection for playing local media or use an optional USB to Ethernet jack to connect to your home RJ45 network
Clock & Alarm:
* 12 or 24 hour clock with date
* Clock is auto synched via the internet
* 5 individual alarms
* Wake to buzzer or music
* Set each alarm for daily, weekly, weekend, week days or one time
* Sleep Timer: 30 seconds to 23 hours
* 30 backlight brightness settings
Other:
* 16 Language Menu: English, French, German, Italian, Spanish, Portuguese, Dutch, Danish, Finnish, Swedish, Norwegian, and Japanese
Price: $249.99

Physical setup is easy, just hook up the speakers and the power supply and that's about it. Here it is up and running: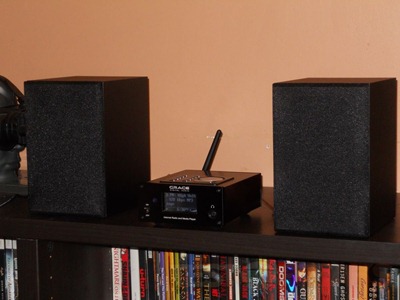 The display is bright and clear but it has that old retro look to it. That's not a bad thing though, just an observation.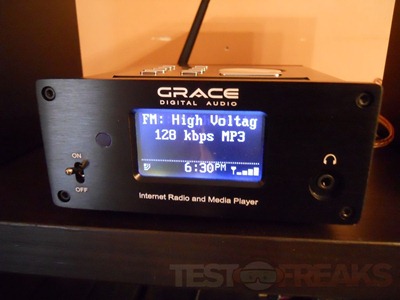 To get started you'll need to enter you're wi-fi password or key if you're running a secured network, which I hope you are. The remote can be used for this but you'd think the controls are right and left and up and down, but they aren't, they're only up and down. The wi-fi letters and any other letters are selected by moving right and left which is up and down on the remote, a bit confusing to me.
When you're ready to go with the wi-fi connection you'll be greeted with the main menu with choices for Internet Radio, Personal Radio, Podcasts, My Stuff, Media Player, Auxiliary Input, Alarm Clock and Settings.
Under Settings you'll find Network Config, Version, Upgrade Firmware, Language, Factory Reset, Register, Clock Setup, Backlight, Contrast, Equalization, WiFi Strength, and Speaker. I forgot to mention it, but when I first got connected to the internet it did ask about doing the firmware update, I said yes and it updated for me automatically.
The Equalizer offers choices for Bass Treble or Presets like Rock, Rap, Country, Flat etc.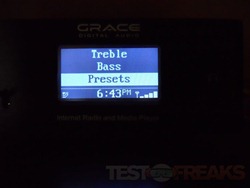 Internet Radio is the heart of the Grace Digital Micro System of course, so under that option you've got plenty of choices.
If you go to Media Player on the main menu you'll find the options for UPnP Servers, USB Media, Playback Mode and Queue.  You can stream right from your PC, when I check My Network the Micro System was listed there for me to connect to. You can always just plug in a USB drive to the back of the device to play music directly from it. It would be nice if there was a USB port on the front of the player. This is a bookshelf system after all and if you have the unit neatly tucked away you'll need to move it or pull it out to access the USB port, kind of a hassle if you ask me.
For testing I listened to music by browsing the hundreds of channels that are available. The display shows the bitrate, song and channel you're listening to.
I also tossed some music on a USB drive and listened to some music there and it worked fine. Speaking of USB, there's only one port and that could be used for ethernet over USB if you wanted, but then you have no USB port for your music. You'd have to unplug it each time.
The sound is decent, but not as good as I expected. The speakers seem well made and like they would produce good sound but I personally don't think they do. Don't get me wrong though, they're not horrible, but they're not the greatest I've ever heard either. For a little system like this I guess they work though.
The remote works well but it's not exactly intuitive, or laid out the way I would like it to be. I think right should be right and not up as it is here. If you own an iPhone or iPod, I don't, but you can use that to control the Micro System though the app that's available.
The price is a bit steep I think at $250 considering the speakers aren't that great. I think for that price they should sound a lot better.
Conclusion:
The Grace Digital Micro System is not bad, I actually like it a lot honestly. I'm not one for internet radio, I've never bothered with it much myself, but as a little audio system it works well. You've got hundreds of internet radio station right at your fingertips, everything from jazz, to country to NPR and rock and other language stations.
The system is very easy to setup and get running , it couldn't be easier really I had it going in about 5 minutes total with the firmware update.
You can turn it off with the main switch or the remote. Turing it off with the remote puts it in standby mode that shows the time and date and it can then be used as an alarm clock with a snooze button there for you as well.
Overall it's a decent little system.
Pros:
+Simple to setup
+Tons of stations to listen to
+Looks good
+Nicely made components
Cons:
-A bit on the expensive side
-Sound not the greatest
-Remote can be a bit confusing without looking at it
| | |
| --- | --- |
| Grades: | |
| Overall | |
| Design | |
| Performance | |
To learn more about our review policy please visit this page HERE.