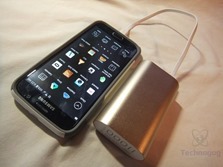 Up for review today I've got yet another portable battery for your mobile devices from a company called Hame, it's the H16 battery and it's 11000mAh in capacity which means it can most likely charge your phone several times before it needs charged again. The large capacity also means you'll be able to charge several devices from it before needing to recharge if you want. The H16 is small and portable so you can easily take it with you and it works fine. Read on to learn more..
Specifications and Features
Once you get the package open you'll find the battery, USB cable and user guide.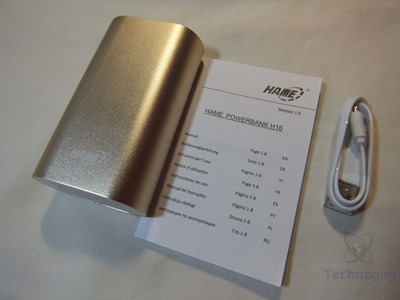 The USB cord is small and flat at only about 11.5 inches from tip to tip. It's small as opposed to most any other USB cable, but it should be large enough for most anyone's usage. The cord has a regular USB connection on one end and a microUSB connection on the other. Notice again that it's a microUSB cable which is fine for me but they advertise that it can work with the iPhone which I guess technically it can as long as you have the cable handy. The issue I have is that they do not include a cable to use with Apple devices but yet it's advertised as working with them and yes, again, it will work but they don't give you a cable for those Apple devices. To me it's just a bit deceptive in the description and advertising and I don't like that at all. There's just one mention that a microUSB cable is included in all the specs and features listed on Amazon and that can be easily overlooked.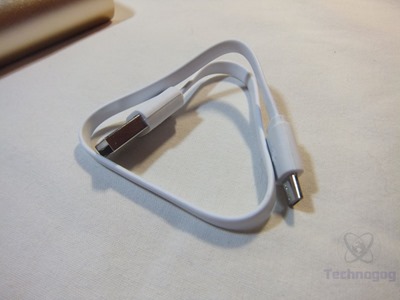 The battery itself is sort of small, small and fat I guess you would describe it as, it's about 3.5 long and 2.15 inches across and about 1.15 inches thick. One end just has ID information and the other has the two USB ports, standard and micro about with a power button and four LEDs to indicate charge capacity in 25% increments. you will of course need to charge the battery most likely when it arrives to you and depending on the battery capacity remaining it might take a while to charge as it's 1100mAh in size so it's a bit big and you have to charge it over USB on your computer as they do not include an AC power adapter.
So for testing I charged things like my tablet, Samsung Galaxy S6 phone and my smartwatch and everything charged just fine, no issues there at all.
Conclusion
The Hame H16 11000mAh portable battery seems well made and it's small so you can take it with you if need be and it's very easy to use.
The large capacity of this battery means you can charge your phone several times or several devices once, exactly how much use you'll get out of it depends on the batteries in your devices obviously.
Charging actually seemed faster that using the USB cable that I have connected to my computer, which is of course a very good thing.

Pros:
+Portable
+Large capacity
+Includes microUSB cable
Cons:
-Does not include cable for iPhone/iDevices even though advertised for it
| | |
| --- | --- |
| Grading | Scores Out of 10 |
| Overall | |
| Design / Aesthetic | |
| Value / Price | |
| Performance / Usage | |
To learn more about our review policy please visit this page HERE.