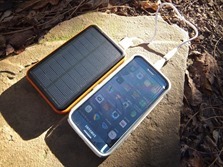 Batteries, batteries and more batteries, yes I've owned and reviewed a lot of them and not all are created equal and some are more useful that others. Solar or being green is big so it makes sense we go that way with our mobile devices as well, many companies have come out with portable solar USB chargers like the one I have today from a company called Maozua which has a 15000mAh battery inside which is a fairly large capacity. You can charge this right from your computer over USB or from the sun and both work well. Read on to learn more…
Specifications and Features
Once you get everything unpacked you'll find the battery, user guide, and USB cable with four tips for Apple, miniUSB, microUSB and Nokia. The tips only work with the included cable as far as I know.
The unit itself is about 5.25 inches tall and 3.25 inches wide and about .75 inches thick. The front is basically all solar panel to charge the battery inside. On the bottom or back you'll find some information but at the top are also labels for the port on the top side. There's also a bluish purple section that has four LEDs in it to indicate battery capacity in 25% increments, on the end of the colored strip is a button to activate the LEDs and the built-in flashlight. You do not have to push the button to actually start charging when you plug something in, it will start automatically.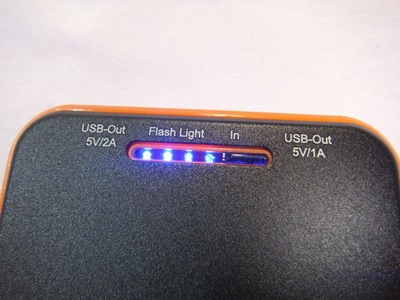 On the top end you'll find the two standard USB ports for charging your stuff and then the microUSB port for charging the battery itself. There's also a single LED on the end that can be used as a flashlight.
I charged the battery over regular USB on my computer and also outside in the sun and it charged just fine. Charging from the sun is slower obviously like any solar charger is and you can charge your device while charging the battery from the sun but it's just slower to charge both at the same time. In an emergency though it will work which is good to know.
Conclusion
The Maozua portable solar charger is a decent product for what it is as a something to charge your phone or tablet or other mobile gadget
I like to test products thoroughly before reviewing them and some need more testing than others and I've had this particular product for more than two months and it's been through many charge/discharge cycles and it still works fine. I charged it both from the computer and from solar by placing it in my window and every time it charged fine and back to full capacity.
All in all from my usage and testing it's not a bad product but what bothers me is the fact that it's not weather proof or water resistant at all and it's something that you're supposed to use outside. I guess I would only take it camping, hiking etc when it's good weather expected? The specs say it's waterproof but there are three open USB ports, no covers on them or anything, that's not waterproof to me at all. They could have included rubber covers for the ports to keep the weather/water out. There are gaps between the casing and the USB ports that water can easily get in though to the inside of the case where the electronics and battery are.

Pros:
+Large capacity
+Dual USB ports
+Built-in flashlight
Cons:
-Not weatherproof or water resistant at all
| | |
| --- | --- |
| Grading | Scores Out of 10 |
| Overall | |
| Design / Aesthetic | |
| Value / Price | |
| Performance / Usage | |
To learn more about our review policy please visit this page HERE.