I've taken a look at a few printers here on technogog, but most of them have been more on the expensive side so I thought I'd take a look at one that's very inexpensive. Geeks.com has sent me over the HP DeskJet F4480 for review and it costs about $53, not including shipping. The F4480 is considered an all-in-one printer as it can scan, copy and print for you, but there's no fax so to me it's not really an all-in-one. The F4480 though is small  and it looks decent, it comes with a flat-bed scanner as one might expect since it can copy, it's also quiet and fairly fast at printing. So is an inexpensive printer worth it or should you just save your money and get one that costs more?
The HP F4480 comes in a rather small box, but the printer inside is small as well.
Upon opening the box you're greeted with a lot of paperwork, the driver/software disc and a bonus greeting card maker disc along with the ink cartridges.
The printer is wrapped for protection and with it you'll find the brick style power supply.
The HP F4480 is black and small in size. On the back you'll find the paper jam door…
The front opens up to reveal the paper tray which is actually  both the input and the output for the paper.
Another door behind the paper tray gives you access to the ink cartridges cradles.
On the top left you'll find the control panel with a few buttons and options for changing settings for copying and scanning.
The top opens to reveal the flat bed scanner.
Specifications:
HP DeskJet F4480 USB 2.0 All-in-One Color Inkjet Printer Scanner Copier Photo Printer
Save energy and print effortlessly with this eco-friendly HP DeskJet F4480 All-in-One Printer!
With an easy-to-use control panel and simple, straightforward setup, you'll be printing, scanning, copying and photo printing in no time. Plus, with HP SmartWeb Printing, you can save paper by printing more usable web pages. This color inkjet printer can print black ink documents at up to 28 ppm and color ink documents at up to 22 ppm.
Scan old documents and photos using the flatbed scanning function. Make quality color copies with up to 1200 optimized dpi from 600 dpi input and resize a copy from 25 to 200%. The DeskJet F4480 also does borderless printing for up to 8.5 x 11-inch photos.
Made from 20% recycled plastic and Energy Star qualified, the CB745A is good for your home office and the environment.
General Features:
-USB 2.0 interface
-All-in-One Printer, Scanner, Copier, Photo Printer
-Standard memory: 16 MB
-Standard printer languages: HP PCL 3 GUI
-Easy-to-use control panel
-Made from 20% recycled plastic
-PC and Mac compatible
-Prints from the Web easily and efficiently
-Includes black and tricolor ink cartridges
-Includes Photo Greeting Card software
Printing Specifications:
-Print speed, black (draft, letter): up to 28 ppm
-Print speed, color (draft, letter): up to 22 ppm
-Print speed, black (normal quality mode): up to 9.5 ppm
-Print speed, color (normal quality mode): up to 6.5 ppm
-Print speed, color (draft, 4 x 6 photo & 10 x 15 photo): as fast as 26 seconds
-Monthly duty cycle: up to 3000 pages
-Print technology: HP Thermal Inkjet
-Print resolution, black: up to 600 dpi
-Print resolution, color: up to 4800 x 1200 optimized dpi from 1200 dpi input data (when printing from a computer on photo paper)
Scanning Specifications:
-Scanner type: Flatbed
-Optical scanning resolution: up to 1200 dpi
-Bit depth: 48-bit
-Scan size flatbed (maximum): 8.5 x 11.7 inch

The installation is fairly easy, though it does take about 10 minutes to get it completed. Just pop the disc in and follow the prompts and wait… Well it was easy for me since I've got several USB cables floating around, but HP doesn't include one with this printer so if you don't have one you'll need to buy one before you can ever use it. Not just HP, but why do companies sell USB printers and then to include a cable, I've never understood that concept…
I installed the HP DeskJet F4480 on my Vista Ultimate X64 machine and noticed that it also installed a sidebar gadget that allows you to drag and drop photos to be printed. A neat idea if you print a lot of stuff I guess. The gadget does allow you to change the printing setting through it via the settings.
Once the software is installed it does, like most printers, put an item in your taskbar which is a shortcut to the HP Solution Center and the printer itself.
The solution center allows you to access settings and the main features of the printer like copy and scan. On the bottom of the solution center are icons that you can select to enter each section. Home, Help, Shopping, Settings and Status are the choices you have. Shopping is self-explanatory…<
Under the Help section you can actually find some useful things by searching or watching videos and finding other resources.
Under settings you can change printer, scanner and other settings as well. The status icons just tells you if the printer is up and running basically.
On the main page are also two other choices, one for checking the ink levels and another 'Eco-Tips'. Opening the Ink Levels gives you an estimate of the amount of ink you have, while the Eco-Tips takes you to the help file actually under the Eco-tips section.
While I had the solution center open I decided to do a scan. First thing you need to do is pick where you want the scan to go, either email or file, I picked file, and then on the next page you can change a few setting like File type, name and where to save the scanned image to. Here's where I ran into a small annoyance with this printer, I changed where I wanted the scanned image to save to, I scanned one thing and went back to the solution center. I then decided to scan something else in but then couldn't find where it went, the program didn't save where I told it to put my scanned files, it went back to default.. Why would it do that, if I wanted them there i wouldn't have changed it in the first place.
So on to the actual scan. The HP F4480 does a quick pre-scan for you and let's you change some options like selecting only what you want scanned or doing a bit of editing. After you're done you hit Finish and then the final scan is complete. I have to admit i was surprised by how fast the scan was and by how quiet it was.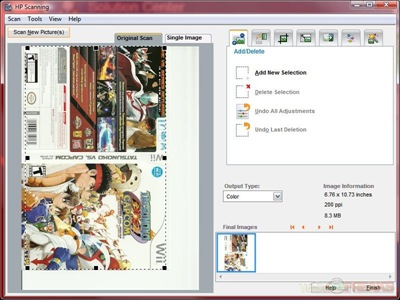 Here's the actual finished scan, it's not bad.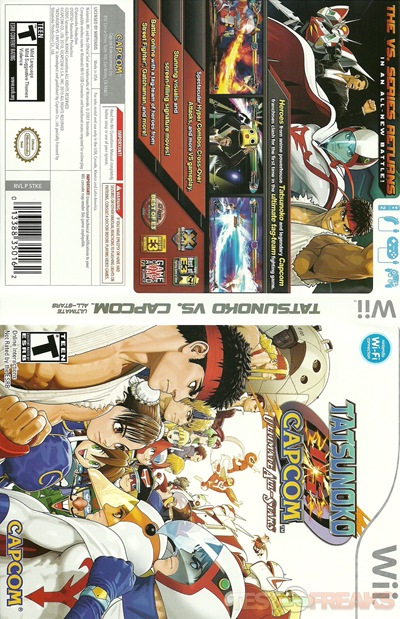 Here's the control panel on the printer. It does have an ink level indicator right on it, and lots of LEDs along with some basic options for copying and scanning.
…Next up was regular printing and some photos. I've got a lot of photo paper floating around, not HP branded though, but still good quality photo paper. I actually used the sidebar gadget to print a few photos and then I printed black and white and then a combination of color/pictures and black and white documents.  Here's just a few examples and the printer in action:
Black and white printing is nice and fast and the printer is not quite loud but not exactly quiet either. The quality of the black and white printing is acceptable but it's nowhere near that of my Epson WorkForce 610, it just isn't really crisp and clean it looks kind of fuzzy actually, but it is readable and basically acceptable overall.
Printing a mixture of color, letters and photos take a bit longer and the quality is decent but not great. Same thing here really, the quality isn't the greatest.
Actual photos though are a different story, they're not good at all. The first one I printed I hadn't realized it was set to regular paper, I assumed the sidebar gadget was for printing pictures and would be set already for it, but it wasn't.
So I went in and changed the settings to photo paper/photo quality and it looked exactly the same as when it was set to regular paper, just horrible really with lines going through it. The dark parts of the pictures looked good, but the light parts and the flesh colored parts had colored lines running through them. Bottom line here is that I wouldn't use this as a photo printer, the paper I used is not HP branded, but it's good, expensive photo paper so it should not matter whether it was made by HP or not in that respect. No mater what I did, cleaned and aligned the nozzles etc, nothing changed the printing outcome, it still looked pretty bad.
For a printer that costs a little over $50 what did I expect right? So for the price I guess it's about what I expected, sub-par print quality.
I was curious and decided to check the price of ink for this printer, the cartridges cost $38 each. The HP F4480 uses a tri-color cartridge and not single colors, so if you run out of one color you've got to buy a whole new cartridge. So it would be cheaper to just buy a new printer than to buy the color and black ink cartridges for it.
The ink for my WorkForce 610 costs $20 for the high-capacity black and then $17 each for the high-capacity colors and I can buy the colors separately and all those cartridges have more ink in them.
Aesthetically the printer is nice to look at and it's small, especially compared to other all-in-one type printers out there. It's nice to see a flat-bed scanner in such a small package.
Conclusion:
The cost of the HP F4480 is low, which is a good thing as if you spent more on this printer you would not be very happy at all. Yes it's small, yes it's compact, yes it looks good and prints and scans fast, but looks and speed are only really a small part of why you would buy a printer.
The print quality is below average for most everything it does, and photos are just bad.
The fact that it comes with no USB cable is one that I'll never understand, they're not expensive really. I've picked them up brand new for $1 plus tax, so I think they could afford to toss one in the box for you, but that's not just HP, most printer companies are like that.
If you're looking for a cheap printer to print black and white stuff then this isn't bad, but expect to be shocked when you go and buy more ink for it as one cartridge costs well more than half the printer does.
Pros:
+Inexpensive
+Easy to use
+Small and looks nice
+Quiet
Cons:
-Photo quality is lacking
-Expensive ink -Cartridges cost more than printer does
-No USB cable included
| | |
| --- | --- |
| Grades: | |
| Overall | |
| Design | |
| Performance | |
This product was given to technogog for review by the company for review purposes only, and is not considered by us as payment for the review, we do not, and never will, accept payment from companies to review their products. To learn more about our review policy please visit this page HERE.