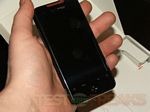 Today for review I've got what has to be the best phone on the market today in terms of both quality, usability and price really. The HTC Incredible from Verizon Wireless was just announced and will be available on the 29th to the public, but in my time with it I've truly grown to love it. Yes it's not without faults, but the pros very much outweigh the cons of this phone. To put it simply, the HTC Incredible is the best Android based phone out there right now.

We'll start with the video unboxing and then on to the still pictures:
Included with the HTC Incredible is a USB power adapter and USB charging/data cable along with documentation:
The size if the HTC Incredible is longer or taller than many other phones, but it's very thin, and it feels very solidly made. For how thin it is it's actually heavier than it looks to be.
On the back you'll find the HTC and Google logos, along with the 8MP camera and LEDs:
One note about the lens, I don't like how the camera lens is really left unprotected, it protrudes from the back of the phone and is the first thing that touches a surface when you set the phone down. I can easily see it getting destroyed fairly quickly, and it's a shame because it takes very good pictures…
While we're on the back, when you take the cover off you're in for quite a surprise, it's bright red. You'll also find the microSD slot there as well, it's camouflaged, I almost missed it. The battery is 1300mAH, 3.7 volt which isn't much really.
There aren't many buttons or ports on the Incredible, just the volume and USB on the left and the power and audio on the top.
Specifications:
Features:
* Android 2.1 with HTC Sense experience
* 1GHz Qualcomm Snapdragon processor for maximum responsiveness
* Friend Stream for unified Flickr, Facebook and Twitter updates
* "Leap" view for quick access to all seven home screen panels
* 8 megapixel camera with dual LED flash for crisp, detailed images
* Razor-sharp 3.7 inch WVGA (480×800) AMOLED capacitive touch display
* Optical joystick for smooth navigation
* Dedicated, touch-sensitive Home, Menu, Back and Search keys
* Proximity sensor, light sensor and digital compass
* Integrated GPS
* Wi-Fi (802.11 b/g)
* 3.5 mm headset jack
Price and availability:
* Droid Incredible will be available for pre-order online at www.verizonwireless.com beginning on April 19 and it will be in Verizon Wireless Communications Stores on April 29. Pricing will be $199.99 after a $100 mail-in rebate with a new two-year customer agreement. Customers will receive the rebate in the form of a debit card; upon receipt, customers may use the card as cash anywhere debit cards are accepted.
* Droid Incredible customers will need to subscribe to a Verizon Wireless Nationwide Talk and an Email and Web for Smartphone plan. Nationwide Talk plans begin at $39.99 monthly access. Email and Web for Smartphone plans start at $29.99 for unlimited monthly access.
* For additional information on Verizon Wireless products and services, visit a Verizon Wireless Communications Store, call 1-800-2 JOIN IN or go to www.verizonwireless.com

The interface is panel based HTC Sense UI and you can move left or right with the swipe of your finger, it works and it should be familiar to anyone who has used an HTC phone. Using the interface is easy, movement was smooth and things just flowed left and right, up or down.  There was slight delay when waking the phone for the interface to react though, but nothing to complain about. The touch screen itself is very responsive, I've got no issues there at all.
You can also see all of the screens or panels together if you want to:
The display is nice and crisp but the colors seemed a bit off, like white isn't really white, more off an off-white or an eggshell almost. Using it outside in bright light isn't much fun though, you'll strain to see the screen and in direct sunlight you won't see it at all really. The icons are crisp and clear with no pixels to be seen, it's a very polished and nicely finished UI truly.
Beneath the screen are four buttons for Home, Menu, Back and Search. Touching the Menu button pulls up the quick menu with a few options on it: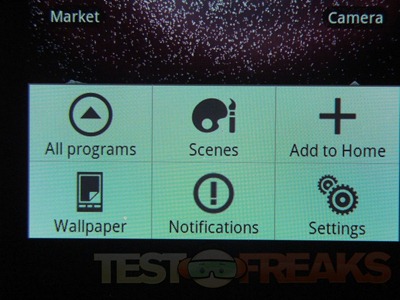 Making calls is like any other phone just dial or select a contact, I don't like the fact that the dialer is really only about half of the screen, the other half is the contacts.
Making calls I had no issues there, calls were nice and clear. I also used my Jawbone2 with the Incredible and it worked perfectly fine as well.
There's plenty of apps that come standard on the phone, and happily there's not a lot of junk bloatware or trialware as some companies like to stick in there.
Here's some random shots of a few of the apps like the FM Radio, Maps, YouTube etc:
Here's the Peep Twitter app, the reason I'm showing it to you is the keyboard:
I do not like the keyboard on the HTC Incredible at all, I thought it was because I was accustomed to a hardware keyboard, but I tried and tried to use it, but it just drove me batty with all of the mistakes I kept making. I was constantly hitting the wrong key, over and over again not matter how much I practiced.  The keyboard just seems too small really, at least for me it does.
For web browsing, I had no issues there, speed seemed fine overall at least for me in Pittsburgh PA.
Here's the settings of the phone, not much to say, it's just the settings:
Let's delve a bit into the camera to finish this off. I looked everywhere but couldn't find a Macro mode, but it's an auto focus lens that does well close up so there's really no need for the Macro mode at all.
Here's what the interface looks like for both the camera and video camera:
You can take a picture by just pushing the optical joystick, but the pictures usually don't come out too well. You can also touch the joystick and the camera will focus, then once the viewfinder turns green that means it's focused and you can fully push the button to take the picture. I should note that the HTC Incredible does not have a dedicated camera button like other phones do, but the camera icon is located on the home screen and it only takes a few seconds to open the application.
Off to the right of the screen is a +/- button that is the zoom, touching it opens the slider on the left so you can easily zoom in and out.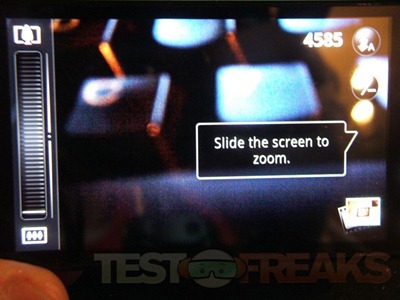 On the interface screen is a small arrow on the left, swiping the screen from there leftwards opens the settings menu with many things to change brightness, contrast, saturation and sharpness along with the ability to add special effects and many other settings:
The following pictures were taken from varying distances in a well lit room with a five bulb overhead chandelier and the window blinds open to let outdoor light in as well. The distance was about six feet away, then zoomed in a bit and then maxed zoom
Then these are taken with no zoom, and some zoom with distances varying from a few inches to one foot:
The flash did not go off for any of the above pictures, it did go off for the following one when I changed angles and it didn't work out too well as the game box is reflective.
This next picture is taken in lower lighting with the flash going off, it was taken in the next room with the lights off, ambient light was still coming in from the other room. It was taken from a distance of about three feet away.
Well there's the camera, and it works well, I'm truly impressed by this camera actually, it is the best cell phone camera I've ever come across. HTC truly did a great job with it, ever other cell phone should be jealous.
Those pictures were all taken indoors with artificial light, the HTC Incredible takes the best indoor pictures I've ever seen. Taking pictures outdoors is the same, the quality is very good with the color reproduction being spot on.
You still do have to hold the phone still while taking pictures, but it's much more forgiving than other phones are. For the most part the pictures are nice and crisp and clear, rivaling that of a standard dedicated camera, once you get accustomed to using it and how to use it correctly.
One thing I should note is that using the camera, be it either the video or still, it will use up the battery much faster, about twice as fast as normally using the phone will. Taking videos with the HTC incredible is much better than other phones as well, especially with the settings on high. There is slight pixellation, but they're clear and much better than others I've used.
Speaking of battery life, I wasn't at all impressed by it. I charged the phone on Friday afternoon and and had to re-charge it again on Sunday morning. That as with light web browsing and a few phone calls. Then I used the phone a bit more after I charged it again on Sunday and found I had to re-charge the battery yet again on Monday morning. So don't realistically expect more than a day out of the battery.
Conclusion:
My advice to you is that if you're a Verizon customer, get this phone you won't regret it. If you're not a Verizon customer and you're looking for a reason to switch, then this is it.
The HTC Incredible is the best Android based phone on the market today, I've had the chance to look at a few of them and this is the one you're looking for. (yeah I went there…)
The HTC Incredible is what a smart phone should be, it's easy to use, it's responsive, it's fun, call quality is excellent and it takes good pictures.
Sure the battery life isn't the greatest, but what smart phone out there has good battery life? I had issues with the keyboard yes, but I'm sure with time I would have become better accustomed to using it.
Pros:
+Very well made phone
+Simple, easy to use
+Excellent pictures
+Smooth and responsive interface and touch screen
+Great call quality
+Lots of useful apps included
Cons:
-Battery life isn't great
-Keyboard could be better
-Screen is not sunlight friendly
| | |
| --- | --- |
| Grades: | |
| Overall | |
| Design | |
| Performance | |
To learn more about our review policy please visit this page HERE.