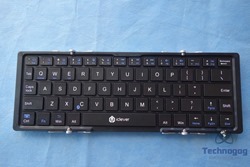 Wireless keyboards come in all shapes and sizes. For today's review we will be looking at the iClever Foldable Bluetooth Ultra-slim Mini Wireless Keyboard which is the name of the product as well as an accurate description of its function.
Bluetooth keyboards work with a host of different products from streaming media players to tablets to smartphones and computers. Who doesn't prefer to type on a physical keyboard over a virtual on screen one? I know I do.
This small form factor keyboard weighs less than half a pound, folds up into a pocket sized form factor and is compatible with Android, iOS and Windows. In its folded configuration it is smaller than the iPhone 6+/6S+
Unboxing
The iClever Foldable Bluetooth Ultra-slim Mini Wireless Keyboard arrives in a brown cardboard box with a QR code on the front that links to the iClever website along with listing its compatibility with Windows, Android, and iOS. On the back of the box is a list with the company's contact support phone numbers and email.
Opening the box we find the iClever Foldable Bluetooth Ultra-slim Mini Wireless Keyboard, micro-USB cable, velvety carrying case, a warranty card and instruction manual.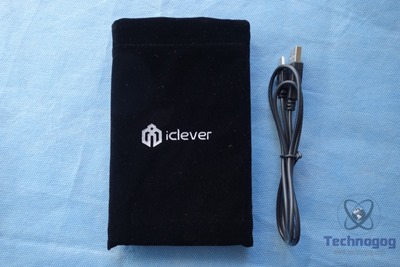 The iClever Foldable Bluetooth Ultra-slim Mini Wireless Keyboard Measures 9.9" x 3.5" x 0.26" when unfolded and 5.8" x 3.5" x 0.67" when folded. It weighs 6.5 oz. The wireless keyboard features Bluetooth 3.0 that is compatible with Android, Windows and iOS computers, tablets, and smart phones. It has a rechargeable lithium battery that uses a sleep mode to conserve battery life.
The keyboard is designed to fold the sides onto the middle of keyboard to create the portable configuration. When folded up the iClever Foldable Bluetooth Ultra-slim Mini Wireless Keyboard is shorter than an iPhone 6S plus but slightly wider. The outside of the keyboard has an aluminum finish with the iClever logo over the middle section.
When the iClever keyboard is splayed open it has black keys with white and blue markings. There is an iClever logo on the space bar. It has a standard QWERTY configuration with the numbers row doubling as Function enabled buttons. In terms of size the iClever keyboard is smaller and more compact in profile than the Bluetooth Apple Keyboard.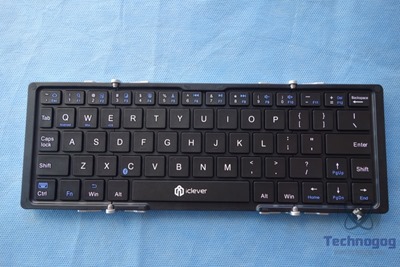 To the left of the space bar are CTRL, Fn, Win and Alt labeled buttons. To the right of the space bar we find an additional Alt and Win button. The numbers keys when pressed with the Fn button will control – Home, Search, Select All, Copy, Paste, Cut, Previous Track, Play/Pause, Next Track, Volume Down, and Volume Up. While pressing the 'C' along with the Fn key will activate Bluetooth pairing.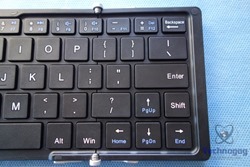 Above the '6' and '7' keys we find a Bluetooth status indicator, which turns green for three seconds when the keyboard is powered on. To its right is the power indicator LED that lights up green or red for 3 seconds when the keyboard is opened indicating it is powered on. A red LED means that the battery is low.
On the back of the unit is the micro-USB connector for charging the iClever Foldable Bluetooth Ultra-slim Mini Wireless Keyboard.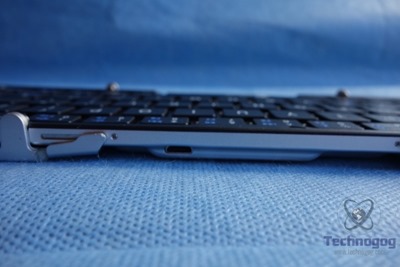 Specifications and Features
iClever Foldable Bluetooth Ultra-slim Mini Wireless Keyboard
iClever – Ever Clever
This ultra slim tri-folding Bluetooth keyboard lets users enjoy creating and communicating across multiple platforms on Bluetooth enabled devices wirelessly. With a compact and portable design, this wireless bluetooth keyboard makes the perfect keyboard for travel.
Broad Compatibility
Works well with all Bluetooth enabled devices with IOS (iPhone 6S, 6S Plus, iPad Pro), Android or Windows system. To pair the device, simply press the Fn + C keys.
Operating range of up to 10 meters.
Compact & Lightweight
Convenient and lightweight (0.39lbs) pocket sized, tri-folding bluetooth keyboard, perfect for travel.
When folded, the keyboard is smaller than an iPhone 6 Plus
Comfortable and Quiet Typing
The whisper-quiet keys allow you to work anywhere.
Aircraft-grade Aluminum
Made with aircraft-grade aluminum for superior durability.
Anodized matte process creates excellent sense of touch.
Note:
It is not compatible with Nokia phones or Windows 8 operating systems.
After connecting with the device, you must press Fn + OS key(Q for Android, W for Windows, E for IOS) to select operating system.
In order to activate the blue keys on the keyboard, you must hold down the Fn key and the color key simultaneously.
Fold it to power off the keyboard to conserve energy if it is not in use. Do not use out of the operating range.
Package Content:
-1 x Bluetooth Keyboard
-1 x USB Charging Cable
-1 x Carrying Pouch
-1 x User Manual
-1 x One Year Warranty Card
Price: $35.99 (from Amazon at time of review)
The Review
The instruction booklet describes how to pair the iClever Foldable Bluetooth Ultra-slim Mini Wireless Keyboard with various operating systems. For my review I tested the iClever Foldable Bluetooth Ultra-slim Mini Wireless Keyboard using OS X and iOS Devices.
To pair of the keyboard with an iOS device, unfold the keyboard until the green power indicator is on for three seconds then press the Fn plus the C key until the Bluetooth indicator light flashes. Next open the Bluetooth Setting in iOS and select the device named iClever IC-BK03 keyboard. At this point it should be paired with the iOS device and the Bluetooth indicator light will automatically turn off.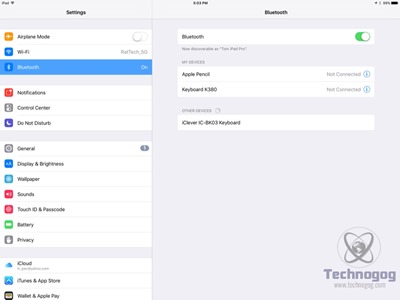 If pairing with OS X then you will need to go into System Preferences and select the Bluetooth icon. The keyboard will eventually appear with a Pair button next to it.
ThIs pairing process was simple but I did have times when I had to "forget" the device in my Bluetooth settings and then re-pair it after I the iClever with paired with several different Bluetooth devices.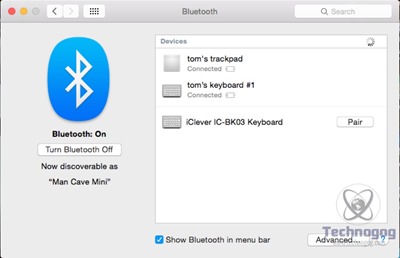 Charging of the keyboard is performed by attaching the micro-USB cable to the back and then plugging it into a free USB port on a computer or a AC adapter. A indicator light will remain on until the device is fully charged. To conserve battery life the keyboard will go into sleep mode after being idle for about 15 minutes. Pressing and holding a key for three seconds will reactivate it.
The function buttons on the top of the keyboard we'll have different uses depending on the operating system being used. After connecting with a device you must press Function key plus the relative operating system key, Q for android, W for windows, and E for iOS. This will differentiate the function keys for the appropriate OS.
I brought the iClever Foldable Bluetooth Ultra-slim Mini Wireless Keyboard around the office and received numerous positive responses to the keyboards size and portability.
Typing on the iClever keyboard has its pros and cons. The keys are very responsive and I have not noticed any missed key presses. However the keys are also tightly spaced making accidental adjacent key depressions an all too common occurrence. If you have larger hands you will take a speed hit when using this keyboard due to the tight spacing.
Another peeve of mine is how the keyboard sits very flat on the work surface. There is no tilt on the iClever keyboard at all.
I used the the iClever keyboard to type most of this review on an iPad and iPhone and found it was perfectly acceptable as a work keyboard but I still preferred my larger Logitech K380 which was more forgiving with less typos.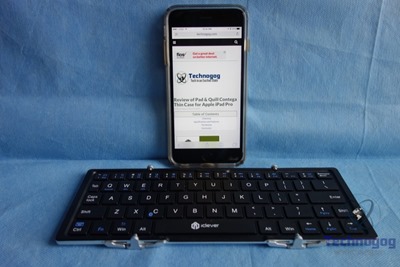 The velvet storage pouch provides a convenient way to store, protect and carry the iClever Foldable Bluetooth Ultra-slim Mini Wireless Keyboard.
Conclusion
The iClever Foldable Bluetooth Ultra-slim Mini Wireless Keyboard is an affordable way to always have a keyboard accessible due to its small form factor. It is easy to store and carry with the included carrying case.
One caveat is if you have larger hands like myself you may find your typing speed impaired by the close proximity of the keys. If you have every typed on a netbook then you will understand what I am talking about.
It is the perfect keyboard for use with a HTPC or media player, as an auto shutoff feature preserves its battery life. For those who like to work on the go or need a keyboard at a moment's notice, then the iClever Foldable Bluetooth Ultra-slim Mini Wireless Keyboard is an ideal solution.
Pros:
+Extremely compact
+Rechargeable
+Solid construction
+Responsive keys
Cons:
-Keys too closely spaced
-No tilt to the keyboard
| | |
| --- | --- |
| Grading | Scores Out of 10 |
| Overall | |
| Design / Aesthetic | |
| Value / Price | |
| Performance / Usage | |
To learn more about our review policy please visit this page HERE.