If you haven't noticed tablets are becoming hot, well actually they've been popular for a while now but Google recently released one that I think has brought a renewed interest in them. Microsoft also released a couple Windows based tablets but we're not here to talk about those, Android is where it's at right now and you've got plenty of choices that's for sure. I'm a parent with three kids and that kind of means I don't have much money for toys like tablets so I'm always on the lookout for deals. I don't want cheap as in badly made and unusable, but I want cheap as in not expensive but I want that tablet to be useable and decent. In December 2011 I reviewed the Idolian TouchTab 10 Android tablet and I'm happy to say I still have it here and use it. Idolain is a small company but they make good tablet for a low price, and that's a good thing.
Today for review I have the Idolian Mini Studio which is an 8" Android tablet which runs Android 4.1 or Jelly Bean. The tablet is small and very lightweight, it's only 4mm thick and it weighs in at 420 grams. Idolian actually touts the Mini Studio as being a competitor for the iPad Mini and it has my vote, but I like Android and I've never really cared for Apple products. The Mini Studio comes with front and rear cameras, it has 16gb of storage built-in and you can expand it with a microSD card if that's not enough. The tablet has wi-fi, Bluetooth and an HDMI output and it's power by a dual CPU that runs at 1.6Ghz and there's 1gb of DDR3 ram. In my time with it I've come find out it's powerful little tablet that can handle pretty much anything I've thrown at it including 1080p videos that play flawlessly. The battery life is excellent, with just slight use like checking email and getting app updates I got over two and half days on a single charge. So read on to learn more about a great little choice for an Android tablet…
Idolian Mini Studio 8" Android Tablet
As usual we start off with the box and the front is plain, just a picture of the Mini Studio.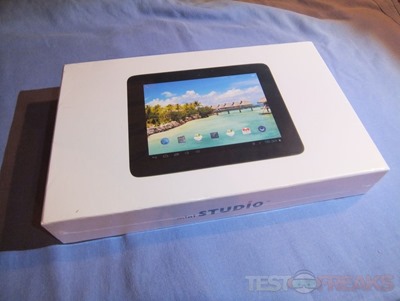 The back does list the basic specs and features for you.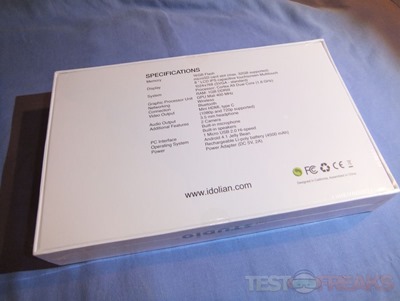 When you open the box you're greeted with the user manual and the back of the tablet packed in a formed foam for protection.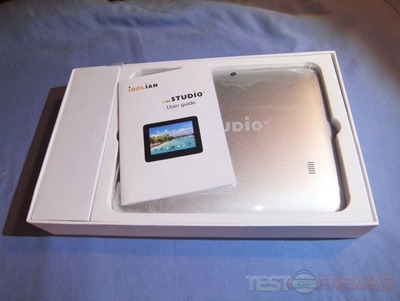 Once unpacked you'll find five things in total.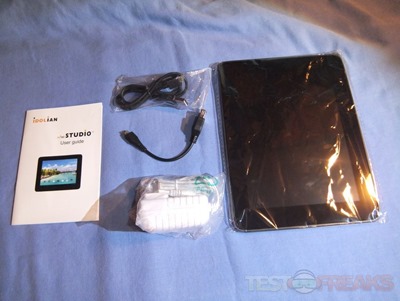 The power supply is just that a small one with a barrel style end on it that goes into the tablet. There's also a microUSB cable included for connecting the tablet to your computer if needed.
Included also is a microUSB to female standard USB connection cable. This is so you can attach a regular USB drive to the tablet for extra storage.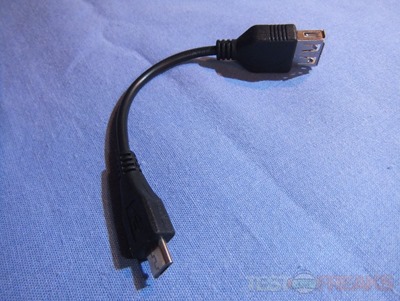 So here's the front of the tablet, it's small and thin and there is a black border around the screen. The front camera is that small hole at the top center, and that's about it. There is a screen protector already on the tablet for you, at least there was for me.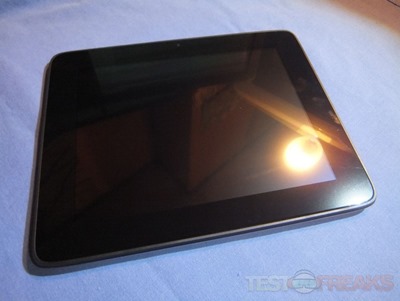 The tablet has an aluminum alloy back and it look nice.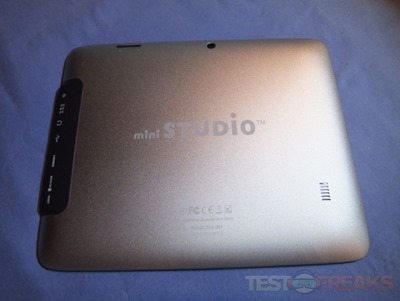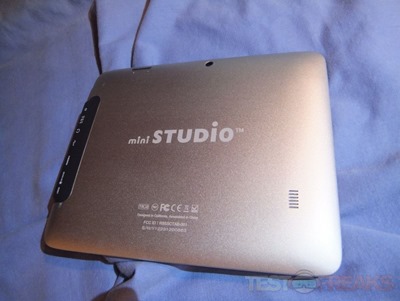 There is a single speaker on the back for sound.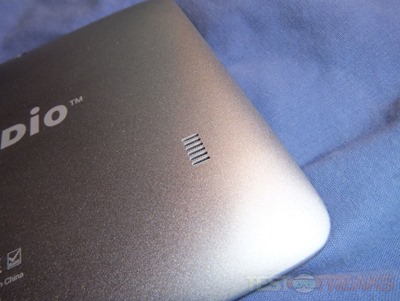 On the top edge is the volume rocker and the camera.
On the right side you'll find the ports and power button. From left to right it's power button, power input, headphones, microUSB port, HDMI port, microSD slot and a small hole to reset the tablet if need be.