USB chargers are fairly common but it seems anymore that I just don't have enough of them. I've got three kids and they all seem to have stuff that needs charging over USB and then I have all my stuff too. When you think of USB hubs you think of those that connect to your computer but how about one that's stand alone? Today for review I have the Inateck UC4002 which is a 4 port 30 watt USB charger that you don't need a computer for, you can just plug it into any wall socket and you're ready to go. Read on the learn more…
Specifications and Features
4-Port 30W USB Family-Sized Desktop Charger
Fast and Reliable for External Battery
Works in a wide range of voltage and guaranteed fast recharging with 5V/1.5A: 10% faster than other standard chargers that only reach a speed of only 1A!
Charge four devices at the same time! 30W strong power ensures fast charging of four devices – simultaneously!
The perfect companion for your Family
Our mobile USB charger is the best alternative to charge electronic devices such as iPad, iPhone, other cellphones and anything with USB charging mode!
Design meets Technology
Simple design for best functionality! Our charger has an excellent solid structure against overload and over-heating to ensure correct and safe operation at all times. This all-in-one charger acts as a power hub for you and your family during your vacation.
Support USB charging BC1.2
The device supports USB charging BC1.2 and is compatible with Apple, Samsung, LG, HTC and many more renowned brands' products. Perfect for on the go: battery low? Just plug it in and charge your device!
Weight: 120g
Size: 100x105x30mm
Interface: 4x 5V/1.5A charging ports
Price: $15.99 (from Amazon at time of review)
The Review
The box is very plain, mostly all black with the Inateck name on the top and then the product name on the side.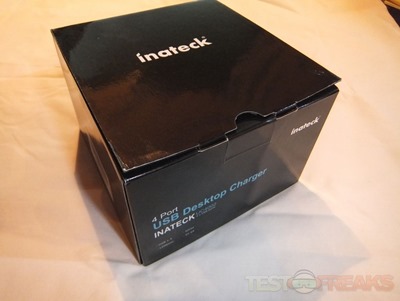 Once you get everything unpacked you won't find much really, just some documentation, the charger itself and a power cord.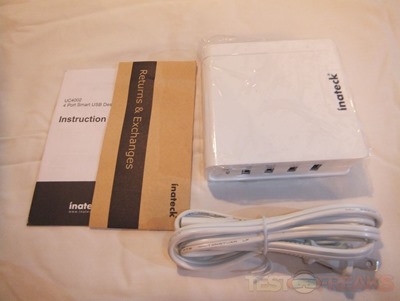 The desktop charger is very plain, on the top is just the Inateck logo and it's white in color. it does feel fairly heavy for how small it is with dimensions at about 4x4x1 inches. It pretty much fits in the palm of your hand, or in your hand as it were. It is lightweight at about 120 grams, it is plastic, but it's nicely made and feel sturdy enough.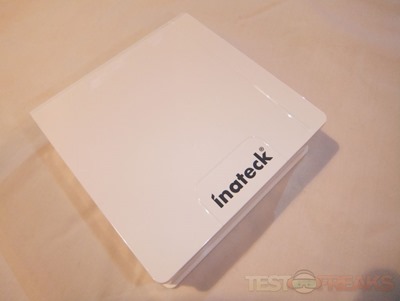 On the bottom is the id label with the usual stuff like UL markings, serial number and name.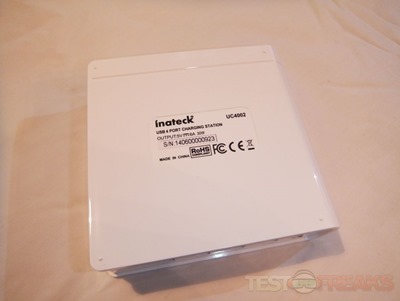 On the front edge you'll find the power LED and four USB ports labeled A through D.
On the back edge is the main power switch and the power connection.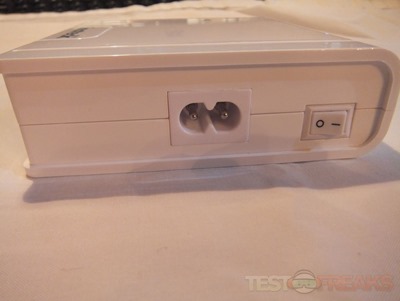 The LED lights up a very bright blue when you power it on.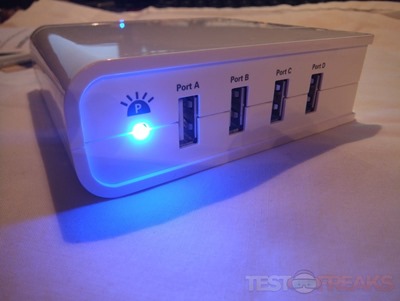 Testing the UC4002 is very easy, plug it in, turn it on and then plug your devices into it to charge them. Very simple really and it works just like the UBS ports do on your computer or one of those little USB ac adapters that come with most phones and other gadgets these days. I charged my phone, tablet, GPS and PS Vita all at the same time and it seemed to charge just as fast as normal.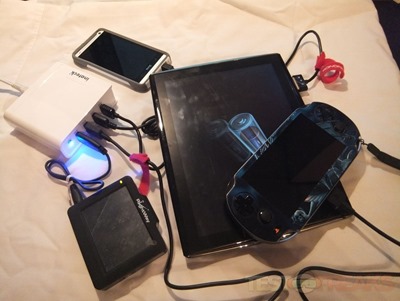 Conclusion
The UC4002 is what it is, it's a USB charger that let's you charge multiple devices of all shapes and sizes without a computer.
You can't get much simpler than the UC4002 really, it's truly plug and play.
It is portable so you can take it with you like if you were going on a family vacation and needed to charge your devices. The UC4002 eliminates the need to bring multiple USB to AC adapters with you that you can easily lose.
For what it is, I can't find anything wrong with it, it works just like it should.
Pros:
+Small and portable
+Simple to use
+Well made overall
Cons:
-None really
| | |
| --- | --- |
| Grades: | 10 out of 10 |
| Overall | |
| Design / Aesthetic | |
| Value / Price | |
| Performance / Usage | |
To learn more about our review policy please visit this page HERE.