It seems everything is going mobile, well no, everything is mobile but storage is still an issue I think as I never seem to have enough. Apotop has come out with sort of a solution to the problem of limited storage in a device they're calling the Wi-Copy which is a wi-fi storage device that let's you transfer files wirelessly. The Wi-Copy is not just that though, it's also a 5200mAh battery power bank, a wireless router and it can be a repeater to help extend your wireless network range. So read on…
Unboxing
The packaging for the Wi-Copy is nice looking, there's a picture of it on the front along with features and information listed.
When you open the box you can slide out the cardboard carrier tray which holds the Wi-Copy in place.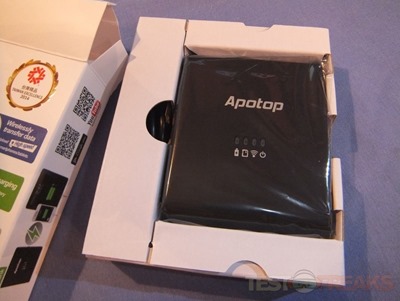 Once you get everything unpacked you won't find much, just the Wi-Copy, USB cable and documentation.
The Wi-Copy measures about 3.5″ x 2.9″ x 0.9″ (L x W x H) and it's plastic but it has the common rubberized texture on it that lots of devices do today. The top has the Apotop logo and under that you'll see four LEDs for battery, SD Card/storage, wi-fi and power.
The bottom just has the identification label.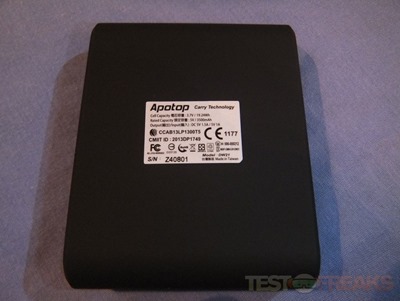 On the left side of the Wi-Copy is the SD Card slot and USB port along with a three position switch for power, battery and wi-fi.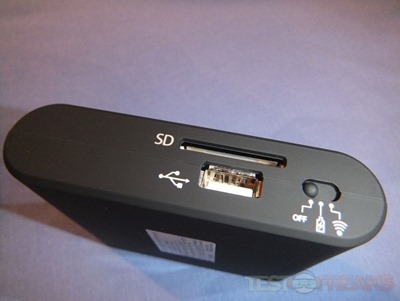 On the right side you'll find a small hole which is fir reset, a microUSB port for charging the Wi-Copy and an Ethernet port to connect to your network.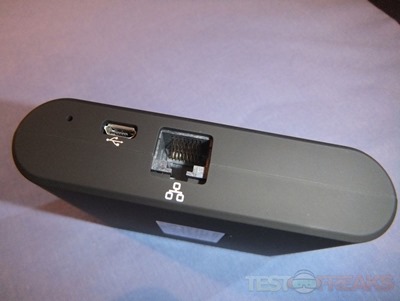 Specifications and Features
Apotop Wi-Copy Portable Storage/Streaming Device/Power Bank/Wireless Router
The Wi-Copy is the ultimate all-in one companion device designed for smart phones and tablets. Versatile and stylish, the Wi-Copy is a portable wireless router, power bank, streaming media device, personal cloud storage, and file transfer hub. Light weight with a slim design, you can conveniently fit it in your pocket or in your bag to take it on the road.
As a Streaming Media Device
Using the free app, the Apotop Wi-Copy lets you stream movies, photos, and music, to up to 5 iOS or Android devices at the same time without internet connection. Ideal for family vacations or long car rides, everyone can watch a different movie on their own device!
As a Personal Cloud Storage
Are you running out of space on your iPhone, iPad, or iPod Touch? The high performance Apotop Wi-Copy allows you to add wireless storage to your iOS or Android devices instantly. With the free App, you can store and access music, photos, movies, and files on your USB flash drive, USB external hard drive or SD cards wirelessly with no need for Internet connectivity.
As a File Transfer Hub
The Wi-Copy offers high performance transfer rates to allow you to transfer files between your mobile device to USB drive or SD effortlessly and without internet connectivity. Need to transfer files between SD cards and USB drives? No problem. The Wi-Copy free app lets you transfer files between SD cards to USB drives in high speed.
As a Power Bank
With the built-in 5200mAh, the Wi-Copy can be the external battery for your mobile devices when you needed it the most. Simply switch to the power bank mode and connect your USB charger cable, the Wi-Reader Pro will charge your device quickly and reliably.
Wireless Speed: Up to 150Mbps
Standards: IEEE 802.11 b/g/n
Wireless modes: Router and Repeater
Battery: 5200mAh Li-Polymer Rechargeable Battery
Security: WEP, WPA/WPA2, WPA-Mixed encryption
Network Protocol for File Server: SAMBA/FTP/HTTP/DLNA
File system Support: FAT16; FAT32; exFAT; NTFS
SD Standard Support: SD, SDHC, SDXC
Wireless Storage Read/Write Performance: 9.05/6.65MB per sec (40MHz)
Available Ports: USB 2.0; SDHC/SDXC card slot; Ethernet RJ-45 10/100Mbps; Micro-USB for charging
Dimensions: 3.5″ x 2.9″ x 0.9″ (L x W x H)
Weight: 6.17 ounces
Warranty: 1 Year, limited
Price: $80.54 (from Amazon at time of review)
Testing and Usage
To get started you need to make sure the Wi-Copy is charged with the supplied cable as it uses its own battery for power and to charge your devices.
When the Wi-Copy is powered on it will appear in your wi-fi network list and you'll need to connect to it as you would any wi-fi network.
I'm using Android so I installed the Android version of the app but the iOS version is similar, and works the same.
To use it in storage mode you'll need either a USB flash drive or an SD card. I used an SD card and I was a bit surprised by how far it sticks out. It's not a big issue but I would have much rather have seen the SD card fully inserted into the Wi-Copy especially if you're taking it with you as I wouldn't' trust leaving the card sticking out like that all the time.
Here's the settings section of the Wi-Copy app for you with really just a few choices. The Device Settings option take you to a webpage where you actually interface with the Wi-Copy like you would a router.
I did notice that if you press Check Storage Space it doesn't give you the correct amount of space. I transferred many pictures, large and small, and every time I checked the storage levels it said I was only using 4kb.
When you access the Wi-Copy the first thing you'll notice is that the lettering is very small, I mean it's tiny. From here you can choose from WiFi Repeater, Gateway, Language, Reset, WiFi Settings, Admin Password, Advanced Settings and Home.
There's really not much under Advanced Settings with choices for Information, enable/disable Samba, Firmware Upgrade, enable/disable DLNA and Time Setting.
The Wi-Copy allows you to copy to and from it, you can store your files on it or take from it and you can also stream music and video if you wanted to.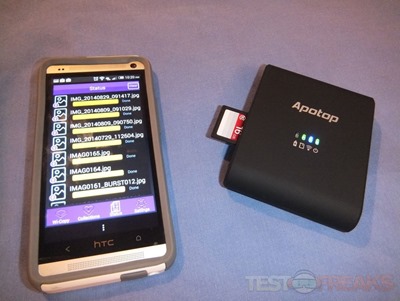 To copy the files from your phone you just navigate to them, select which ones you want and press upload and let it do its work. Speed was very fast, I transferred both large and small sized pictures.
To upload from the Wi-Copy you basically do the process in reverse, select what you want and transfer them to your phone.
The Wi-Copy can also act as a spare battery for your phone or tablet, just plug it in and move the switch to the battery icon and it will begin charging. The Wi-Copy has a 5200mAh battery inside which should provide most phones with 1-2 full charges, it all depends on the battery capacity in the phone as to how many times the Wi-Copy can charge it.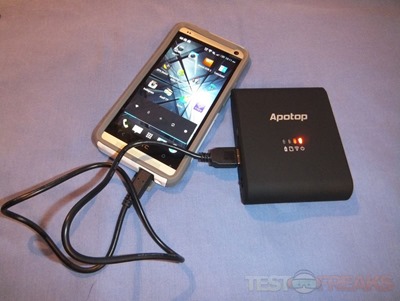 Finally the Wi-Copy can be used as a wireless router but it can also act as a repeater for your network to extend the range if need be.
For router mode you need an Ethernet cable and just plug it into an available port on your network like I did below then go into wifi settings and set everything up.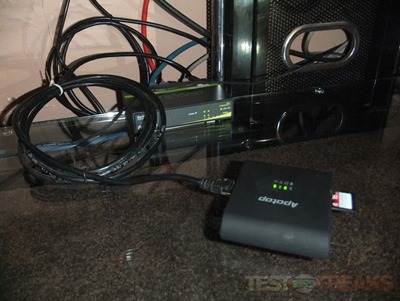 For repeater mode you access it like you would for the storage mode but you just need to go into settings and adjust it accordingly. You just select your network and login basically, fairly simple for repeater mode.
All in all, setting up the router or repeater is very easy for me and it should be for most any one else with little or no experience needed in networking.
Using the Wi-Copy is simple really, you just connect to it like you would your wi-fi. The only issue, which I'm sure can't be helped, is the fact that you'll not have wi-fi internet access when you use the Wi-Copy. Yes you can't connect to two access points at the same time. On the other hand you won't be accessing the internet most likely if you're transferring files, but you still have to go through the process of switching the access points every time you want to transfer files or access the internet.
Conclusion
The Apotop Wi-Copy is one of those things that can be very useful surely, it's really an all-in-one device if there ever was one. The Wi-Copy is a wireless storage and streaming unit, but it's also an external power bank but it's also a router or a repeater, so it can do a lot of things.
The Wi-Copy can be especially useful traveling I would think, not only for storage but for the ability to be a wireless router. I can see using it on a business trip but you could also use it for leisure. Take the Wi-Copy on a family vacation and every one can have wi-fi and access to all the files on their devices.
The Wi-Copy will let you use either a USB flash drive or an SD card for storage.
Overall the Wi-Copy is simple to use and setup, and the needed app is easy to use as well.
The little device is very useful for sure but it isn't perfect though, the interface does need some work as it's really small and there was an issue with the storage capacity reporting.
It is portable but the SD card sticks out, I would have much rather seen it sit flush with the outside of the Wi-Copy. You can use a flash drive of course but it will stick out too. The issue is since it's portable I would want to just leave the SD card in it, but since it sticks out so far that really wouldn't be safe.
The price is about $80 and some people might think that's a bit high.
Overall I like the Wi-Copy, it can be useful in may types of situations from business to pleasure.
Pros:
+Small and portable
+Fast transfer rates
+Router, repeater, wireless storage and battery in one
+Works with both USB and SD Cards for storage
Cons:
-SD Card sticks out far
-Price might be considered high
-Interface is small
| | |
| --- | --- |
| Grades: | 9 out of 10 |
| Overall | |
| Design / Aesthetic | |
| Value / Price | |
| Performance / Usage | |
To learn more about our review policy please visit this page HERE.