A few days ago I reviewed a hot-swap cage from iStarUSA that allowed you to simply and easily transfer data to and from standard sized hard drives and I liked it very much. Today for review I have another hot-swap cage from iStar called the BPN-2535DE-SA which allows you to fit two notebook or SSD sized drives into the space of a standard hard drive. The cage is hot-swap capable meaning you can just put the drives in and pull them out as you need to, the cage also locks to secure the drives in place and it's very simple to install and use. Read on…
Unboxing
The packaging is kind of plain, just some pictures of the BPN-2535DE-DA and another rack and some basic specs and information.
Inside there is a cardboard tray with the hot-swap cage wrapped in plastic.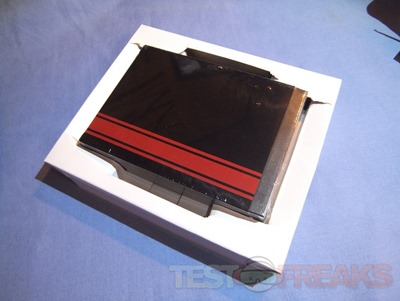 Once everything is unpacked you'll find a user guide, accessory bag and the dock itself.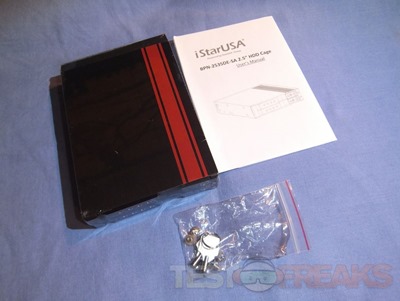 In the accessory bag you'll find four screws for mounting and a set of keys to lock and unlock the drive bays.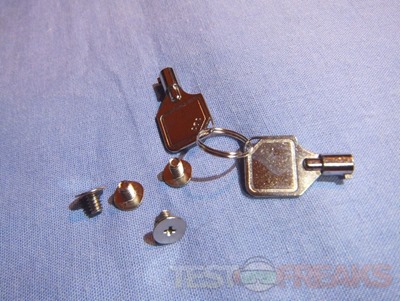 The dock is made mostly of metal with a plastic back and partly plastic front. On the top is a red 'racing stripe' and the bottom just has an identification label. Not sure why the red stripes are there as it's inside of your case and no one will ever see it, but whatever.
On the back you'll find ventilation slits along with two SATA data connections and one SATA power connection and a switch to turn the LEDs on and off.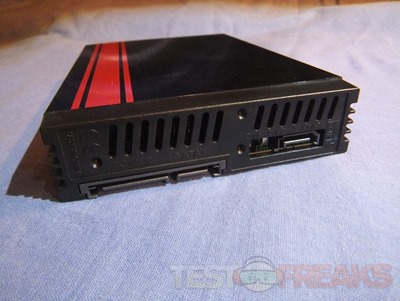 On the front is the hard drive access via two levers and two locks with two LEDs over on the far right.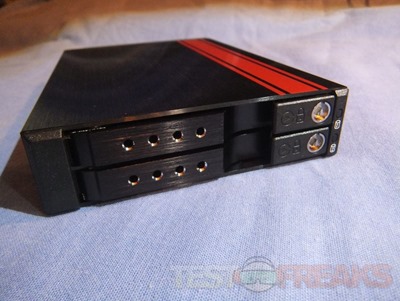 The access doors or bars are metal levers that should last a long time.  When you pull the lever the drive will eject from the cage.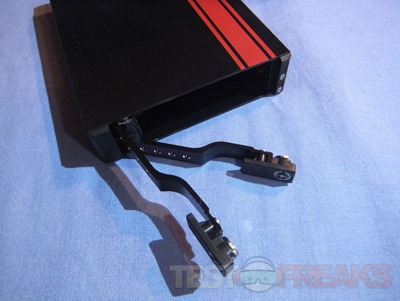 If you look down inside of the cage you'll see the SATA connections. When you put the drives in they line up right with the connectors and you're ready to go.