Since the release of the original Apple tablet I have reviewed numerous iPad cases but never one with a built in keyboard. Today I break that streak by looking at the Griffin Slim Keyboard Folio for the iPad Air. This folio style case has a keyboard on the inside cover that connects wirelessly to the iPad Air via Bluetooth.
It has a built in easel stand for orienting the iPad Air in a convenient typing configuration. A built in rechargeable lithium-ion battery powers the keyboard as is designed to last 130 hours or 45 days in stand by.

Unboxing
The Slim Keyboard Folio comes in a white cardboard package with the case visualized on the front protecting an iPad. Strangely, the image on the front has a picture of an older iPad, not the newly released iPad Air. On the back is a clear plastic window which shows part of the case along with a list of features.
Inside the package we find the Slim Keyboard Folio case along with a user guide that is found within the iPad holder sleeve, a USB cable for charging and a warranty paper. The case comes in black and red, for today's review we will look at the black version.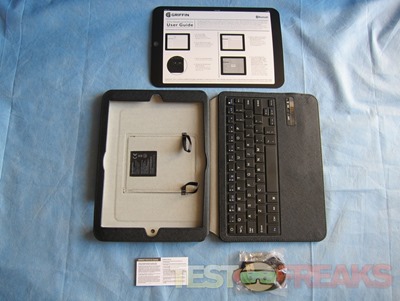 The case is composed of a black canvas material. You will immediately notice how solidly the case is constructed. Overall the case is stiff and seems like it will provide lots of protection for the iPad Air. The case measures 11.1" x 7.2" and weighs 11 ounces. Using this case will definitely add some heft and weight to the iPad Air.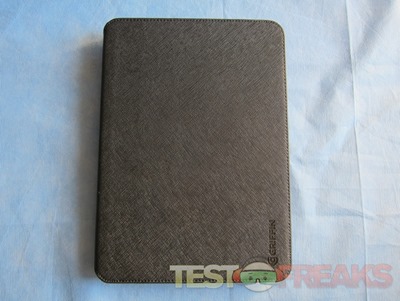 On the front cover we see the Griffin name and logo on the bottom right corner. This cover wraps to the back where we find an easel stand in the middle for placing the iPad Air into a typing friendly position.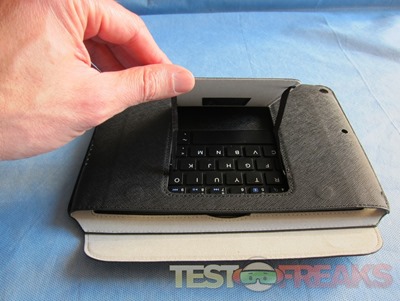 Holes for the camera and microphone are seen on the back as well.
The iPad Air slides into the Slim Keyboard Folio into envelope style sleeve that uses two magnetic closures to keep the Apple tablet locked in snuggly. On the periphery are openings for speakers, the Lightning connector, headphone jack, power switch, mute and volume controls.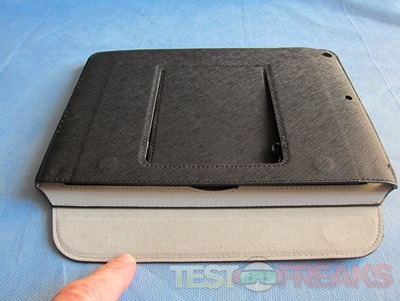 Opening the Slim Keyboard Folio reveals a black Chiclet style keyboard similar to the one's Apple currently uses. On the bottom right is the power switch for turning the keyboard on and off as well a Bluetooth sync button.
The keyboard has 84 keys, which are smaller than the Apple keyboard ones and obviously more tightly packed as real estate is at a premium.
The Slim Keyboard Folio charges via a micro USB connector found on the bottom right of the front cover just beneath the embossed Griffin logo. The Slim Keyboard Folio comes with a rechargeable lithium ion polymer battery.