It's been a long time since I've been treated to a real nice set of cans, my last pair being from House of Marley are nice enough and suit my style but have some limitations in the sound department. JBL are well known for producing quality sound gear so the Synchros S700 were a natural progression for me in search of the ultimate headphones. They are available in both black and white, I'm glad I got the one to match perfectly my Galaxy S4 which I'll be using for most of my listening. I wanted something that not only sounded amazing, they looked cool too. But I didn't want what everyone else had. At around $300 they won't break the bank either.
Specifications and Features
A new movement is underway. One where the use of real materials is as important as authentic sound. The JBL Synchros S700 headphone is built for those who know future when they see it: precision crafted from lightweight die cast aluminum, woven cordura, steel, and appointed with leather earcushions, the S700 feels as luxurious as it looks. Modeled after legendary JBL professional audio systems, these headphones deliver powerful audio with showstopping clarity, and original JBL PureBass performance. Enhanced by proprietary LiveStage signal processing, these advanced technologies give you the purest of listening experiences. Nothing in the world looks, feels, or sounds this new.
Android/iOS Compatible
Compatible with your choice of either iOS or Android devices giving you the flexibility you need for your listening pleasure.
Built-in Remote/Microphone
The built-in remote/microphone allows you to adjust the source volume and answer calls.
LiveStage DSP
LiveStage recreates the sense of spatial presence that you feel when listening to loudspeakers in a room.
Stainless Steel Headband
These headphones feature stainless steel headband for increased durability and style.
Carry Case
JBL sound is always worth protecting. An included carry case keeps the device safe from bumps and bruises.
Product Features
Precision designed die-cast aluminum frame with woven accents, steel headband and soft leather ear cushions
In a world grown oversaturated by conventional, plastic headphones, we decided to take a long, bold leap into authenticity. Imagine a lightweight yet durable die-cast aluminum frame with a sturdy steel headband. Picture woven fabric accents. Think sculpted, soft leather ear cushions that envelop your senses in precision-designed comfort. In sum, envision the new S700 Stereo Headphone by JBL. Born from groundbreaking acoustic research in Harman's laboratories, the S700 is modeled after the same JBL sound systems used in the world's most prestigious clubs, delivering a balanced audio experience with razor-edge clarity and deep, powerful bass.
Proprietary LiveStage DSP gives listeners a more lifelike audio experience
From the company that gave you some of the world's finest concert and club sound systems comes a headphone that carries all the power and precision of a live concert event straight into your ear. That's the concept behind JBL's proprietary LiveStage digital signal processing technology – as easy to use as it's impossible to imitate. With the simple push of a button on your earcup, you'll find yourself front and center – engulfed in a lifelike music experience without precedent. How it Works; LiveStage represents a breakthrough in acoustic research. Using an advanced, binaural digital signal processing, LiveStage recreates the sense of spatial presence that you feel when listening to loudspeakers in a room, creating immense sound dispersion, unadulterated vocals, and stunning instrumentals. A true listening pleasure,
JBL Professional Audio Sound with PureBass performance
It's no trade secret we've created the world's most legendary loudspeakers. Artists from the Beatles to Maroon 5 have used JBL equipment to create some of their most historic recordings. So it should come as no surprise we've taken Pro-Audio sound to new highs – and depths – of power and portability in our Synchros Series. Introducing JBL Professional Audio Sound with PureBass performance. To recreate the first ever Pro Audio experience in headphones, we first had to define it: enter JBL LSR 6332 loudspeakers. Harmonious, complex and truly lifelike, we sought to recreate the awe-inspiring listening experience within the Synchros series of headphones. JBL engineers painstakingly measured the LSR 6332 acoustic profile, and leveraging decades of audio engineering expertise, translated it to a unique headphone listening experience – ready for the most diverse and demanding of playlists. PureBass performance is much more than a tag-line, it's a philosophy. Focusing on the full audio spectrum, not just the low end, the headphones deliver a balanced audio experience with amazing clarity, and deep powerful bass; producing clear separation of notes, avoiding the boominess and muddy sound found in other popular headphones.
Built-in, rechargeable Li-ion battery powers a full 28 hours of enhanced listening with LiveStage technology
One key thing almost every other powered headphone lacks is the power to sound good even when the battery power runs out. The S700 features a built-in, rechargeable Li-ion battery to deliver 28 hours of enhanced listening with LiveStage technology, but it also features a Passive playback mode to keep the music going even when the battery is dead. Unlike other powered headphones, the S700 is designed to sound great in passive mode, so even though the benefit of LiveStage technology is inactive without power, your music will still come through loud and clear.
Compatible with your choice of either iOS or Android devices.
Detachable cable design with both an iOS 3-button remote/microphone cable and a universal 3-button remote/microphone cable included, giving you the flexibility you need for on-the-go listening.
General Specifications:
Type: Over-Ear Headphones.
Rated: Power Input 30mW
Audio Specifications:
Frequency Response: 10Hz – 22kHz
Maximum SPL: 117dB @ 30mW
Control and Connection Specifications:
Connector: 3.5mm jack
Speaker Specifications:
Driver: 50mm driver
Dimensions:
Depth (in):3-25/32 / Depth (mm):96
Height (in): 7-2/23 / Height (mm): 180
Width (in): 5-9/10 /  Width (mm): 150
What's In The Box?:
1 pair of JBL S700 over-ear stereo headphones with Li-ion Battery
1 three button iOS remote/microphone cable and 1 three button universal remote/microphone cable
1 cable for USB charging
Carrying case
Quick-start guide
Price: $299.95
The Review
What's in the boxes?
Synchros S700 Headphones
Case
Charging cable
2 x Cables (1 for iPhone, 1 for other devices)
Manual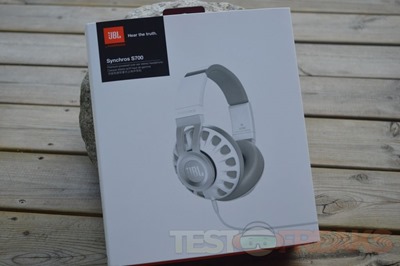 The S700's are well packaged, first in an outer box, then an inner orange box. You'll first see the black case which contain the headphones themselves. Underneath is the cables and manual. You won't really need the manual.
The case itself is black with the JBL logo on one side, and Synchros on the other. It's a soft case with a zip – which also bears the JBL logo on it. Inside the case is a soft velvety material throughout, with a compartment which is to store the cable.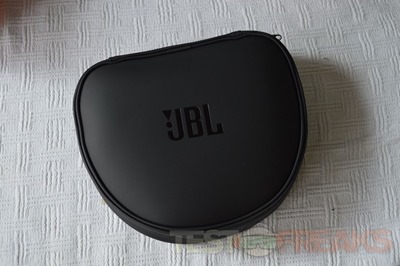 When I unzipped the case and lifted the headphones out I started to smile. They looked and felt great and in a way quite unique. I love the construction, and the choice of materials. Die-cast Aluminum, steel headband, woven cordura accents and leather cushions are what these cans are made of. I'd call them luxurious if I could only use one word.
These are over the ear headphones, with an adjustable steel band numbered (1-12) on each side so you can ensure they are correctly balanced on your head. On the top is the JBL logo in large lettering and underneath a cushion for comfort. The cushion is on the thin side, but I don't personally find this an issue. Inside the bottom of the band is "L", "R" and "S700", "Designed in California", "Precision Crafted Headphones". On the outside of the band on each side, the words "Synchros". In the center of each headphone is the JBL logo. The drivers (50mm in case you are interested) themselves have a thin material inside and nice soft leather cushions.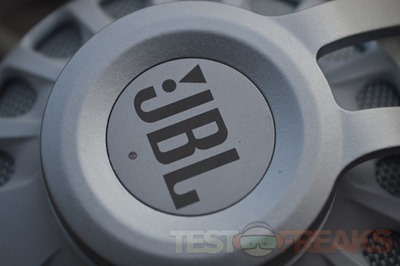 Slipping them on they felt comfortable from day one. I adjusted the band to number 8 on each side, as you do this you'll hear a reassuring clicking like a precision instrument. I tend to use these for the journey to work each day, which is a little over an hour and there's no discomfort. Longer than that, for instance on a recent long haul flight I did find myself removing them on occasion just because my ears got a little warm. I don't think there are many headphones on the market that don't suffer from that. On the comfort scale though, they are the best I've had.
You'll need to connect the cord of course before using them – they aren't cordless. It took me a while to work out which one to use (one is for Android and the other iOS), they do look almost identical. Labeling them might have helped but there is a slight different coloring though you'll need to look hard. They also need to be pushed in all the way to the driver. A couple of times I didn't do this and of course the sound was not coming through properly. The choice of a 4.5mm rather than the standard 3.5 seems a little odd. You've a remote control and mic built in. The mic works well for making calls, in fact it's crystal clear. The remote controls volume and pause/play, and a double click to skip a track (at least on my Android device). Whilst the cord looks like it belongs with my S4, it doesn't feel quite the same quality as the phones but this is just a minor point.
To get them back into the case, you'll need to flip them around and make the headband as small as it can go, remove the cable and tuck that into the net inside the case then zip them up. It takes all of 10 seconds once you've mastered it.
You don't need to charge these to use them unless you'd like to use the LiveStage feature. LiveStage seeks out to change the way the music sounds to make it more like that in a live environment. The supplied cable allows you to charge them up, and of course they are out of action whilst this is happening as it uses the same port. You'll probably find you don't need to charge them too often, firstly because they'll operate for more than 24 hours, but secondly because the LiveStage feature isn't really suitable for many types of music. I've tried a lot of different genres and must admit I prefer pretty much everything with this feature turned off. I understand what it's supposed to do, it just doesn't seem that it's really needed in most cases. Operation of LiveStage is initiated by pressing and holding the center of the left headphone. You'll hear a beep and a small white light will illuminate underneath the JBL logo. Deactivating the feature is just as simple. The market for headphones is huge and I guess that LiveStage is something a little out of the usual, but I don't think this should be one of the main selling points.
Crucially how do they sound? They use JBL's "PureBass" technology so you'd expect them to be good in this area. And they are. Some headphones get this completely wrong, but the S700's are spot on delivering deep bass which isn't over the top. I listen to a lot of reggae, so bass is important and these are the best I've heard in that department. Ever. But they've also got everything else just about right. I'm not going to get flowery with the language here like some audiophiles do suffice to say they are damn good sounding headphones. Listening to some instrumental and slow vocal everything is crisp and you can pick out things you've not heard before, the clarity is spot on. I'm giving them top marks for sound because – at least for my ears – there's little to improve upon.
Conclusion
I'm impressed. The Synchros S700's suit me in every way. Sound – top marks, really I can't fault them. You get to hear every instrument with such clarity it's just incredible. The fact that no-one else can hear what you are listening to (at reasonable volume) is certainly a plus point too, especially when you are using public transport. Whilst not completely noise reducing, they come close to cutting out most noise around you which suits me well. I love the design, the construction and each time I pull them out of the case I get a little bit excited. You probably get the picture by now that I like these. A lot. They are a little bulky to carry around so perhaps not suited especially to mobile use but that's a sacrifice for all the positive things about them. You'll probably want another smaller lightweight pair for jogging for instance.
Pros:
+Fantastic to look at
+Unbelievable sound
+Nice case
+Sturdy build
+Comfortable
+Virtually no sound leakage
+Color choice
Cons:
-Bulky
-Warm ears after a long period
| | |
| --- | --- |
| Grades: | 9 out of 10 |
| Overall | |
| Design / Aesthetic | |
| Value / Price | |
| Performance / Usage | |
To learn more about our review policy please visit this page HERE.