Up for review today I've got a handy little gadget from our friends over at GearZap called the Juiceful 3 in 1 key chain for micro USB devices but that name isn't quite what it is. This little gadget is three things obviously as its name implies, first it's a 16gb flash drive, then it's a 1000mAh emergency battery for micro USB devices and lastly it can act as a charge and sync cable for your phone. It's small and portable so you can easily attach it to your keys or just toss it in a bag and it'll be there when you need it.  Read on to learn more…
Unboxing
The packaging is a box with a window in it showing the Juiceful device and on the back is some basic specs and features.
When you open the box you'll find a plastic tray holding the Juiceful 3 in 1 device along with a user manual.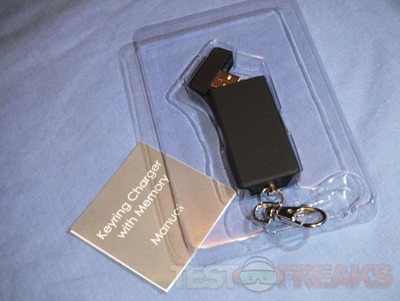 The top, I guess, it's the top, is just plain. The device itself has a rubber like texture to it and overall it feels well made and sturdy.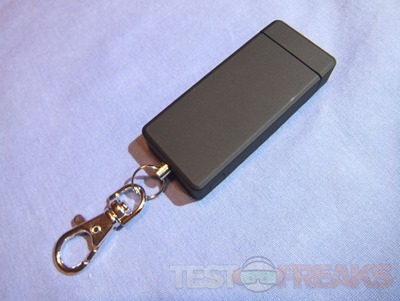 On the opposite side it's blank expect down in the corner where you'll find a tiny holes which is actually an LED that indicates power and charging.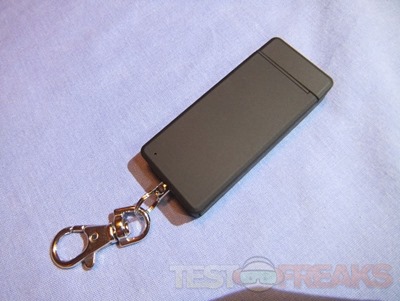 On the side you'll find a single button which has dual uses which you'll find out about below.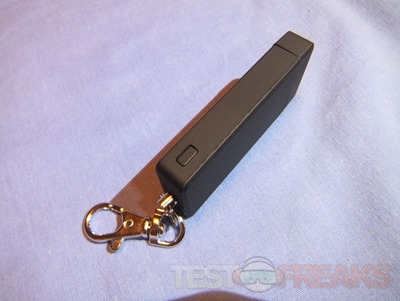 When you remove the cap you'll find a standard USB connection and a microUSB style.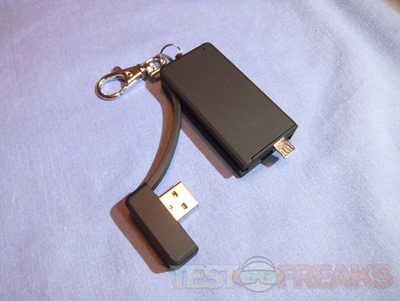 Here's the view from the port side you you, you can see where the larger USB connection fits in.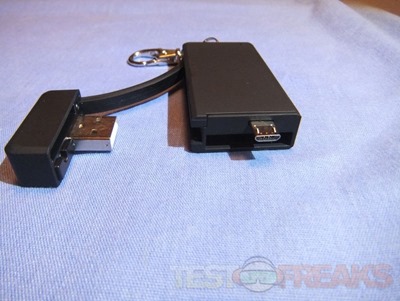 Specifications and Features
Juiceful 3-in-1 Key Chain for Micro USB Devices
3-in-1 functionality
The Juiceful 3-in-1 Key Chain for Micro USB devices has been designed with portability in mind, so it's light and compact enough to go wherever you do. The innovative 3-in-1 design incorporates an emergency battery, 16GB flash drive and data cable making this a must have accessory for micro USB device owners.
1000mAh emergency battery with micro USB connector
With the Juiceful's integrated 1000mAh emergency battery you'll never need to worry about your battery running flat again. Simply plug the micro USB connector into your device and hold down the multifunction button on the Juiceful to start charging. The 1000mAh capacity is enough to restore over half of a Samsung S4 Mini's battery, for example.
16GB USB memory flash drive
The Juiceful 3-in-1 Key Chain also features an integrated 16GB USB flash drive, so you can take your files, music and films anywhere you go. Just plug it into a USB drive and tap the multifunction button to activate the flash drive.
Micro USB to USB data cable
With the Juiceful's integrated Micro USB to USB data cable you can sync and charge your micro USB device wherever you go. Just use the simple multifunction button to switch between, activate and cancel the different modes – no messy wires, no complicated controls – it really is as simple as that!
Technical Specifications:
Battery: 1000mAh Li-polymer
Input: 5V 500mA
Output: 5V 500mA
Charging time: 1.6 hours
Recharge cycles: 500 times
Flash memory: 16GB
Price: £24.99 / $41.84
The Juiceful was provided by GearZap for review where you can find iPad Mini Retina Accessories, tablets cases and just all sorts of stuff for your mobile lifestyle.
Testing and Usage
So for testing I used it with my HTC One cellphone which happens to have a microUSB port on it.
The first thing I tried was charging the phone and to do that you have to actually press the button on the device to initiate charging and then to stop you press the button again. The LED will light up to indicate charging on the Juiceful device. There is one thing to note, I did have to take my phone out of its case to get the Juiceful plugged into it.
It seemed to work fine, the red LED lit up to indicate charging but I got a message on my phone that the charger is charging my phone slowly.
So it does charge but it charges slowly, it's meant to be an emergency charger and not a fast charger. Charging slowly isn't that much of a problem to me and in an emergency , power is power so that works for me.
How much power you'll get is dependent on the battery in your phone. For example, according to the specs, it can charge a Samsung Galaxy S4 mini to more than half capacity.
To charge the battery in the Juiceful you just plug it into a regular USB port, the LED will blink blue to indicate it's charging and then turn solid blue when complete.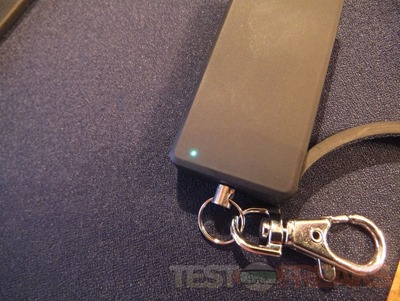 To use the Juiceful as a USB drive you have to press the button and Windows will recognize it and you can access it,, press the button again and it's the same as removing the drive from your computer.
The Juiceful also works as a pass-through, you can plug it into your phone and then plug the Juiceful into your computer and it will charge your phone and sync at the same time.
The drive is 16gb in capacity, which is plenty I think. I was curious as to the performance of it so I grabbed my Kingston Datatraveler 150dt 64gb drive and ran ATTO Disk Benchmark on that and the Juiceful to see how they compared.
The Kingston is quite a bit faster than the Juiceful, but I sort of expected that.
So the Juiceful isn't the fastest USB drive out there, but it's not too bad, it'll do for transferring files back and forth surely.
Conclusion
The Juiceful 3 in 1 is most certainly a handy little gadget as it can be very useful I think.
Yes it's only a 1000mAh battery but it's meant to be for emergency use and it should provide more than enough power to most cellphone to make several phone calls if need be.
The 16gb flash drive is rather slow, but it's not overly slow, it should be fine for most any uses.
The sync cable works as advertised, no issues there, you can charge and sync right through the Juiceful.
Overall the Juiceful isn't a bad little device, it does exactly as it's supposed to.
Pros:
+3 in 1 device
+Handy overall
+Well made
+Works as pass-through
Cons:
-Slow charging
-Slow transfers
| | |
| --- | --- |
| Grades: | |
| Overall | |
| Design / Aesthetic | |
| Value / Price | |
| Performance / Usage | |
To learn more about our review policy please visit this page HERE.