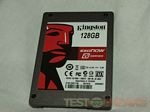 SSD drives are the future of storage, but it will be a while before they entirely replace mechanical hard disks, the main reason being the cost of course. Some companies out there though have recognized this and have introduced lower priced or value lines of SSDs to bring them more into the reach of the average person, Kingston is one such company with their SSDNow V series of drives. They might be labeled value but they're fast and well worth the cost.
Today for review I've got the Kingston SSDNow V Series 128gb SSD, but it's not just the drive I have as they sent me the Notebook bundle kit. The last Kingston SSD I reviewed was the 40gb SSDNow V desktop upgrade kit so getting this one makes a nice contrast to the other. These new SSD drives from Kingston are faster than the first generation and their main new feature is the addition of TRIM support now. It might be named the notebook bundle but the drive can be used fro anything as you might expect, but to make things easier for those of us that want to upgrade our notebooks Kingston included a rather nice USB enclosure so you can clone your SSD via USB quickly and easily. In the following review I've compared the new Kingston SSDnow V to the last generation and to another value priced SSD I've got on hand, I also decided to toss the SSDNow V drive into a USB3.0 enclosure and test it that way to see the results. So read on to see the comparison and learn more about the new Kingston SSDnow V SSD…

As I mentioned, the last Kingston SSDNow V Series SSD I got for review was the desktop bundle, this time I've got the notebook bundle.
It comes in a double box basically, a cardboard slip cover with a plastic box inside.
Included with it is a CD containing hard drive cloning software and the installation guide so you can get started right away, the idea of this kit is so that you get everything you need to get started right out of the box.
The USB enclosure is one that I like actually, it's plastic but it's truly tool-less.  One side has an LED and the USB port while the other has a slide lock on it.
The bottom of the enclosure slides off when unlocked then you can just slide the SSD into it and close it back up, no screws needed at all. The nice thing of course is that once you're done with cloning the drive and installing your new SSD into your notebook you can use the enclosure for your original hard drive then you've got some portable storage.
Specifications:
Kingston introduces its second-generation SSDNow V Series drive to help consumers and organizations of all sizes enhance the performance of computers with a Serial ATA (SATA) interface. By improving a computer's performance and durability, SSDNow V Series drives help increase productivity and extend the life of existing computers.
Adding SSD to a desktop already using a standard hard disk drive is a smart and efficient way to upgrade. Transferring the operating system and applications from the HDD to the SSD allows the SSD to be used as a bootable drive that takes full advantage of Flash-based technology. The SSD and the HDD then co-exist to drive optimal performance in the upgraded desktop.
For notebooks, SSDNow drives are a perfect replacement for hard drives resulting in faster, more reliable performance. Making this change will improve a notebook's efficiency in a wide range of tasks, from booting up to running the most robust operating system and demanding applications.
SSDNow uses a standard SATA interface but, unlike a regular HDD, SSD is very rugged and built with no moving parts, making it ideal for power users and road warriors who push the limits of their notebooks. Other benefits include reduced power usage, less noise and less heat generation.
Kingston's SSDNow V Series offers performance gains and power consumption reductions at a fraction of the cost of a new system. For added peace of mind, they're backed by 24/7 tech support, a three-year warranty and legendary Kingston reliability.
Specifications/Features:
Features:
-Performance – Enhances productivity; makes users more efficient
-Innovative – 2.5″ form factor; uses NAND flash memory components.
-Silent – Runs silent and cool with no moving mechanical parts
-Reliable – Less likely to fail than a standard hard drive
-Shock Resistant – No moving mechanical parts so the SSD handles rougher conditions.
-Supports TRIM – Enhances device wear leveling by eliminating merge operation for all deleted data blocks.
-Supports S.M.A.R.T.
-Guaranteed – 3-year legendary Kingston warranty, 24/7 tech support
Specifications:
-Sequential Speed:
–64GB – 200MB/sec. read; 110MB/sec. write
–128GB – 200MB/sec. read; 160MB/sec. write
-Life expectancy –1 million hours mean time before failure; 64GB/128GB
Kingston SSD V Series Part Number: SNV425-S2BN/128GB (notebook bundle***)

I'm comparing three value priced SSSDs, the 60gb OCZ Agility Series, the first generation Kingston SSDnow V 40gb and the new SSDNow V 128gb SSD.
I did quickly play around with the enclosure, and again I like it quite a bit, it's handy and the fact that it's tool-less is great.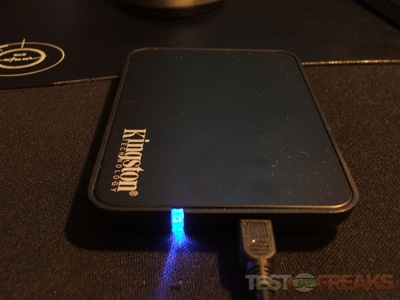 I compared the enclosure to my Seagate BlackArmor PS110 500gb USB2.0 drive. I also decided to put the Kingston SSDNow V 128gb SSD into my USB3.0 enclosure and test it to see the results.
The USB2.0 results are close, but the USB3.0 ones show a big improvement as one might expect. The Write speeds are more than doubled, tripled actually at some points, while the Read speeds are almost quadrupled. Interesting results but I don't think I'd waste a good SSD on portable storage…
Now here's the three SSD drive tested with ATTO:
The new Kingston 128gb SSDNow V drive is much faster than it's predecessor almost tripling the write speed and giving use much faster read speeds. As you can see also the SSDNow V is faster than the OCZ Agility as well.
I also used SiSoft Sanda 2010 Portable USB Edition and ran a couple disk related benchmarks from it as well on these SSD drives.
The first test is the File Systems Benchmark:
Benchmark mounted file systems (i.e. volumes)
This is not the raw disk performance that other benchmarks test – but the speed of the volume itself that depends on many more factors like file system, operating system cache, position on disk, etc. Thus this is the performance you get at the file system level.
Drive Index:
Results Interpretation : Higher index values are better.
Random Access Time :
Results Interpretation : Lower index values are better.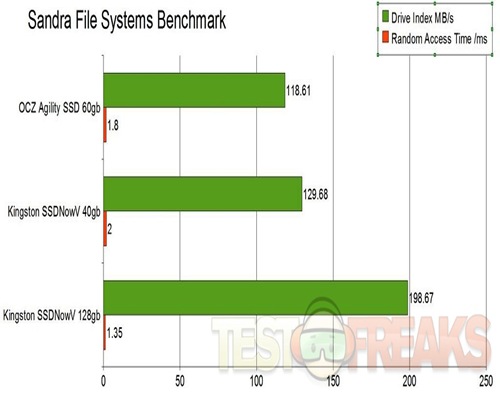 As you can see, obviously the new Kingston is much faster than the other two drives. The OCZ Agility comes in the slowest drive in this test.
The first test I have is the Physical Disks Test:
Benchmark hard disks (i.e. the disk itself, not the file system).
Drive Index: is a composite figure representing an overall performance rating based on the highest read or write speed across the whole disk. Thus the higher the better.
Access Time: is the average time to read a random sector on the disk, analogous to latency response time. Thus the lower the better.<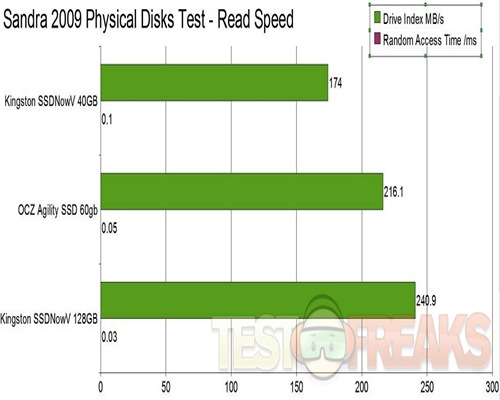 Here again we see the new Kingston SSD performs admirably, but the OCZ Agility moves into second place for this test bumping the original 40gb SSD into last place.
No I didn't use the kit as intended to upgrade my netbook to an SSD since my main netbook already has an SSD in it, the OCZ Agility 60GB. The idea was to show you a new kit since I showed you the desktop bundle in the last Kingston SSD review. I'm actually going to be using this 128gb SSD as my OS drive for my second Windows 7 system.
Conclusion:
The new generation of the Kingston SSDNow V series of SSD drives provides a nice performance improvement over the first generation, and of course TRIM support is a welcome addition.
Sure there are faster drives out there, but they're not Value priced, they're performance drives.
If I compared a a much more expensive, perforce drive to these there would be no contest, but that's not the point of this it's to compare the value drive to one another and to see the difference between the first and second generation of the SSDNow V drives.
The Notebook bundle is a quick and easy way to upgrade your netbook or laptop, it includes everything you need to clone your drive and be up and running with a new SSD in a few simple steps.
Pros:
+Decent speeds overall
+Includes everything you need to upgrade the HDD in your notebook
+Includes nice USB enclosure
Cons:
-None really
| | |
| --- | --- |
| Grades: | |
| Overall | |
| Design | |
| Performance | |
This product was given to technogog for review by the company for review purposes only, and is not considered by us as payment for the review, we do not, and never will, accept payment from companies to review their products. To learn more about our review policy please visit this page HERE.