…and I'm back with the second review for today, or it could be considered part two of the earlier review I posted today. I couldn't exactly test a USB3.0 PCIE card without something that was USB3.0, so I used a nice little enclosure for a 2.5" drive.
Today for review I've got another product from our friends at Brando USB, it's a USB3.0 2.5" SATA HDD Enclosure. This enclosure is obviously USB3.0 enabled so I think that in itself is rather special right there.  The enclosure is made of aluminum to help keep the drive nice and cool, and it seems well made. It even comes with a screwdriver to help you get your HDD installed and a nice little carrying pouch. So let's get into it..

This enclosure is no name brand really, or generic, whatever you may call it works I guess.
Includes with the enclosure is everything you need to get going except for the hard drive. You'll find a screwdriver, screws, USB3.0 cable, alternate power cable, instructions and even a little cloth carrying pouch.
The enclosure I received for review is black in color but it's also available in silver if you'd rather. It does feel nicely made, it's thick aluminum so you drive should be relatively safe inside.
On the end you'll find the blue USB3.0 port and the power connection.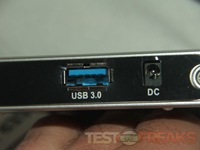 To open it up you just need to remove two screws from the end where the USB connection is, then you can access the PCB where you'll attach your hard drive. It's for SATA drives only so you'll find an SATA interface on the board as you might expect.
Specifications:
USB 3.0 2.5″ SATA HDD Enclosure
USB 3.0 2.5″ SATA HDD Enclosure offer USB 3.0 with a theoretical data transfer speed of 5.0 GBit/s. That's some ten times the USB 2.0 speed of 480 MBit/s. it is a perfect HDD enclosure for everyone.
Features:
-Fit any 2.5″ SATA Hard Disk Drives
-Compliant with USB 3.0 Super-Speed (5Gbps), USB 2.0 Hi-Speed (480Mbps), USB 1.1 Low-Speed (1.5Mbps)
-Plug and play
-Easy to assemble
-Aluminum material with special surface process, provide better heat dissipation and protection work well with either laptop or desktop
-Dimension: 135 x 82 x 15mm (approx.)
-Weight: 111g
Package Contents:
-USB 3.0 2.5″ SATA HDD Enclosure
-USB 3.0 Cable
-USB 2.0 Power Cable
-Screwdriver
-Screws
-Pouch
Price: US$49.00

With this enclosure I used a 2.5" SATA 5400RPM Samsung 500gb hard drive.
Installation require you to connect it to the board and then secure it with four screws on the bottom, simple to do. Once that's done just slid it back into the aluminum enclosure and replace the two screws to secure it in place and you've got youself a nice looking external hard drive.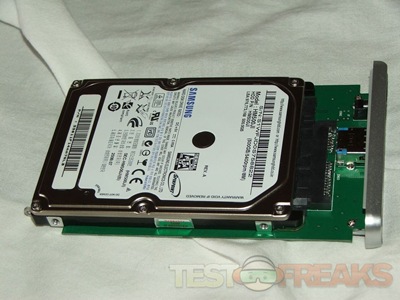 The little LED that is attached to the front of the PCB is lined up with the USB3.0 logo on the front of the enclosure. It lights up blue when powered on and blinks with activity.
In the review earlier today when I looked at the USB3.0 PCIE card and the Extension cable I tested this enclosure as part of that review, so the results you're going to see are those same ons.
So here is the enclosure tested using ATTO Disk Benchmark on both the USB2.0 and USB3.0 interfaces.
As you can see there's a very big difference between the USB2.0 and USB3.0 interfaces, more than double the performance.
Conclusion:
For what it is, the USB3.0 2.5" SATA HDD Enclosure from Brando USB is a nice one really. It's well made, installation is easy and it looks pretty good too.
Coming in at right under $50 it's a bit expensive, but I think most things USB3.0 are going to be expensive right now…
I'm curious, has any else out there moved to USB3.0 yet? Do you feel it's worth it to be an early adopter?
Pros:
+Easy installation
+Well made
+Includes screwdriver and carrying pouch
Cons:
-A bit expensive
| | |
| --- | --- |
| Grades: | |
| Overall | |
| Design | |
| Performance | |
This product was given to technogog for review by the company for review purposes only, and is not considered by us as payment for the review, we do not, and never will, accept payment from companies to review their products. To learn more about our review policy please visit this page HERE.