Kingston has just announced a new SSD drive, while that in itself isn't that exciting as SSDs have been around for a while, the purpose of this particular drive though is different than others. The Kingston SSDNow V Series 40gb SSD is meant to be a boot drive only with the user putting their files, folders etc on a standard hard drive. The idea behind this is to speed up boot, shut down and the operating system overall, and I think everyone can appreciate that. What I got for review is the entire bundle, which is a kit that includes the SSD drive, rails for installation, cables and software to make the transition easier for the user. So continue on to see how it compares to other SSDs and standard hard drives…

We'll start off with an unboxing video then some still pictures of the contents:

Specifications:
Kingston SSDNow 40GB Boot Drive
Kingston SSDNow 40GB Boot Drive Features and Specifications:
* Sequential Speed***: up to 170MB/sec. read
40MB/sec. write
* Performance: enhances productivity; makes users more efficient
* Innovative: 2.5″ form factor; uses NAND Flash memory components
* Silent: runs silent and cool with no moving parts
* Reliable: less likely to fail than a standard hard drive
* Shock Resistant: no moving parts; handles rougher conditions than a hard drive
* Supports S.M.A.R.T.: Self-Monitoring, Analysis and Reporting Technology
* Guaranteed: three-year Kingston warranty, 24/7 tech support
* Capacity¹: 40GB
* Storage temperatures: -40° C to 85° C
* Operating temperatures: 0° C to 70° C
* Vibration operating: 2.17G (7-800Hz)
* Vibration non-operating: 20G (20-2000Hz)
* Power specs: Active: 0.15W (TYP); Sleep: 0.06W
* Life expectancy: 1 million hours MTBF .
SNV125-S2/40GB     40GB 2.5″ SATA SSD (stand-alone drive)     $ 115.00
SNV125-S2BD/40GB  40GB 2.5″ SATA SSD (desktop bundle)     $ 130.00

We'll start off with ATTO Disk Benchmark. We all know ATTO so there's no explanation needed.
For all of the tests I compared them to both SSDs, 3.5" and 2.5" drives I've got on hand:
Hitachi Deskstar 3.5" 500 GB – HDP725050GLA360  (7200RPM/3g/16mb)
Seagate Momentous 2.5" 5400.3 160GB – ST9160821AS (5400RPM/1.5g/8mb)
Hitachi 2.5" 160GB – HTS543216l9a300 (5400RPM/3g/8mb)
Patriot 128GB Warp SSD Drive PE128GS25SSDR
OCZ Agility Series 60GB SSD OCZSSD2-1AGT60G
If you look at those green bars on the Kingston SSDNowV you can see the read speeds are extremely fast coming in at almost 200MB/s. None of the other SSDs or drives even come close to those scores. So far I'm impressed with the read speeds, but those write speeds are a bit on the slow side…
Next test is SiSoft Sandra 2009 SP4A Physical Disks Benchmark (Read Test)
Physical Disks
Benchmark hard disks (i.e. the disk itself, not the file system).
As the test measures raw performance it is independent on the file system the disk uses and any volumes mounted off the disk.
Drive Index: is a composite figure representing an overall performance rating based on the highest read or write speed across the whole disk. Thus the higher the better.
Access Time: is the average time to read a random sector on the disk, analogous to latency response time. Thus the lower the better.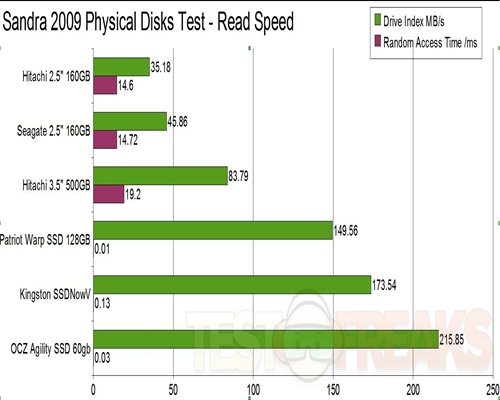 Not bad, coming in second place..
Next test is Sandra File Systems Benchmark, this one is in two parts:
File Systems
Benchmark mounted file systems (i.e. volumes).
This is not the raw disk performance that other benchmarks test – but the speed of the volume itself that depends on many more factors like file system, operating system cache, position on disk, etc. Thus this is the performance you get at the file system level.
Drive Index: is a composite figure representing an overall performance rating based on the average of the read, write, and seek tests, and file and cache size. The Drive Index is intended to represent drive performance under typical use in a PC. A larger number means better performance. The weighting of the results is not equal it represents the distribution of different files sizes as used on these devices (obtained through field research).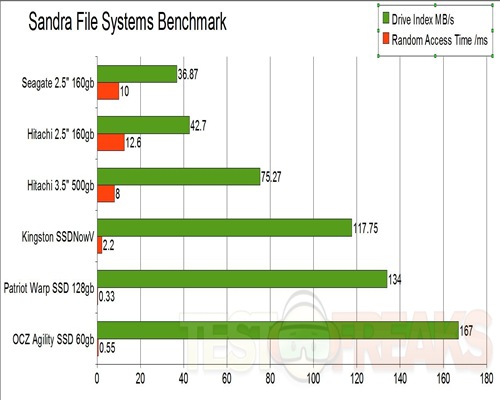 Here the Kingston lags a bit behind, but still when compared to a conventional drive it scores very well.
The File Systems Test also gives us a breakdown of the results so you can get a detailed look at the performance.
There's a lot of information in the chart, you might want to click it to get a better view.
The chart is ordered by Buffered Read Speed going slowest to fastest.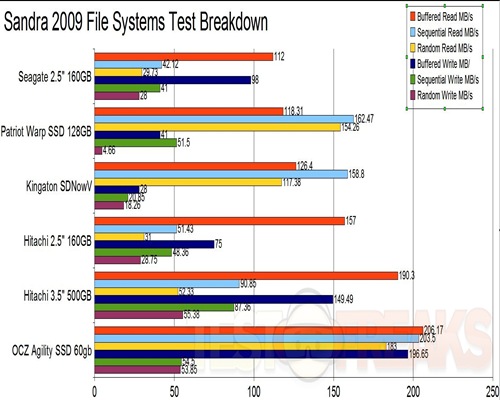 Overall the Kingston drive scores fairly well.
Next up is two test using DiskBench.
The first test is using a 349MB .AVI Video File.
This is the time it takes to Copy From and Copy To the drives, lower is better of course.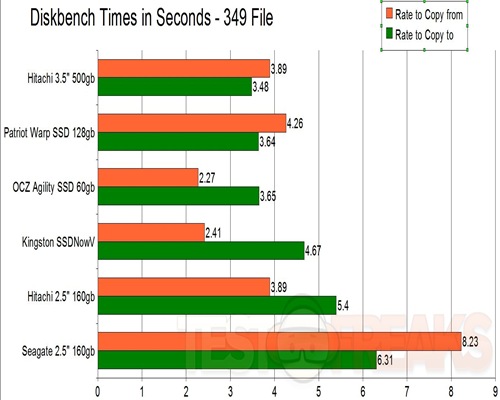 As expected the read speed is very good for the Kingston, coming very close to the OCZ Agility. The write sped however is a full second slower really, but do you really care about 1 second?
Here's the actual Transfer Rates in MB/s for test, higher is better.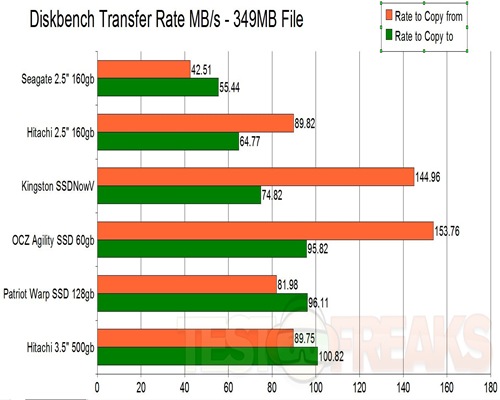 Same thing here, this just tells us the speeds of the drive.
The last test is using a larger file, a 3.15GB .ISO file actually.
Here again, this is a timed test, so lower is better.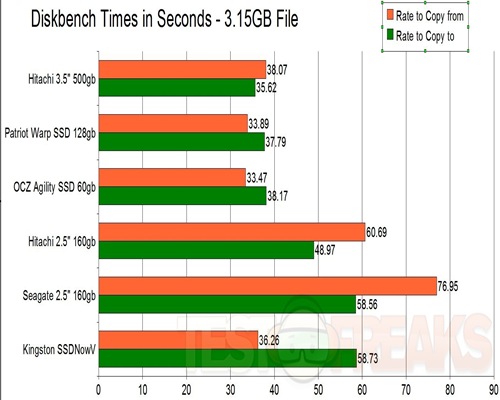 The slow write speeds of the Kingston make is fall to last place, but if we referenced the chart by read speeds we'd see a very much different story.
Here's the transfer rates for the test: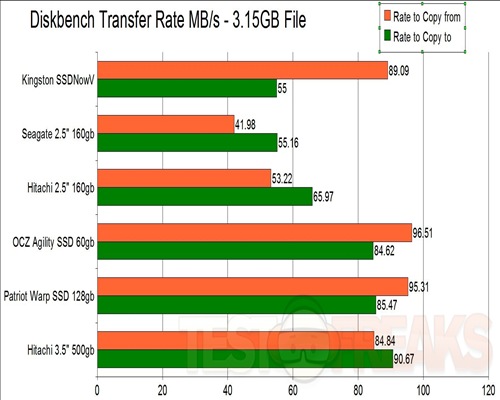 The write speeds are what hurts the Kingston drive, but that's not the idea of this product though is it?
The idea of the Kingston SSDNowV Boot Drive is to accelerate read times and that it does very well.
I did use it as intended, I installed Windows 7 on it and on a regular hard drive, boot times and overall the system seemed much quicker.
The included software can help you clone your hard disk if you've already got you operating system installed on a standard HDD.
The idea behind this product is to put the operating system on the SSD and then use a regular hard drive for programs, files etc, and this idea is a good one but it can be time consuming and honestly a bit difficult for the beginner. To use the SSDnowV you'll need to move your folders etc to your other hard drive and make sure the operating system knows where they are, this can be a bit tricky, but it can be done with a little knowledge and patience.
As far as the cost of this compared to other SSD drives, there really isn't any other 40GB SSD drives to compare it to, but there are smaller and larger ones that all cost more than the Kingston SSDNowV does.
Conclusion:
The Kingston SSDNow V Series 40GB Boot drive is a cost effective way to increase the overall performance of your system. This drive has very fast read speeds which will allow your system to boot and shut down faster and overall increase access performance of your system.
Yes it's not the fastest out there, but for the cost it's well worth it, especially for the novice user or someone just getting into SSD drives.
Pros:
+Very fast read speeds
+Everything included in bundle
+Low cost
+Fairly easy installation
Cons:
-Slow write speeds
-Can be time consuming when moving files and folders
| | |
| --- | --- |
| Grades: | |
| Overall | |
| Design | |
| Performance | |