Today for review I've got the Kinkoo 40W 6-Port High Speed USB Charger with iPower Technology and like the name suggests it's a six port USB charger or charging station. The Kinkoo charger features what they call iPower technology that automatically senses or knows what type of device you plug in and what its power requirements are and then quickly and efficiently charges it. Read on to learn more…
Specifications and Features
When you unpack the box you'll find the charger, power cord and user guide. The power cord is about 5ft or 1.5m long so it should be more than long enough for most uses I would think.
The charger has a widened base so it can stand up vertically on your desk and remain stable. It's made of plastic as most things are and it's about 4.1 x 2.2 × 0.9 inches in dimensions and it weighs about seven ounces. It's small and light enough to easily take with you if need be. The outer housing is shiny plastic making a nice presentation, and it seems well made overall.
On the bottom you'll find the ID label and that's about it there.
On the back of the charger is the power connection for the included cord. Sadly there is no main power switch so if you're not using the Kinkoo charger you'll need to unplug it to shut it off.
On the front you'll find the six USB ports which are labeled Smart, iPad/iPhone and Android, two of each. The ports can output up to 2.4amps for a fast charge for most devices and it knows what kind of device you plug in through the iPower technology chip inside so it can give your devices the correct amount of power and the fastest charge. On the bottom, below the USB ports is a single LED that lights up when powered on.
When you plug the Kinkoo into a wall outlet for power the LED at the bottom will light up blue letting you know it's ready to charge your devices.
For testing I charged my stuff, my PS Vita, the Black Box Car DVR, a MeeCam mini camera, an HTC One M7 Android phone, a Joby LED Flashlight and a Ravpower external battery/flashlight.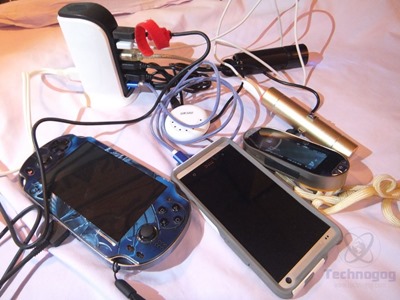 Everything charged just fine, no issues here, I like having everything in one place. Before I got the Kinkoo charger I had things plugged into USB ports on my computer and USB wall adapters under my desk, now I've got everything in one spot and not spread around.
Conclusion
The Kinkoo 40W 6-Port High Speed USB Charger is aesthetically pleasing, it looks very nice and will look great sitting on your desk charging your gadgets. The six USB ports will quickly charge your devices and you'll have everything in one area instead of scattered around in various places plugged into individual USB ports.
Something like this is very much needed as we collect more and more USB powered gadgets. My computer only has so many USB ports to charge stuff, and there are only so many wall outlets to use as well, having six USB ports for charging in one place is very convenient.
The Kinkoo charger has auto sensing ports thanks to the iPower technology built-into it that knows what type of device your plugin and what its power needs are and automatically uses the correct voltage and amperage for that device to charge it quickly and efficiently.
The only complaint or con can I can list about the Kinkoo USB charger is the lack of a main power switch. Since there's no switch you leave it powered on all the time or you have to unplug it from your wall outlet. Sure it doesn't use that much power but in our homes we've all got things that just keep drawing power all the time and it does all add up. Not that big of an issue I guess, maybe it's more of a personal preference, but I like to be able to turn things off when I'm not using them.
Pros:
+Looks great
+Well made
+Auto senses device plugged in
Cons:
-No main power switch
| | |
| --- | --- |
| Grading | Scores Out of 10 |
| Overall | |
| Design / Aesthetic | |
| Value / Price | |
| Performance / Usage | |
Disclosure: This product was given to us for review by the company for review purposes only, and is not considered by us as payment for the review.
To learn more about our review policy please visit this page HERE.