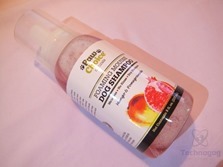 Stinky Dog! It's a fact of life that dogs smell, they can downright stink sometimes and it might not be possible to give them a bath at that moment when they get into something so there's the product I have today for review which can help with that. Today for review I've got the Paw Choice Mango and Pomegranate Scent Dry Dog Shampoo and it's not exactly dry but you don't need water like a regular bath. The shampoo comes out as a nice thick foam or mousse and you just rub it into your dog and you can leave it in without rinsing. I've tried it on both of my dogs and it really does work, well at least they smell a whole lot better afterwards! Read on to learn more…
Specifications and Features
Paw Choice Dry Dog Shampoo, Waterless, No Rinse Foam Mousse – Best for Bathless Cleaning of Coat and Removing Pet Odor – Mango & Pomegranate Scent, Natural with No Harsh Detergents, Made in USA, 100% Guaranteed
NATURAL COCONUT DERIVED FORMULA. Mild, safe and good for sensitive skin. Okay to use with topical flea treatments.
USE ANYTIME, ANYWHERE. Quick, easy and prefect for between baths, active dogs, traveling, smelly dogs and pets that don't like water or baths.
BETTER THAN WIPES AND SPRAYS. More economical and environmentally friendly than wipes and isn't a scary spray bottle. Actually cleans and doesn't just mask odor.
MANUFACTURED IN THE USA in a state of the art, EPA registered facility with the highest quality ingredients and standards of safety. Cruelty Free.
SATISFACTION GUARANTEED. When you order today, you're protected by a 30 day, no questions asked satisfaction guarantee and world class customer service!
The Fastest and Easiest Way to Clean Your Dog and Remove Odor Without A Messy Bath
– Requires No Water or Rinsing
– Cleans Skin and Coat, Removes Odor
– Fresh Mango and Pomegranate Scent
– Mild, Natural Coconut Derived Formula
– For All Fur Types and Sensitive Skin
A bath isn't always convenient or an option, but our dogs can quickly get dirty and stinky! Paw Choice waterless foam shampoo will get your furry family clean and smelling fresh without the hassle or mess of a bath.
Lots of Different Ways to Use
– Keep Active Dogs Fresh
– Extend Time Between Baths
– Great for Pets That Don't Like Baths
– Use Anytime, Anywhere!
The Paw Choice Difference
– Made in USA
– Premium Natural Ingredients
– A Commitment to Safety
– Veterinarian Formulated
– Super Customer Service
We are so confident in our products, give us a shot and if for any reason at all it's not right for you and your dog, you have 30 days to let us know and we'll give you a refund – no questions asked!
Price: $15.97 (from Amazon at time of review)
The Review
I did a quick video for you of this product, so you get a better idea of size and what it looks like etc, so check that out and read on:
The Paw Choice dry dog shampoo just ships in a plastic bag and that's fine. The box had air pillows in it with the bottle for protection so all is good.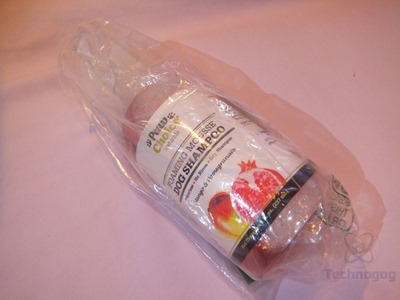 The bottle contains eight ounces or 237ml of shampoo which doesn't seem like much but it is really as it comes out as a foam so it's more spread out.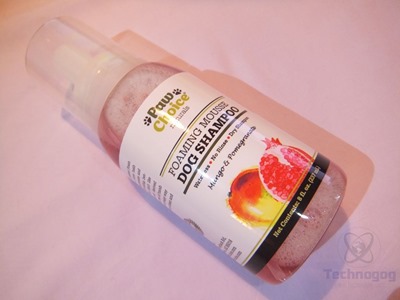 The back of the label just has some info and basic instructions. It's simple to use really, just spray it on your hand or your dog and rub it in them.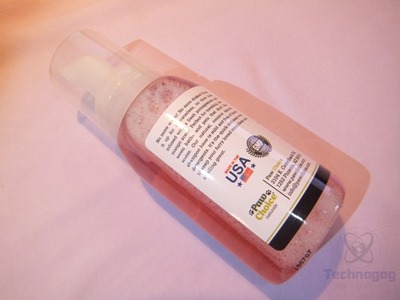 The clear top just pops off to reveal the pump top, you just push down and out comes a good amount of foam.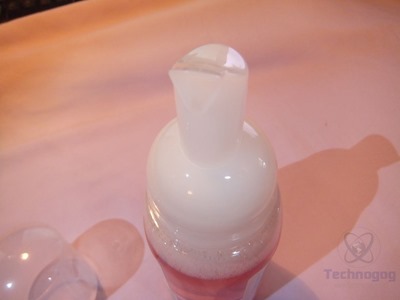 The shampoo is a foam or as they call it a mousse, but it's soft and fluffy and foamy. It's very strong scented, you can smell it as soon as you spray some out. It's supposed to be mango and pomegranate scent but honestly all I can smell is mango, but that's fine with me.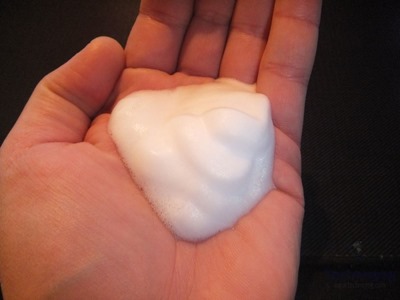 I have two American Pit Bull Terriers and one of them has health problems, we affectionately call her our 'broken dog' and her name is Sam or actually Samantha. She has bladder issues and can't control herself so we have her on medication but she needs frequent baths as the medicine isn't 100% effective, but it is better than no medicine.  We normally bath our dogs once a month as they stay indoors mostly, but Sam sometimes needs a bath more than once a month because of her bladder issues.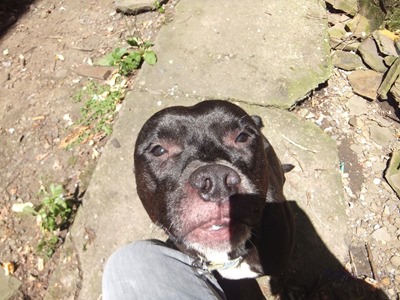 My other dog is Casey and she has no problems thankfully, but she's still a dog and starts to smell between baths so I used it on her as well.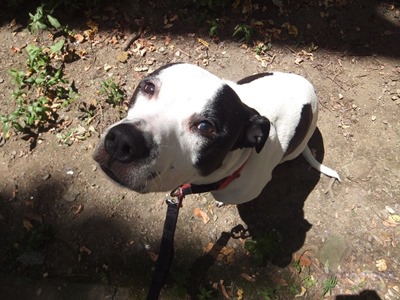 For the most part using it with my dogs was fairly simple, they were wary of the bottle at first but after a few pumps and rubbing it on them they were fine. They seemed to like it once they got accustomed to it and figured out what I was doing to them.
I have to say I was surprised by just how little of the shampoo I used for both dogs. After I was done there really wasn't that much missing from the bottle and it seemed like I used a lot of it on them. The foam really puffs up and gives you a lot to work with so you should be able to get numerous baths from just one bottle surely.
Dogs like to lick especially when you put something that smells good on them and my dogs did lick themselves and they were fine, neither got sick or had any ill effects from this product, then again they didn't exactly ingest a lot of it either, the point is that they're perfectly fine. No adverse reactions to report.
The shampoo is very strong scented which I think is good thing. I bathed the dogs before my wife got home and as soon as she opened the door she could smell it even before she saw the dogs. She was like wow, and she said she very much liked the scent.
Conclusion
I like the Paw Choice Mango & Pomegranate Scent Dry Dog Shampoo as it really does help to cover odors between baths.
The only thing is that it's not really a bath is it? Sure I could see taking it with you on an outing and your dog gets into something stinky and you could use this on them to cut down on the odor until you can give them a real bath. I don't know, maybe it's a personal thing but bath to me requires soap and water and actually rinsing, but this does work as far as making them smell good.
As is it's a good product I think, I like it, my wife and kids like it as well and the dogs don't seem to mind once they figure out what you're doing.
Paw Choice also offers a a 30 day no questions asked warranty for refund so you can try it out and if your dog doesn't like it you can get your money back. Not a bad deal at all.
Pros:
+Strong scent that lasts days
+No adverse reactions with my dogs
+Little goes a long way
+No questions asked money back guarantee
+Fairly simple to use, depends on the dog
Cons:
-None that I could find
| | |
| --- | --- |
| Grading | Scores Out of 10 |
| Overall | |
| Design / Aesthetic | |
| Value / Price | |
| Performance / Usage | |
Disclosure: This product was given to us for review by the company for review purposes only, and is not considered by us as payment for the review.
To learn more about our review policy please visit this page HERE.