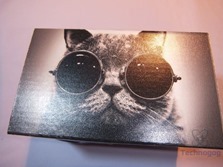 VR is the new in thing obviously, and Google Cardboard is the inexpensive way to get access to it. Some companies have come out with their own special version of cardboard like Knoxlabs which is what I have for review today, but this on is called Erwin's Box and it's theme is based on Schrodinger's Cat. Great looking box that does the job for sure. Read on to learn more..

Specifications and Features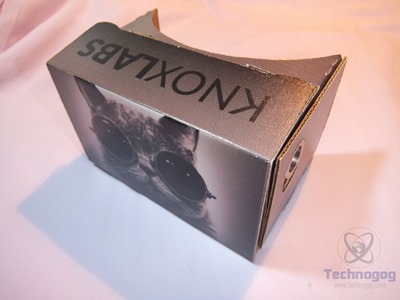 The front of the viewer is a cat face with sunglasses on and when you're wearing the box you do look kind of funny, but that's the point. My wife commented on it while I was wearing it and laughed, can't remember exactly what she said, but the effect works.
The right side of the viewer has Dead and Alive on it in reference to Schrodinger's Cat of course.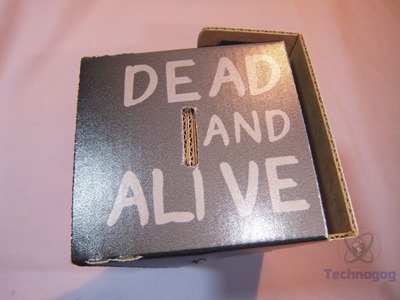 The left side is where you'll find a metal ring which is a basic sliding switch. There's a magnet on the other side and the ring does pop back up when you slide it down.
Inside is the viewer with a similar cat face so it looks like you're looking through a cat's eyes when you're using it. The lens are plastic and good enough for this use surely.
The entire front flips down to open so you can put your phone inside to use it. The front is held closed by two pieces of velcro.
I used the box with my Samsung Galaxy S6 Android phone.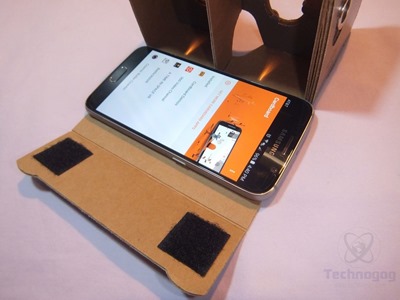 The phone slightly sticks out of the sides and there's nothing holding it, it can easily just slide right out. I don't like that at all, it's not very secure.
So I played games to other VR things I could find with it and it worked fine.
The switch did what it was supposed to do with no problems there.
I do have to say it's not very comfortable as the nose piece or section hurts my nose as it's sharp. I'm thinking of adding some tape in there or some kind of padding, not sure, something to make the cardboard edge less sharp.
Conclusion
The looks of Erwin's Box would have to get a 10 out of 10 for sure, but I might be biased here, still though it does look great I think.
The box works fine for the whole whole VR experience, no issues there at all.
The box is a bit uncomfortable though at the nose area, the cardboard is sharp, but it's an easy fix with some tape or something along those lines.
The box is well made of sturdy cardboard and held closed by to large pieces of velcro. The phone can slide out of the sides as they're open, but they're open to accommodate phones of different sizes.
All in all I like it, especially the whole Schrodinger's Cat theme going on.
Pros:
+Works great for VR
+Does have side button/slider
+Cool looking
Cons:
-Nose is uncomfortable and sharp
-Phone doesn't really stay in, slides out the side
| | |
| --- | --- |
| Grading | Scores Out of 10 |
| Overall | |
| Design / Aesthetic | |
| Value / Price | |
| Performance / Usage | |
Disclosure: I purchased this product for my personal use and thought a review would benefit other consumers in making an informed purchasing decision.
To learn more about our review policy please visit this page HERE.