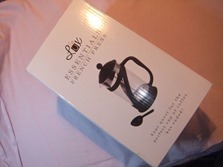 Coffee and technology seem to go well together for whatever reason, and I've always liked coffee. I've been drinking coffee since I was very little actually, I remember sitting with my grandmother and drinking coffee in the morning when I was maybe eight years old. I get up at 4:30am which is half hour earlier than everyone else so I can enjoy my first cup of coffee peacefully and get some other stuff done without any hassles. I do have a drip coffee maker which isn't bad but if you really want a good cup of coffee you need a French press like the one I have today for review from a company called Lux Essentials. This press makes a great cup of coffee and they even include an extra screen for you and even a measuring spoon. Read on to learn more…

Specifications and Features
Lux Essentials French Press Coffee Maker & Tea Set 34 Oz includes Replacement Screen & Spoon
The Lux Essentials French Coffee and Tea Press is Made of High Quality Borosilicate Glass and Comes with Additional Screen and Measuring Spoon. Additional Screen may be used in Conjunction with Original Screen, for a Double Filter, or Simply Use as a Replacement Screen When Needed. Great Gift Idea for Any Coffee or Tea Lover! At Lux, We Believe that Everyday is Worth Celebrating. Customer Satisfaction is Paramount. Your Purchase Comes with a 100% Money Back Guarantee. Love It, or We Will Make it Right! May Your Cup Always Be Half Full.
QUALITY – The LUX Essentials French Press is made of Durable Borosilicate Glass to Withstand Use after Use
VALUE – Includes Measuring Spoon and Extra Stainless Steel Mesh Screen – Use for Double Screen or as Replacement!
FRESHNESS – Preserves Oil and Flavor of Your Coffee For the Perfect Cup – Also Great for Cold Brew Coffee!
STYLE – Designed With You In Mind To Look Great In Any Kitchen. Directions for Use Are Included
GUARANTEE – We Guarantee You Will Love Your LUX Essentials French Press Set Or Your Money Back!
Price: $22.99 (from Amazon at time of review)
The Review
Let's start out with a video unboxing and then move on:
The Lux Essentials French press kit ships in an attractive box and indie you'll find the press well protected by lots of bubble wrap and on the side you'll see the extra screen and basic instructions for usage.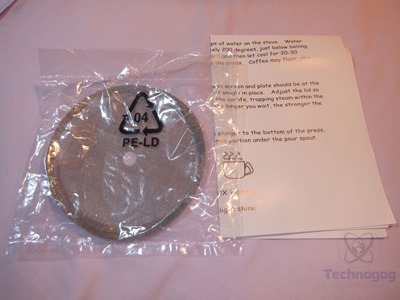 The measuring ships inside of the press and it's just black plastic but it's fine for what it is and what it needs to do.
The press itself is two pieces essentially, the top and plunger combination and the carafe section. The carafe section is made of borosilicate glass to withstand the heat and it's see through which is something I just love so you can se the coffee inside being brewed. On the outside of the carafe is a stylized black handle that goes all the way around it, it makes for a great looking French press really. The handle is attached to the carafe and I'm not yet if I like that or not as cleaning might be an issue.
The top is solid except for the strainer or pouring section which is actually fairly tightly spaced so it will also help to filter out any coffee grounds that might get through the screen.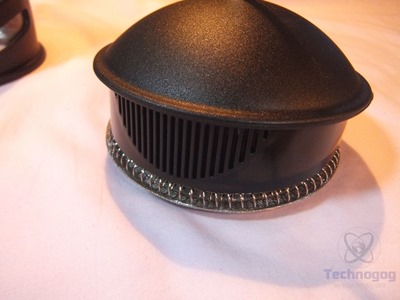 The bottom of the plunger is the screen and spring section. The screen isn't just flat, it curves up along the sides of the spring and the spring keeps tension on the screen against the glass sides of the carafe to keep the grounds where they should be, not in your coffee.
According to the instructions you need to use two tablespoons of coffee per eight ounce cup of water, more or less depending on taste preferences. I like my coffee strong so I used a little more. The water should be hot but not boiling, you can boil the water on the stove and then let it sit for 20 to 30 seconds and then add it to the coffee in the carafe.
Once the hot water is in you just put the lid on making sure the strainer opening is towards the back to keep the heat in and then you just let it sit for about four minutes. Here again you can let it brew for a longer or shorter amount of time depending on your taste preferences.
Once the time is up you slowly push the plunger down to separate the coffee grounds from the now brewed coffee and then it's ready to drink.
It's a great cup of coffee. The first thing you'll notice is the taste, there's just a huge difference in taste between using a French press and using an automatic drip coffee maker. The first time I used a French press I was honestly amazed, I didn't believe that what people said about them, I didn't think there could be that much of a difference but there really is. It's a totally different cup of coffee, taste and even the texture it seems like is different.
Clean up is easy overall, it's glass so the grounds just come out easily enough, but it's still a bit messy, at least messier than a drip coffee maker is.
Sometimes grounds can get stuck between the metal plate and the screen on the bottom of the plunger and you just hold the base and unscrew the plunger handle slightly to loosen it to make a gap for water to flow through to remove the grounds. This is also how you change the screen as well, just unscrew the plunger all the way and the whole thing comes apart.
Conclusion
The Lux Essentials French press makes a a great cup of coffee and that's all you need to know! Seriously though this French press is excellent is pretty much every way I can think of.
I'm not sure about the fact that the glass carafe is attached to the handle as far as cleaning it, but only time will tell I guess, for now it works fine, but I just thought it was worth mentioning.
I love the glass carafe, I really like being able to see what's going on inside, it just makes the whole process more interesting really.
I don't think I've ever seen any other French presses that come with an extra screen, but then again I really didn't look either, but it's nice they included one and the spoon is a nice bonus as well.
If you want a good cup of coffee then you need to try a French press and this one from Lux Essentials is a great place to start.
Pros:
+Makes a great cup of coffee
+Well made
+Comes with extra screen and spoon
Cons:
-None really
| | |
| --- | --- |
| Grading | Scores Out of 10 |
| Overall | |
| Design / Aesthetic | |
| Value / Price | |
| Performance / Usage | |

Disclosure: This product was given to us for review by the company for review purposes only, and is not considered by us as payment for the review.
To learn more about our review policy please visit this page HERE.