Korg is well known for their musical instruments, tuners, guitar pedals and synths. At technogog we have reviewed a few devices from this company and today we will look at their latest palm-sized synthesizer for making music on the go – the Kaossilator 2.
This is the latest version of their Kaossilator line that has been decreasing in size with each iteration. The Kaossilator 2 is a portable sound generator that uses a touchpad for sound creation. Sliding horizontally over the touchpad will change the pitch over a range of octaves while vertical movement affects aspects of the tone such as filter cutoff, feedback, or modulation depth.
The Kaossilator 2 has 150 built in sounds with two loop recording and unlimited overdubs. It features a built in mic. External devices can be used through an additional Line In input. Loops and recordings can be saved using a microSD/SDHC card. A built in Arpeggiator allows adjustment of gate time and swing settings of the built in sounds.
Unboxing
The Kaossilator 2 arrives in a yellow cardboard package. In the center of the box the Kaossilator 2 is visualized through a plastic enclosure. On the back is a description of the device's features in five languages.
Inside the package we find the Kaossilator 2 along with two AA batteries and an owners manual.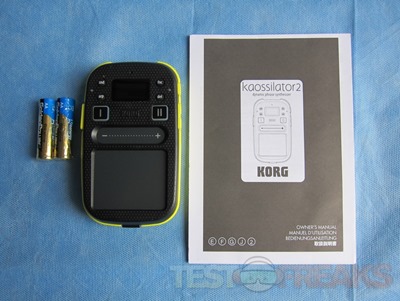 The Kaossilator 2 is composed of black and yellow plastic making it look like a musical bubblebee. It measures 7.6 cm x 12.8 cm x 2.5 cm, is slightly larger than a deck of cards and weighs 105 g without batteries. Two AA batteries provide approximately 5 hours of power. An optional AC adapter is also available from Korg.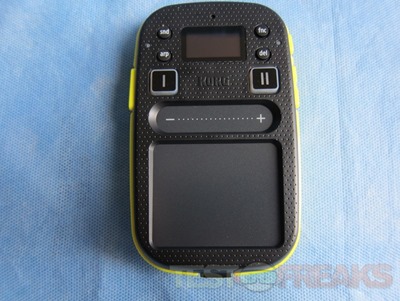 The front of the Kaossilator 2 is black with the bottom half comprised of the trackpad. A value slider rests in the middle.
The upper third is comprised of two loop buttons adjacent to a Korg logo. On the upper section four buttons surround a display screen, which include the Sound, Arpeggiator, Function and Delete buttons. Two LEDs are found on the sides between these buttons with an internal mic just above the display screen.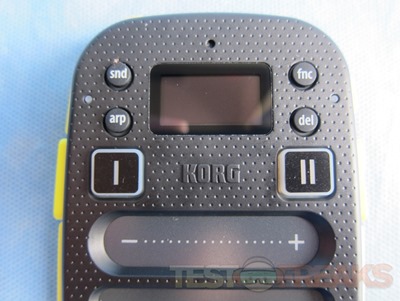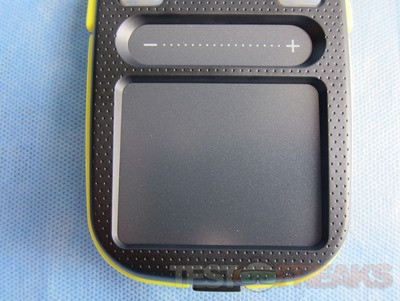 On the lower left-hand side of the device is the internal speaker with the microphone on/off button for capturing audio through the internal mic or from an external one connected to the MIC IN jack. On the right-hand side of the unit are the power and volume buttons while on the top are 3.5 mm jacks for headphones and microphone along with a DC 4.5 V input.
Pressing the button located beneath the trackpad detaches the back cover. Here we see the battery compartment that fits two AA batteries along with a micro-SD/SDHC slot that can accommodate up to 16 GB. Any memory card used with the Kaossilator 2 will need to be formatted through the device.