Up for review today I have another portable battery for mobile devices and it's a big one at 11000mAh in capacity but what's even more interesting is that it has five USB ports which you can use all at the same time. The battery doesn't really have any specific name, it's from a company called Lumsing that makes many different products, this battery being just one of them. The Lumsing battery has five USB ports but they all vary in output from .5A up to 2.1A so you can charge a multitude of devices from small Bluetooth headphones up to tablets. Read on to learn more…
Unboxing
So we'll start off with  a video unboxing and then the pictures after.
The Lumsing battery comes in a sturdy box with a picture of the battery on it and some basic information on the sides.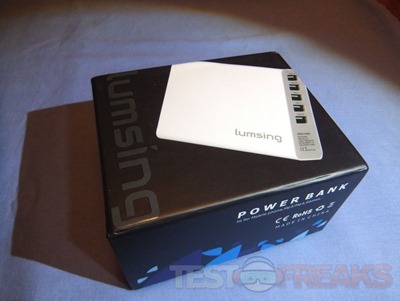 Inside of the box you'll find the battery, user guide, two USB cables, five tips and a cloth carrying bag.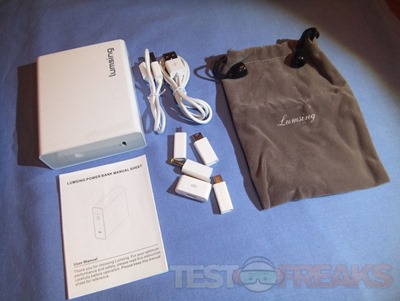 A carrying case is included, it's just a drawstring bag, that will offer a minimal amount of protection for the battery an accessories.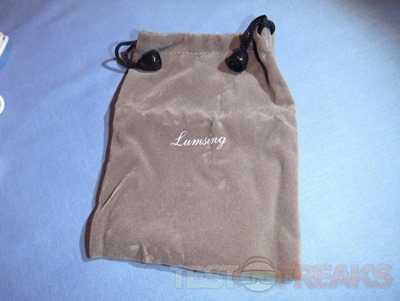 The Lumsing battery comes with two white microUSB cables.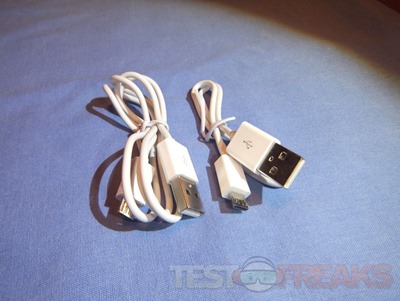 Charging tips are included for Apple, Nokia, microUSB, miniUSB and Samsung, they have microUSB connection on them and connect to the cables that comes with the battery.
The battery is white and there's a the Lumsing logo on the side. The casing is plastic of course as most things are these days, it's small at 3.70 x 3.15 x 1.10 inches an it weighs in at about 11 ounces. It is on the heavy side but there is a big battery inside of it, so the weight is to be expected.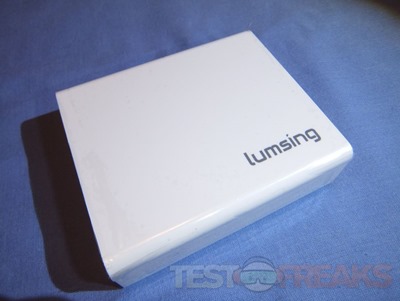 On the front you'll find four LEDs, a small white button and a microUSB port labeled input. The four LEDs indicate charge levels at 25% for each LED, you just press the button an the LLEDDDs will light up letting you know battery capacity.
On the back you'll find five USB ports and some identifying information.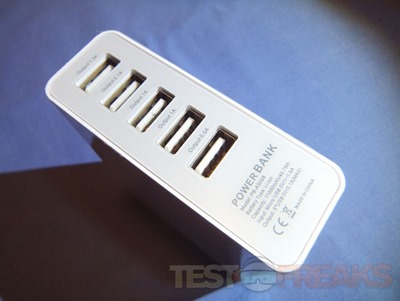 Each USB port is different in that they have a different output power. They are labeled 1.3A, 2.1A, .5a an two are labeled 1A.  Depending on the device you're using you'll need to figure out which port you need to correctly charge your device.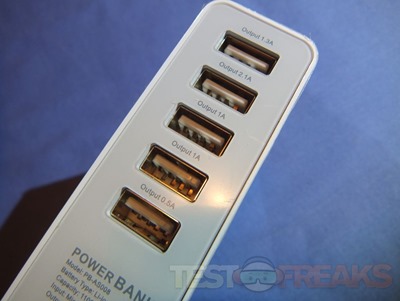 Specifications and Features
Lumsing 11000mAh 5 x USB External Battery Pack
Lumsing – Connecting Simple Life
Keep connecting, keep simple. Time is limited, but things needed to be done are so many. Lumsing aims at helping you release your time and enjoy wonderful life. Want to be always on the go? Lumsing can help!
Specifications:
— Battery Type: High quality Li-ion battery
— Input: Micro USB 5V 1-1.5A
— Output: 5*USB 5V 0.5-2.1A
— Size: 3.70 x 3.15 x 1.10 inches; Weight: 10.58 ounce
— Product Warranty: One Full Year
Charge the PB-AS008:
— Full Charging by 5V 2A Adapter need 8-10.5 hours
— Charger is not included, we recommend using your own phones or tablet charger
Popular Compatible Models:
— USB Output – 5V / 1.3A Designed for Samsung Galaxy Tablets & Some Samsung Android Phone Models
— USB Output – 5V / 2.1A Designed for iPad, 2, 3, mini, 4
— USB Output – 5V / 1A Designed for iPhone 5, 4S, 4, 3GS, HTC, Samsung, Motorola, LG, Nokia, Blackberry, Sony Ericsson cell phones (For charging ipad mini & ipad 4 & iPhone 5, please also use with your original Apple Lightning to USB cable)
— USB Output – 5V / 0.5A Designed for some small battery capacity device
— Except the device stated above, all 5Volt input required devices from 0.5Amp to 2.1Amp are compatible if it can be charged by USB
Package includes:
— 1 * Lumsing PowerBank
— 2 * USB cables
— 5 * connectors
— 1 * carrying bag
— 1 * Use Guide
Price: $25.99 (from Amazon at time of review)
Testing and Usage
The first thing I did was charge the Lumsing battery bank. When it first arrived it was already at 75% so it didn't take long to complete the charge. The LEDs will blink and then fill up to let you know charging is complete. If the battery bank is fully depleted it can take up to ten hours to complete the process using the USB port on your computer. You can get an AC style USB charger to charge the battery faster but it's optional or you could possibly use one that came with your phone or other device.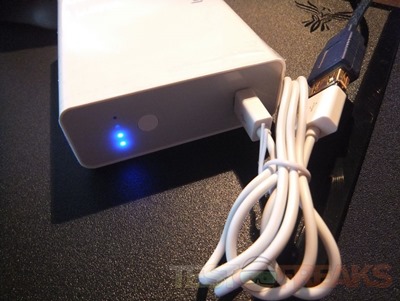 Most phones can use the 1A USB ports, I assume that's why they included two of those ports. I charged my HTC One Android with the Lumsing and found it charges just like as if it was connected to my computer. Charge time seems the same to me, no big difference that I can tell.
The Lumsing has five ports and yes you can charge five devices at the same time but you just need to make sure you use the correct USB ports. Charging five devices at the same time will deplete the Lumsing battery faster obviously, but it can be done which is great for those of us that have many different devices.
Tablets of course will need to use the highest or the 2.1A port. Some Samsung tablets can use the 1.3A port for charging.
Small devices like the Bluetooth headphones I have attached can use the .5A port.
Bluetooth speakers and some phones and even tablets can use the 1.3A port.
Devices like phones and iPods can use the 1A port.
It all depends on the device as to which port you need. Some devices will charge faster with a higher output and some won't.
The user guide says you can use the 2.1A port to charge anything less or equal to the 2.1A input. The user guide does say not to use it to charge a 1A specific devices that accept 1A input only as it may damage the Lumsing battery. So you need to be careful basically and pay attention to the input on your devices and the output on the Lumsing.
Not shown in the pictures, but I tried charging my PlayStation Vita with the Lumsing and it did work, which is a good thing as I've found not many portable batteries work with the PS Vita.
Conclusion
We live in a mobile world where most of us have multiple mobile devices, phones, tablets, Bluetooth speakers and headsets and they all need power and the Lumsing PB-AS008 battery can provide power for all of them on the go when you need it most.
The battery has five USB ports that can all be used at the same time so you can keep multiple devices charged and ready to go.
The size and weight of the battery make it portable but it is on the heavy side as there is an 11000mAh battery inside of it which makes it weigh so much. You can just slip the battery inside of a bag or a large pocket and you should be fine but you could use the included carrying bag.
The Lumsing battery has standard USB ports on it so no special tips are required, as long as you have the USB cable that came with your device you're good to go. Lumsing did include several different charging tips just in case and these are unique as they have a female microUSB connection on them so they can work with the included cables or most any microUSB cable.
The Lumsing PB-AS008 has a large 11000mAh capacity battery inside of it that should provide multiple charges for multiple devices, how much use you get out of the battery will depend on how many and what type of devices you are charging. Obviously if you're charging five devices at the same time the battery won't last as long as if you're just charging your phone and Bluetooth headset.
The price of the Lumsing PB-AS008 is about right I think, similar capacity batteries can cost more or less, but not many of those have more than two USB ports on them so that's certainly something to take into consideration.
The only real concern I have with this device is the plain fact that most people just don't pay attention and I can bet that most people don't know what voltages their devices require or use to charge. The Lumsing battery has five USB ports on it offering four different outputs and people can very easily plug the wrong thing into one of the ports and not be happy with the results. For example if you plug a phone into the .5a port it will take a long time to charge and most people will interpret that as something wrong with the Lumsing itself, but there isn't, it's just user error. This is no fault of the device of course, just the user not paying attention to what their mobile devices need to charge.
Another small issue is the charging time, if the battery is fully depleted it can take up to ten hours to re-charge over a standard USB connection on your computer. You can buy an AC style USB adapter but that will cost extra, but you can also use one that came with your phone or other device.
Overall the Lumsing battery is a very handy gadget to have, but you just need to pay attention to what your devices need. If you're someone who take many different devices with you on the go then I can highly recommended you taking a serious look at the Lumsing PB-AS008 battery as it may be just what you need to keep all of your devices powered all day long.
Pros:
+Five USB ports for charging multiple devices
+Can charge any USB device
+Includes carrying bag
+Inexpensive when compared to other batteries
+Simple to use
+Seems well made
Cons:
-Must pay attention to power requirements on devices
-Charging the Lumsing can be slow
| | |
| --- | --- |
| Grades: | 9 out of 10 |
| Overall | |
| Design / Aesthetic | |
| Value / Price | |
| Performance / Usage | |
To learn more about our review policy please visit this page HERE.