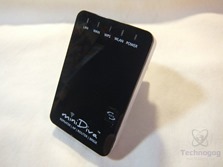 Wireless or wifi is everywhere and depending where in your home your main wireless router is located your whole house might not have a good wifi signal or any at all and that's where a repeater comes in. Today for review I've got the Minidiva 4 in 1 router but it's a also a repeater, access point or bridge and I needed a repeater as my wireless router does not cover my whole home with a good signal. My kids were complaining about spotty connections and lots of buffering on videos on their tablets and now there are no more complaints since I installed the Minidiva. Read on to learn more..
Specifications and Features
Minidiva [4 in 1] Repeater/AP/Router/Wisp 300Mbps Wifi Range Extender Repeater 802.11 Wlan Network Range Extender
The Wireless Mini Router, supports 802.11 N wireless transmission standards, and compatible with IEEE802.11 b/g standards, which supports data rate up to 300 Mbps. The Wireless Mini Router is Mainly used for providing free WIFI service in big area such as factory , community , street or etc. For example, the normal enhancer can expend distance up to 20 meters away. It supports WEP, WPS adn WPA/WPA2 of personal and enterprise encryption standards.
Specification
Complies with IEEE 802.11n, IEEE 802.11g, IEEE 802.11b standards
Supports Router, Client, Bridge, Repeater, AP mode
Without External power adapter
Provides one 10/100Mbps Auto-Negotiation Ethernet WAN ports
Provides one 10/100Mbps Auto-Negotiation Ethernet LAN ports
Easy Setup Assistant provides quick & hassle free installation
Supports SSID broadcast control WMM and WMM-APSD supported
Supports configuration file backup and restore
Note:
Repeater Mode: Large house, office, warehouse or other spaces where the existing signal is weak.
Client Mode: For a Smart TV, Media Player, or game console with an Ethernet port. Use the Coredy N300 to make your devices Wi-Fi enabled, granting them access to your wireless network. Router Mode: Internet access from DSL or cable modem is available for one user but more users need to share the Internet. Bridge Mode: Small restaurant, shop, bar, home, office and others where Internet service needs to be provided for guests without revealing the password of the existing network for hosts.
Price: $16.99 (from Amazon at time of review)
The Review
Let's start with a video unboxing and then move on:
The packaging is nice looking with lots of information on the box and the Minidiva router is nestled in a foam bed inside of the box for protection. Once you get everything unpacked you'll find the router, user guide and an Ethernet cable for you.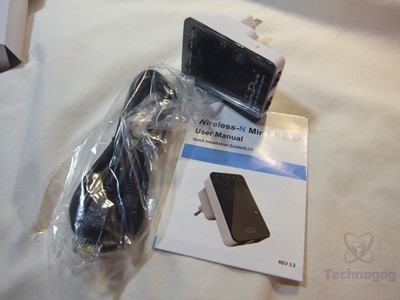 The front of the Minidiva is a glossy black and along the top edge you'll find LEDs and labels for Lan, Wan, WPS, WLAN and Power. On the front right side towards the bottom is the WPS button to make setting things up easier if your devices support it. The device is small and overall it feels well made for what it is.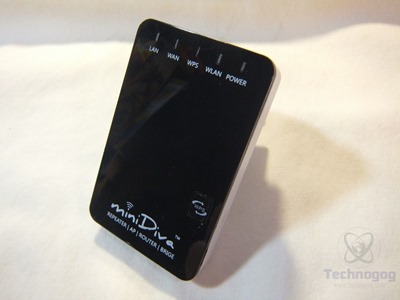 On the right side is a small hole which is the rest button that you can press with something like a paperclip or similar object. The back is just the power connection, along with a label that also lists the IP address and ID/password combination to login for default. On the bottom edge you'll find two Ethernet ports labeled wan/lan and lan so you can use it as a router or access point. I should note that the Ethernet ports are only 10/100Mbps speeds.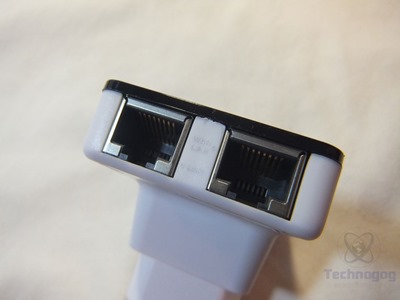 When powered on The LEDS light up green and they're very bright and each one lights up corresponding to the mode it's in.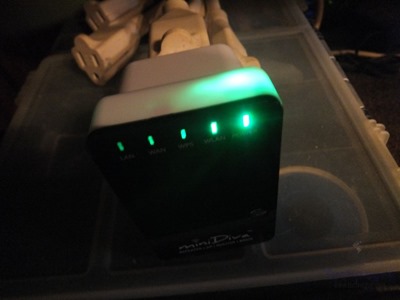 To access the router you'll need to actually connect to it on your device, meaning you'll need to disconnect from your regular wireless network and connect to the one labeled Wireless-N and from there you can access the router by inputting the ip address of 192.168.10.253 and the default id/password combination of admin/admin.
Once logged in you'll be greeted with a rather ugly honestly main menu where you can setup the Minidiva into its various modes or upgrade the firmware or do a backup or reset. You can click through the icons to other menus and you'll find settings similar to what you'd expect to find, settings for your router for example or wireless security. I didn't include any screenshots of those menus as on the phone they are so small it's ridiculous really and you have to zoom in and out and all around etc and I would have ended up with several screenshots per page of menu items, but it's common stuff you'd expect to find really.
One of the main reasons I accepted the Minidiva for review is that I was actually in market for a repeater for my home wireless network and I was shopping for one so the timing was perfect getting this for review.  I have Verizon FIOS and the router is on the first floor but my kids rooms are on the second and third and they were complaining about connection issues and lots of buffering with videos so I thought a repeater would be the way to go and it does work fine for that. I have the Minidiva installed on the second floor of my house and I now have full signal strength on the third floor of my home through the repeater while the FIOS router only get half strength at that distance. My kids are very happy now that they can use their tablets and devices with no connection issues. I tested it out myself and the signal strength is excellent, I now truly have whole house coverage for wifi with a very strong signal.
This is one of those things that's great for online gaming to help keep you online at all times, check out Royal Vegas review for more info on online casinos.
Conclusion
As I said I got this purely for the repeater functions of it and for that it works perfect, I've got no complaints at all about repeater functionality. I now have wireless coverage in my whole house and even farther outside that I did before.
The Minidiva device is small so if you wanted you could even take it with you on a trip for use in a hotel or motel to share wireless services and it does seem well made overall.
Small complaints would be the tiny menus on the screen for settings on the phone, you'll be doing a lot of zooming in an out and moving around the pages which will add time to the setup process and it's just a hassle really. The main interface is rather ugly in my opinion and it's kind of all jumbled together, but that's just the homepage really so it's not that big of a concern.
For my purposes the Minidiva works just fine, it extended my network and did what I wanted it to do. For the price it's not a bad little repeater at all.
Pros:
+Seems well made
+Works fine for my uses
+Simple setup for the most part
+Inexpensive
Cons:
-Tiny menus on phone screen
-Rather ugly interface
| | |
| --- | --- |
| Grading | Scores Out of 10 |
| Overall | |
| Design / Aesthetic | |
| Value / Price | |
| Performance / Usage | |
To learn more about our review policy please visit this page HERE.