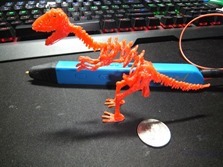 A little bit ago I posted a review of a 3D pen that used resin, but today I have the MorphPen which uses 1.75mm filament which is basically plastic that melts in the pen and re-hardens to the shape you create. I've been using the MorphPen for a bit now and I've created many things and have had lots of fun with it. The MorphPen is a lot of fun and it's easy to use. Read on to learn more…
Specifications and Features
MorphPen Professional 3D Drawing Pen for Printing and Modeling (Blue)
Bring your imagination to life with MorphPen. It's a 3D printing pen that allows you to draw in the air, unleash your creativity and lift your 2D creation off the page.
Don't just draw on boring paper, take your art project to the next level. Draw and Morph 3d objects into your own magnificent piece of art. Whether you want to draw for fun or create fine art, MorphPen is a great tool for that. With MorphPen, you can make anything, from just a simple four-sided box to the empire state building, all you need is your creativity and imagination.
MorphPen is designed with easy to use features:
* One button presses to draw
* Double click for continuous flow
* Adjustable drawing speed
* Power Bank compatible
* Longer power cord allows for more freedom of movement (55.5inch vs standard 45.5inch)
How MorphPen works
MorphPen extrudes heated plastic (filament) that melts at high temperature and then cools almost immediately to form solid deposit lines. This allows it to create a strong, stable 3D creations.
MorphPen Package Includes:
* 1x 3D Drawing Pen
* 5x sample filament rolls in different colors (1.75mm diameter ABS)
* Power adapter: 100-240V 50/60Hz 2A
* Larger 0.8mm diameter replacement nozzle
* Back cover removal tool and mini screw driver (for nozzle replacement)
* Instruction manual.
Price: $69.95 (from Amazon at time of review)
The Review
Let's start with a video unboxing and then move on:
The packaging for the MorphPen is nice looking, it comes in a sturdy box with information on it. Once you get everything unpacked you'll find the pen, a pack of filament, user guide, extra pen tip, USB AC adapter, MorphPen and screwdriver.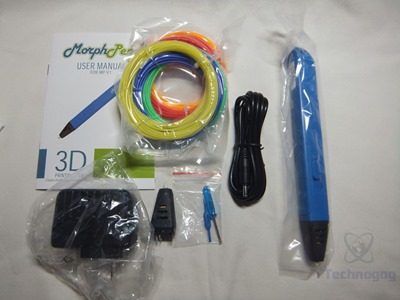 They include five small rolls of filament in varying colors, I got green, blue, yellow, orange and red. It's standard 1.75mm filament.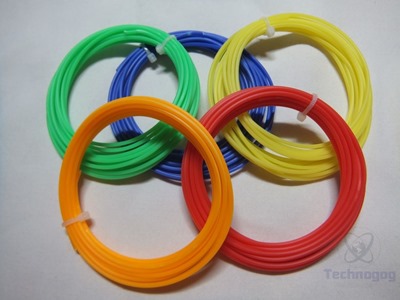 The MorphPen is powered by USB and they include a regular adapter like you'd get with your cellphone. The pen can also be powered with a USB battery pack making it very portable and giving it the ability to be used most anywhere you want. I like that it's powered by USB but I don't like the fact that it has a proprietary connector on it so if you lose the cable you can't use the pen anymore.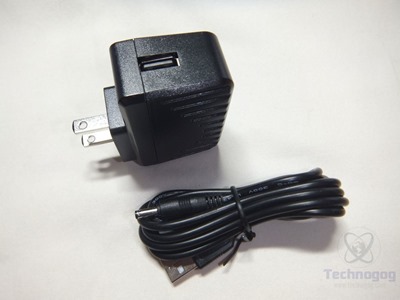 The MorphPen I get for review is blue, but there are other colors available.  The pen is 7 inches long, .5 inches wide and about .75 inches tall. On the top is a small LCD screen that displays status along with two small buttons labeled + and – that can be used to change the temperature. On the right side of the pen are two buttons with arrows forward and back to feed the filament forward to draw or back to remove the filament and change the color. On the left side of the pen is a sliding button that's used to control the speed of the flow of the filament. The pen is surprisingly comfortable to use, it seemed a bit large at first but I got accustomed to it. It's made of plastic yes, but it does seem well made overall.
On the back of the pen you'll see two holes, the largest is for power on the top and then on the bottom is to feed the filament into the pen for drawing. The front of the pen is the pen tip which is ceramic and gets very hot as you might expect.
The pen can use either PLA or ABS style filament and you can change that by pressing the + and back arrow buttons at the same time and the display and temperature will change. The forward button is used to feed the filament into the pen and you can hold the button down to do it but you can also double press the button to have the pen automatically feed the filament through the pen. The back arrow can be used the same, double press the back button and it will automatically reverse the filament.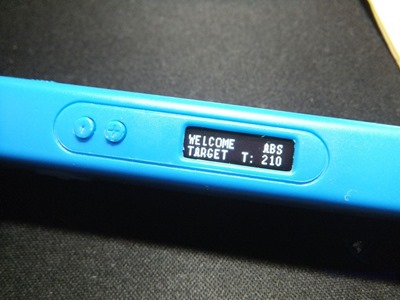 The pen is amazing really, you can make freehand 3D drawing or use templates like I used for the below T-Rex dinosaur which took quite a while to make. I had to draw each piece and then assemble it by gluing it all together. I should note that I bought more filament to use with the MorphPen as I wanted more.
When I first started using the MorphPen I was still learning so I made a pyramid and what sort of looked like a tree as I was just testing  the pen and how it works.
I also made a Minecraft Creeper which involved making six pieces, four for the feet, one for the body and one for the head. I used green and black colors for the creeper.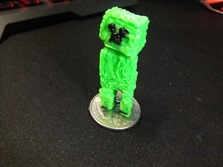 You can sort of blend colors like I did for an Alien Facehugger. I didn't have the exact color I wanted or needed so I made the body black and then covered it with a thin layer or yellow to sort of make the Facehugger color, it didn't come out exactly as I wanted, but it's not bad.
You can make flat or 2D items as well like the Alien head I made or the Minecraft Pickaxe I made as well which involved multiple colors.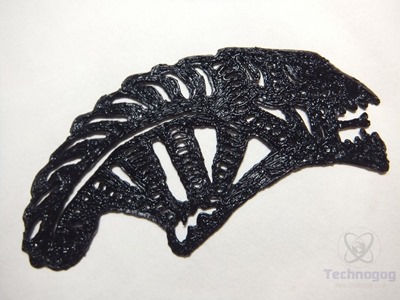 One of the biggest projects I made was a unicorn for my wife which involved a lot of steps and a lot of filament.  For the finished product I used yellow, gold and blue and I had to build up the body to make to more 3D looking instead of like a cookie cutter item that was put together. It was fun to make and took a few couple hours to complete.
Conclusion
In my time with the MorphPen I've had lots of fun and created lots of things, so much so that I had to buy more filament as I used the small amount that was included.
The pen allows you to use either PLA or ABS filament which makes it versatile and it sues standard 1.75mm filament which can be purchased easily many places online.
The pen does make a slight humming or buzzing sound when in use but it's not overly loud at all, I've used it watching TV and didn't even notice it really. The pen can get hot at the front, but it's supposed to as it's melting plastic. The pen feeds the filament through easily by using gears and you can control the flow speed with a sliding switch. The are buttons on the side for forward and back, you press the forward one to actually use the pen to draw 3D objects. I've used the pen for hours at a time and it worked fine, I wasn't sure if it could be used for long periods but the pen had no issues.
The MorphPen did clog once during use and it was easily fixed by reversing and reloading the filament.
All in all I love the MorphPen and I've even ordered more filament so I can create more things.
My kids love it as well, they can't wait to use it and they like seeing what I've made with it.
If you're interested in an inexpensive and easy to use 3D pen that I can highly recommend the MorphPen.
Pros:
+Well made overall
+Uses PLA or ABS filament
+Uses 1.75mm standard filament
+Easy to load
+Lots of fun to use
+Can use USB battery for power
Cons:
-Uses proprietary USB connector
-Not much filament included
| | |
| --- | --- |
| Grading | Scores Out of 10 |
| Overall | |
| Design / Aesthetic | |
| Value / Price | |
| Performance / Usage | |
Disclosure: This product was given to me for review by the company for review purposes only for free or at a discounted price.
To learn more about our review policy please visit this page HERE.