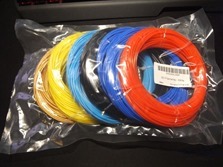 So I'm loving the MorphPen 3D pen I got for review, which that review will be up soon, but I had to buy more filament for it and for a great deal on a lot of it for under $10 on Amazon so I figured why not share it through a review. Read on to learn more…

Specifications and Features
SMARTER 6 Pack 3D Stereoscopic Printer / Printing PLA Plastic Filament Material 20M 1.75mm for 3D Printer Pen
Made by PLA much more better than ABS, it is an environmental friendly materials, non-toxic.
Good length: 20M per color, enough length to frame your painting better.
Unique material: Genuine PLA material, individual coils with reusable twist ties.
Great applicability: 1.75mm Filament Diameter, compatible with most 3D pen or 3D painting.
Colorful choices: 6 different colors. Black, Red, Yellow, Golden, Navy Blue, Light Blue.
Price: $8.79 (from Amazon at time of review)
The Review
The filament coils ship in a vacuum packed bag with a label on it, nothing special, it works fine.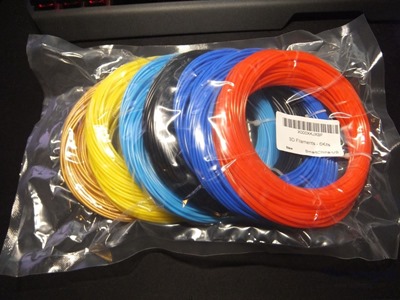 There are six rolls in the pack, 20 meters or about 65 feet each in gold, yellow, blue, light blue, black and red colors. Each coil is secured with a zip tie during shipping to keep things tidy. 65 feet is a lot really, I ended up cutting the coils in half as I was using them to make them more manageable with the pen. The colors are bright and vibrant, expect for black of course. The gold isn't what I expected as it doesn't really look like gold. If you look closely at it there is a metallic look to it but once you use it it's not really gold, it's more of a brown mustard color and not what I would call gold personally.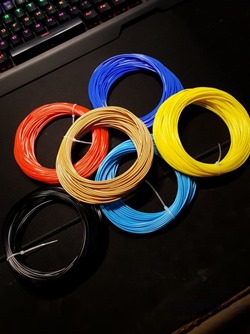 My 3D is the MorphPen and it can use either PLA or ABS filament and it worked just fine with the pen. The filament melted with no issues and no real odors, just a faint one if you get close to it, but it's no unpleasant. I used the filament to make numerous things and it worked fine, no complaints at all.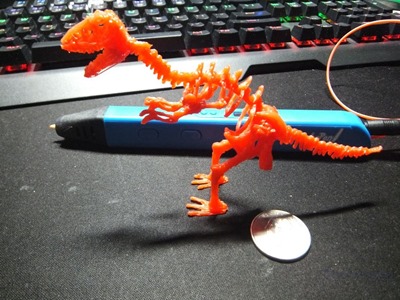 Conclusion
The price on this 3D filament is less than $10 and you get a whole lot of it for that price, it's over 120 meters of filament combined that you get which should last quite a while but that depends on what you're making of course. I did use almost all of the gold for a project and it worked fine, but as I mentioned it's not really the gold color I was expecting it to be.
The  colors are vibrant and they look great overall.
I found this filament easy to work with and there's no unpleasant odor.
The Smarter filament is worth the cost for sure, and it works great.
Pros:
+Inexpensive
+No unpleasant odor
+Get lots of filament for the price
+Melts fine
Cons:
-Gold not really the gold I was expecting
| | |
| --- | --- |
| Grading | Scores Out of 10 |
| Overall | |
| Design / Aesthetic | |
| Value / Price | |
| Performance / Usage | |
Disclosure: I purchased this product for my personal use and thought a review would benefit other consumers in making an informed purchasing decision.
To learn more about our review policy please visit this page HERE.