Was one of your New Year's resolutions to be neater or have less clutter? If the answer is yes then today's review item is one you'll want to check out. The Neat Company offers the NeatDesk for Mac, which is a scanner/software combo that helps move the paper work off one's desk into their Mac.
Neat desk for Mac is the desktop version of the same functioning NeatReceipts which we reviewed here at technogog a few months ago. The Neat Company also make Windows versions of all their products including NeatDesk.
NeatDesk for Mac works with receipts, business cards, and documents turning them into digital versions that are filed away in the NeatWorks software. It uses an ADF (automatic document feeder) scanner to allow quick and simple digitization of one's documents. The software also can integrate information into Mac's Address Book and can export data into various formats including Quicken.
The NeatDesk for Mac arrives in an orange and white cardboard box with an image of the scanner on the front. On the back is a screen shot of the NeatWorks software with a list of features adjacent to this image. On one side of the box we find a list of scanner specs, box contents and system requirements. The other side shows a graphic image of the workflow when using the NeatDesk for Mac.
The scanner is packed up protected by recyclable cardboard inserts. Inside the package we find the Neat ADF scanner, the NeatWorks for Mac Install CD, a Quick Start Guide, a USB Cable, scanner calibration paper and a power supply.
The Neat scanner is an automatic document feeder allowing the user to scan up to 15 business cards, receipts and letter sized documents at once. The scanner tray has slots for each of these types of papers and can be removed to scan up to 50 letter-size documents at once.
The scanner measures 10.8"W x 7.5"D x 7.3"H and weighs 4.4 pounds. Other specs include up to 24 PPM Color, Grayscale, B&W (300dpi, A4 size, simplex). In addition the scanner can work with other imaging applications as well.
It is composed of white and gray plastic with two buttons with adjacent LEDs are found on the front – one marked Scan and the other PDF. On the bottom left corner we see the Neat logo. Towards the front is an extendable paper catcher along with another extension by the back paper feeder. On the lower right side just below the paper feeder is a button for opening the front of the Neat Scanner in case of paper jams occur.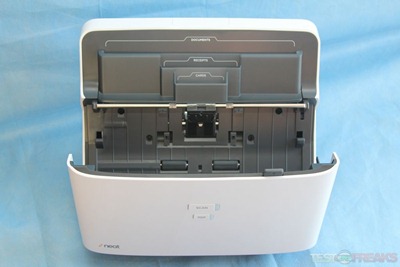 The Neat Company designed this scanner to be low-profile and streamlined in its operation. The front of the machine rests at a 45° angle allowing papers to be easily fed into the scanner. This scanner is meant for heavy-duty digitization of your paperwork.
The paper input tray can be removed by placing one's thumb and forefinger over the business card slot and lightly pushing upwards. The scanner has grooves on the side for reinserting this tray; simply slide it down until it clicks into place.
On the back we find the power switch, USB jack and AC connector. The AC connector is also labeled with the Neat logo making it easier to find when trying to unplug it from a full power strip.
The Quick Start Guide holds the installation CD, install instructions and calibration paper along with the warranty card.
Specifications:

NeatDesk for Mac is the high-speed scanner and software combination that will help you clean off your desk and organize all your important information on the Mac.
Lightning-fast scanning.
The award-winning ADF (automatic document feeder) scanner provides a central "inbox" for all the paper that normally clutters your workspace. Its unique paper input tray allows you to insert up to 15 receipts, 15 business cards and 15 full-size documents, and scan them all in a single batch. Or remove the tray to scan up to 50 letter-size pages at once. You can even perform double-sided scanning in a single pass.
Powered by NEW NeatWorks for Mac Version 3.0 software.
Once your paper is digitized, NeatWorks for Mac uses "Intelligent Text Recognition" technology to extract key data from your documents and populate key fields automatically in this robust digital filing system.
Key Features
Scan in receipts to:
• Create expense reports
• Keep records of vendors, dates, totals, even sales tax
• Assign tax categories and save digital copies for tax records (accepted by the IRS)
• Create your own searchable library of information
• Export data to Quicken®
Scan in business cards to:
• Capture contact information including name, company, address, email, website and more
• Save original images of business cards with each contact
• Send information to Address Book
• Sync contacts to your iPhone or mobile device
Scan in documents to:
• Create searchable PDFs
• Capture text that you can edit
• Organize in your digital filing cabinet
System Requirements
• Mac computer with an Intel® processor
• 1 GB of RAM; 3 GB recommended
• Mac OS X v10.5.8 or later
• 256MB of available disk space for installation, 1GB recommended for user data
• CD-ROM or DVD drive required for installation
• Available USB port
Neat ADF Scanner Specifications
• Automatic Document Feeder (ADF) Scanner
• Color/Grayscale/B&W CIS
• Simplex, Duplex
• Maximum Resolution: 600 dpi
• Up to 24 PPM Color, Grayscale, B&W (300dpi, A4 size, simplex)
• Up to 24 PPM Grayscale, B&W (300dpi, A4 size, duplex)
• Capacity: 15 business cards + 15 receipts + 15 letter-size documents (with paper input tray) or 50 letter-size documents with tray removed
• Maximum Scan Area: 8.5" x 11" (up to 30" long)
• Scanner Dimensions: 10.8"W x 7.5"D x 7.3"H
• Weight: 4.4 lbs
• AC Power Adapter: Included
• Factory calibrated
• Image Capture support for scanning into imaging applications
To get started using the NeatDesk for Mac you'll first need to install the NeatWorks software via the installation disk. Once this process is finished launched the NeatWorks software, which will require the input of the included product key to activate the software. The next step is to connect your scanner to an AC power supply and then connecting to the Mac using the USB cable. The Neat Company recommends avoiding the USB port on the Apple keyboard and connecting the scanner directly to the Mac.
Now you're ready to digitize your paper clutter. The scanner operates using the Scan or PDF buttons found on the front of the machine or using the Scan button within the NeatWorks software. Simply place your receipts, business cards or documents into the proper slot on the input tray and get scanning.
I went into detail about the NeatWorks in my NeatReceipts review so I will skim over the software side of things. My previous experience with NeatWorks was a pleasant one and I found the software to be fairly user friendly.
Overall the interface is very "Apple" like in its appearance; scanned items fill up the body of the screen with the side bar storing the various folders and sub folders for your digital file cabinet.
As a Quicken user my favorite part of the NeatWorks software is the ability to export to the Quicken format saving me a lot of data entry time and effort.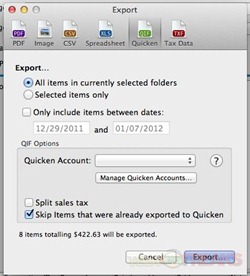 The scanner worked like lightning digitizing the papers I fed it, it was the data analysis that took the most time. Thus a handful of documents would take a minute or two to process. Depending on the information within the document NeatWorks would file out the appropriate data fields or try as close as possible. While the process is not 100% accurate it was 90% on target during my usage.
Besides its speed, the Neat scanner is very quiet as well.
One drawback to a non flatbed scanner is that some documents would not always scan straight through creating a misaligned scan image. Most of the time NeatWorks was able to auto correct this skew but not always. Sometimes papers would get jammed or snagged but this was mostly with crumpled receipts.
Also I did not like the fact that the feeder sizes were fixed. Not all documents are created the same size but the largest document slot should fit most every type of paper you encounter.
Conclusion:

NeatDesk for Mac is an excellent solution they're digitizing ones most common paperwork including receipts, business cards and documents. The scanner comes with an automatic document feeder which makes scanning a fast and simple process. The included NeatWorks software is user-friendly in its "Apple" like interface while being very robust and user configurable.
The main difference between the NeatDesk for Mac and the NeatReceipts version is the included scanner as the NeatWorks software is identical for both. With the NeatDesk for Mac the user trades off portability versus speed. The NeatDesk version allows the user to scan numerous documents at once as opposed to the NeatReceipts which scans 3 to 4 receipts per minute.
What may scare off most users from purchasing NeatDesk for the Mac is its price. However similarly priced ADF scanner solutions such as the ones from Fujitsu are in the same price range. The main differentiator between these brands is the bundled software which is a personal preference. My experience with NeatWorks has been a positive one and thus I would recommend NeatDesk for Mac for both the home and business user.
Pros:
+Fast scanner
+Robust well designed software
+Simple setup
+Small footprint
+OCR works well
+Exports to formats including Quicken, Excel and PDF
+Quiet operation
Cons:
-Expensive
-Non adjustable feeder sizes
-Analysis of data much slower than scanning process
-Papers get snagged or misaligned during scanning especially receipts
| | |
| --- | --- |
| Grades: | |
| Overall | |
| Design | |
| Performance | |
To learn more about our review policy please visit this page HERE.