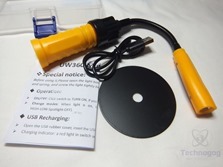 I've said it before and I'll say it again, I love flashlights, I just find them very useful, and I like to see all the different kinds there are. Today for review our friends at Nitefox have sent over their UW360-M LED worklight which uses a standard 18650 battery but it can be recharged right over USB. The light is two lights in one actually, it has a floodlight and a spotlight in it and it even has a magnetic base but the light also has a flexible neck to direct the light where you need it. It's a great little worklight to be sure. Read on to learn more….
Specifications and Features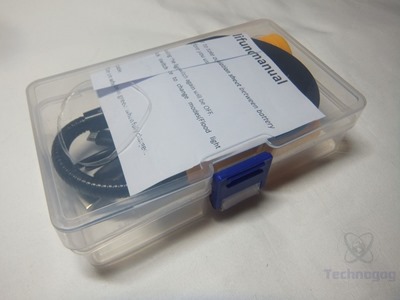 Once you get everything unpacked you'll find the light itself, micro USB cable, metal plate and instructions.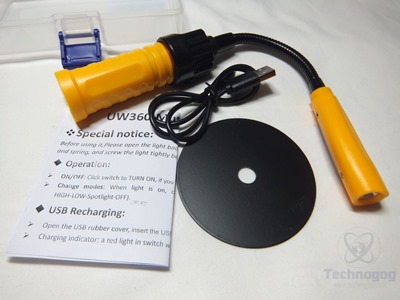 The Nitefox UW360-M light is yellow and black and color and it's made of plastic and metal but it feels very solidly made. The light is about 11.25 inches long when stretched out as the neck section is flexible and can be bent to where you want to illuminate.
At the base of the neck is the red power button which turns it on and off and changes modes of the lights. On the opposite side is a rubber cover over the micro USB port for charging the battery with the included USB cable.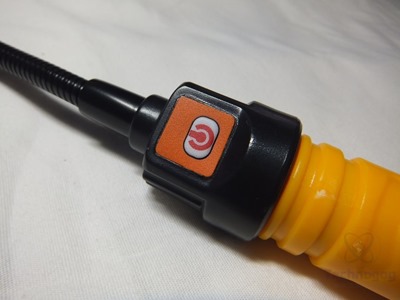 The base of the handle has a magnet in it so you can attach it to metal surfaces while you're working or you can use the included metal plate as a stand to hold the light up in place.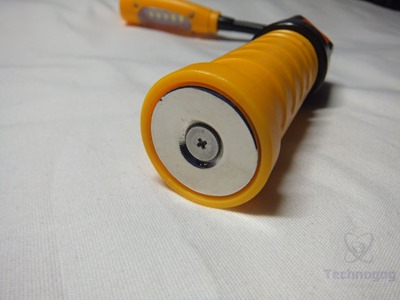 The yellow part of the handle unscrews to reveal the battery compartment. Nitefox includes a 2600mAh 18650 rechargeable battery for you. You can charge the battery with the supplied USB cable or you can use a regular 18650 charger for it. I did notice that there is a rubber o-ring around the handle inside to keep water and dust out, the specs don't say though whether or not the light is waterproof.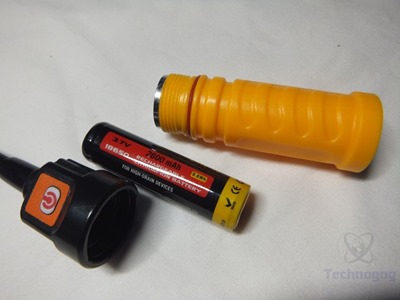 The UW360-M is two lights in one, a floodlight and a spotlight. The floodlight section has five LEDs in it and it has two modes for high and low (300 lumens/100 lumens), the spotlight has a single LED in it and only one mode for high at 300 lumens. To change modes and which light is in use you just push the power button and each click changes it, floodlight high and then low and then it switches to the spotlight and then it's off.
Conclusion
Flashlights are very useful products to have around the house for sure, but the Nitefox UW360-M worklight takes useful to a whole new level as it's really a tool in my opinion. The UW360-M light has both a spot and flood light in it but what makes it special I think is the flexible neck so you can direct the light where you need it while working. The light also has a magnet built-into the base so you can stick the near your workspace and it will stay where you need it.
The UW360-M uses a standard 18650 battery but it can be charged via standard USB right in the flashlight.
Nitefox includes a steel plate that can be used as a stand for the light on non-magnetic surfaces and I have to say it comes in handy as I've used it a few times already.
They even packaged the flashlight in a sturdy and reusable clear plastic box which you can use to store the light when not in use or for transport or just to keep the light safe while in your tool box.
I have to say I very much like the Nitefox UW260-M LED worklight, I've been using it for many things around the house and just around my desk. I have a metal desk and I have the light attached near me under it so it's in easy reach for me to grab and use when I need light for a project.
The Nitefox UW360-M worklight would be great for just to have around the house for projects or in your car for emergencies, the light has plenty of uses for sure.

Pros:
+Rechargeable through handle over USB
+Seems well made and durable
+Bright and simple to change modes
+Multiple uses
+Includes storage box
+Uses standard 18650 battery
+Magnetic base
Cons:
-None
| | |
| --- | --- |
| Grading | Scores Out of 10 |
| Overall | |
| Design / Aesthetic | |
| Value / Price | |
| Performance / Usage | |
Disclosure: This product was given to me for review by the company for review purposes only for free or at a discounted price.
To learn more about our review policy please visit this page HERE.