A few years ago a friend of mine brought his computer over to my house, needed some work and parts and when he turned it on it sounded like a small airplane taking off. You could hear this thing on the second floor of my house, that's how loud it was. That was ridiculous in my opinion, you don't need noisy and loud fans to have a cool system. Personally I must have a quiet system, but I don't sacrifice performance for low noise levels. Noctua is one of the top companies when it comes to keeping your computer cool, they're always innovating and improving on their designs and they've sent me over their latest 120mm cooling fan for review, the NF-S12A PWM. This fan is 120mm in size and has a maximum speed of 1200rpm, but you can use the included adapter to lower the speed to only 900rpm. I've put the NF-S12A up against another Noctua fan that runs much faster at 1500rpm, and I was surprised by the results and I think you might be too. Read on to learn more…
Noctua NF-S12A PWM 120MM Cooling Fan Review
So we'll start off with the box shots, the box for the Noctua NF-S12A PWM fan is nice look and it opens to give you some details about the new design on the left side and then on the right side you can see the fan through the window.
Moving to the back of the box you'll see a basic description of the fan in several languages. The back opens as well to list the features of the fan.
I just realized I didn't include a picture of the plastic box, when you open the box you'll be greeted with a clear plastic box that holds everything. So here's everything that's included in the box for you: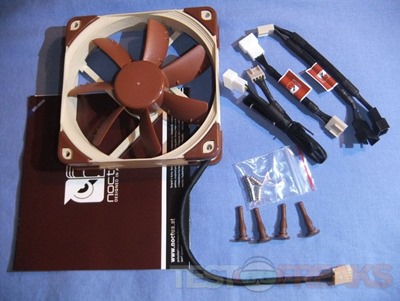 Noctua included three extra cables with the fan. Top to bottom- 'Y' cable, extension cable and a low noise adapter that slows the maximum speed of the fan down.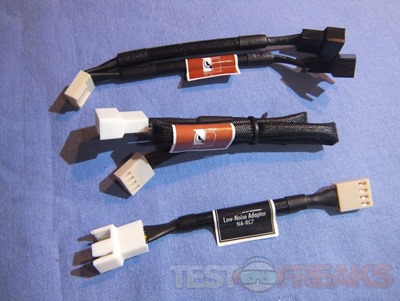 Noctua also included both common metal screws and silicone anti-vibration bolts.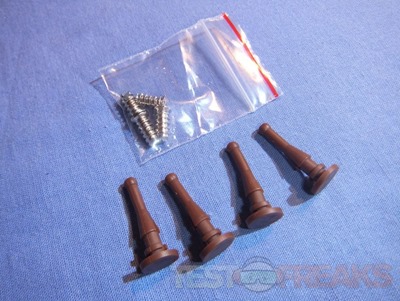 Here's the NF-S12A PWM 120MM Fan. It's the familiar brown and beige colors we've come to expect from Noctua.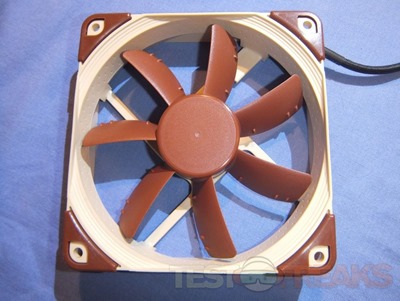 Moving to the back you'll see the ID label and a thin inner frame.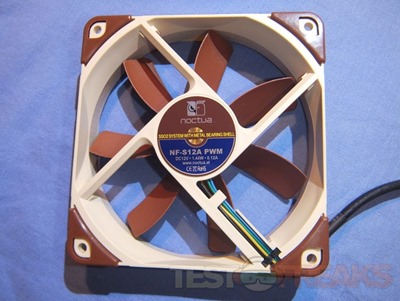 All eight corners of the NF-S12A fan are covered with silicone to help keep the fan quiet by dampening vibration. You can easily remove these if you need or want to.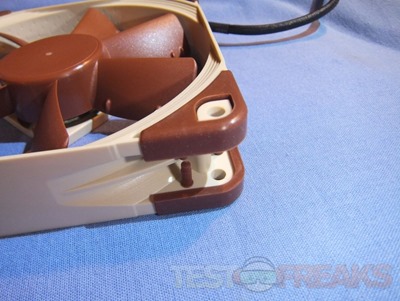 The NF-S12A PWM is unique in its design, outwardly it looks like most other 120MM fans, but take a closer look at the blades and inner frame and you'll notice quite a few differences.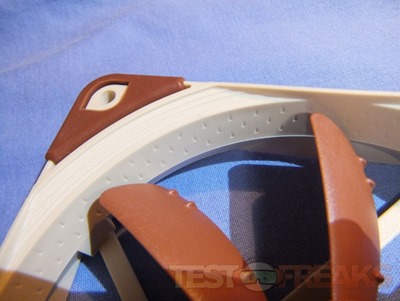 The little bumps on the blades are anti-stall knobs making the fan blades work more efficiently for improved airflow.