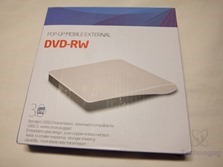 I've got a quick review for you of something that you might need or might not. The product is an external CD/DVD from a company called Novapolt and the drive uses the USB 3.0 interface making it fast, but it's also quiet and it seems well made overall. The drive is small and portable and the USB cable is built into the drive itself. Read on to learn more…
Specifications and Features
Novapolt External CD Drive USB-3.0 DVD Drive, CD / DVD Rewriter, Burner for Laptop Notebook Desktop Computers, Supports Windows / Vista / 7/ 8.1 / 10, Mac OSX
Overview: –
1. With this external cd dvd drive you can record a cd, watch videos, create back up discs and install software.
2. This USB DVD +/– RW Optical Drive is a plug and play DVD and CD playing solution that connects to your laptop or computer through a USB port.
3. This super speed USB 3.0 external dvd drive from Novapolt is tray loading and is suitable for USB 3.0/2.0 connector for desktop or laptop via the USB interface.
4. Play or burn CDs at home or on the go or watch DVD movies with this external drive DVD +/– RW Optical Drive.
5. Simply plug the lightweight (12 ounce) drive into your Ultrabook or notebook's USB port and you'll be ready to play or burn your favorite DVD or CD at home or even at a small workspace.
6. You can also place the drive in your bag to take this functionality with you on your travel.
7. Compatible with Windows XP / 2003 / windows vista / 7 / Windows 8 /Windows 10, Linux, Mac 10 OSX.
8. Supports plug and play. Note that some desktop computers, notebooks or laptops do not come with media player, you will need to download and install a VLC media player.
9. This dvd drive is designed in such a way that the data cable is embedded into the DVD drive
10. The data cable is made of pure copper mesh technology for faster and stable data transmission speed.
Technical Specifications
1. Device Type: CD-RW/DVD-RW Burner/Writer/Drive
2. USB Interface: usb port 3.0 (backward compatible with usb port 2.0 and usb 1.0)
3. Read Speed: CD: 24X, DVD (Double/Single Layer) 8X
4. Write Speed: CD-R: 24X, CD-RW: 16X (US-RW), DVD+/-R: 8X, DVD+R Double Layer: Max.6X, DVD-RAM: 5X , DVD+RW: 8X, DVD-RW: 6X
5. This cd drive usb product dimensions is 6.6 inches by 6.6 inches by 1inch.
6. Net Weight: 12 ounce
7. Dimensions: (WxDxH) 6.6 in x 6.6 in x 1 in
8. Optical Storage: DVD±RW (±R DL) / DVD-RAM
9. Read and write Speed: has a bandwidth of 5Gbps (640MBps) which is 10 times faster than USB 2.0
Price: $24.95 (from Amazon at time of review)
The Review
Let's start with a video unboxing and demo and then move on:
*****VDOIVOEODIVOIEOVIOVIODIVOIVDOI*********
The Novapolt DVD drive comes packaged in a sturdy cardboard box with specs and features listed.
The drive comes packaged wrapped in plastic and in a clear plastic tray for protection. The only thing included is the user manual.
The drive is made of plastic and it only weighs about 12oz, the top has a brushed aluminum finish to it, but it's just plastic, still it looks good though. The drive 6.6 x 6.6 x 1 inches in dimensions so it's thin and lightweight making it very portable. It seems well made overall.
The bottom of the drive has an ID label along with four rubber non-slip feet but what's most important is the USB 3.0 cable that is built-in and stores inside of the base of the drive. The USB cable locks into place for storage and it's about 8 inches long.
The tray opens with a push of the button like any other drive. There's also an LED indicator and a small hole to remove your disc in case of an emergency.
I tested the drive by watching a DVD movie and it works fine, Windows 10 recognized the drive and installed drivers automatically. The drive is quieter than other external drive I've owned which is good and it seems fast to read and recognize discs.
Conclusion
The Novapolt DVD drive works fine, just as it should, no complaints at all about it.
The drive reads discs fast and thanks to the USB 3.0 interface the access speeds are fast as well and it's virtually silent while in use.
The drive looks nice, it's small, portable and lightweight so you can easily take it with you if need be. The USB cable is built-in so you won't have to worry about losing it.
All in all I'm happy with the drive, it works as it should and it's price right.

Pros:
+Small and portable
+Quiet
+USB cable built-in
Cons:
-None that I could find
| | |
| --- | --- |
| Grading | Scores Out of 10 |
| Overall | |
| Design / Aesthetic | |
| Value / Price | |
| Performance / Usage | |
Disclosure: This product was given to me for review by the company for review purposes only for free or at a discounted price.
To learn more about our review policy please visit this page HERE.