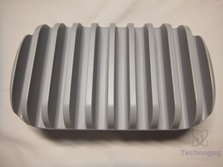 In our house we've got lots of electronics that require charging all the time as they get used all the time, we have five phones that get used everyday along with multiple tablets and a plethora of other mobile devices and their accessories. Finding somewhere to charge all these devices and keeping things organized can be tricky but NTONPOWER is here to help with the NUK-10P which is a 10 port USB charging station and dock organizer all in one. The dock has 10 USB ports so you can charge 10 devices at the same time and it has built-in cooling to keep the device cool and safe while charging your stuff. The NUK-10P has a total output power of 120 watts and up to 2.4 amps per port so it can charge most anything even those device that support fast charging. The dock looks nice and it's very simple to use. Read on to learn more….
Specifications and Features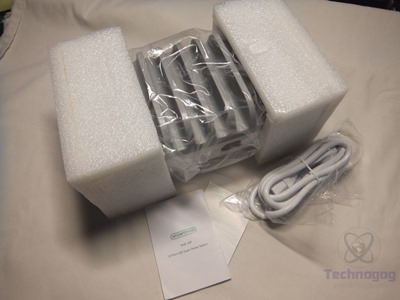 The top has what look like fins but that's the organizer section where you can put your devices while charging. There are 10 slots so you can hold 10 devices. The Ntonpower charging station is made of gray and white plastic and it seems well made and sturdy. The charging station measures about 9.25" long and about 5" deep and about 3.5" high.
The bottom has four rubber feet to keep the station where you put it and the legs elevate the station to allow airflow under it to the fan to keep it cool while charging. There are vents on each side as well for cooling.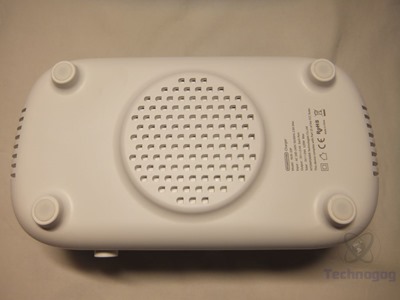 On the front you'll find the 10 USB ports along with a single LED to indicate power.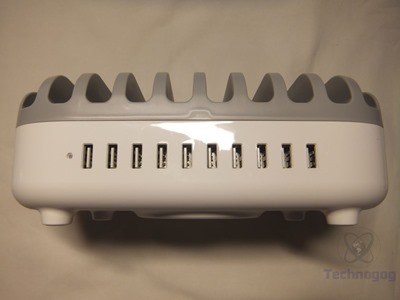 On the back is the power connection and main power button to turn it on and off.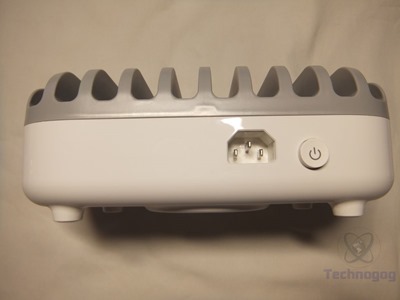 You will need to provide your own USB cables for charging but every device these days comes with one so that's not an issue really. I would have liked to have seen them include USB cable, specially shorter ones just specifically for use with this station as all of those long cables can become quite a tangled mess. I used it to charge my tablets and phone and it worked fine and I should note that I never heard the fan so I have to say it's quiet when in use. The organizer slots seem large enough for most devices but they can be a tight fit with the case on the device. My Samsung Galaxy S6 has an Otterbox Commuter case on it and it's a tight fit, it does it fit but just barely. I would worry about devices with thicker cases fitting in the slots.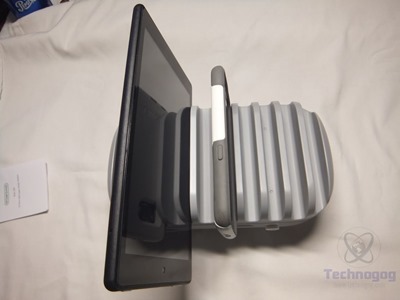 Conclusion
The Ntonpower NUK-10P charging station is a great product, in my opinion it would fit in great in either a home or office setting.
If your family is like mine, and most are, then you've got lots of gadgets and devices that need charging and I'm sure you're not able to charge everything at once, the NUK-10P allows you to charge 10 devices at the same time which should be more than enough for most families.
The NUK-10P is well made and it looks nice and best of all it's very simple to use. The built-in cooling fan is silent so it bother you which I think is a big positive.
All in all the Ntonpower NUK-10P charging station is a good product that works well and solves the problem of not enough charging ports.
Pros:
+Well made
+Quiet fan
+Lots of USB ports
+Simple to use
+Fast charging when available on device
+Looks nice
+Great for home or business use
Cons:
-No USB cables included
-Devices might not fit in slots with cases on
| | |
| --- | --- |
| Grading | Scores Out of 10 |
| Overall | |
| Design / Aesthetic | |
| Value / Price | |
| Performance / Usage | |
Disclosure: This product was given to me for review by the company for review purposes only for free or at a discounted price.
To learn more about our review policy please visit this page HERE.