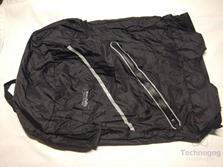 Up for review today I've got another backpack, this one is from a company called Walking to Sky and it's a foldable and compact lightweight daypack that folds down to about 5×5 inches for portability. The bag is very lightweight at only about 160 grams but it has a 24 liter capacity and is waterproof and tear resistant. It's a decent bag that would be fine for a trip to the beach, or zoo, or just wherever you need to go. Read on to learn more…
Specifications and Features
WalkingToSky Lightweight Daypack 24L Durable Waterproof Handy Backpack for Travel Hiking
WalkingToSky Lightweight Foldable Daypack is a good companion for your outdoor activities
The backpack made of Water and Tear Resistant nylon, lightweight and streamline design is good companion for your travel.
Main compartment is large for all your luggages and secured with a hidden rolltop closure, you can pack away to a palm-sized bag when not in use.
Idea for real adventure,world travelers Anti-drizzle, quick-drying to adapt to a variety of environments.
Structure:
Main waterproof pocket:24 Liters
Outer zipper pocket for easy access items like guide books
Dual side pockets: great for water bottles or umbrella
Specifications:
Weight: 165g
Capacity: 24 liters
Compact Size: 13.5×5.9×17 inch
Unfold size: 5.5x3x3 inch
Price: $16.99 (from Amazon at time of review)
The Review
Let's start with a video tour and then move on:
The backpack comes packaged in a very small box, I've included a tube of Carmex for scale to show you just how small, I was surprised a 24 liter backpack could fit in such a small box.
When you open the box up you'll find a nylon drawstring bag with the backpack inside of it. I also got a second drawstring bag on the side, not sure if I was supposed to or not though. The bag is fine, it's nylon making it durable and it has a spring clip on it to keep it cinched. I should note the bag is waterproof as well, it has a waterproof lining just like the bag.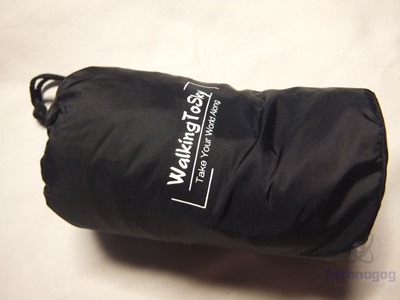 The bag is black in color and made of waterproof and tear resistant nylon. The bag is very lightweight and it's measurements are 13.5 x 5.9 x17 inches and only 5.5 x 3 x 3 inches when folded and it weighs only 156 grams.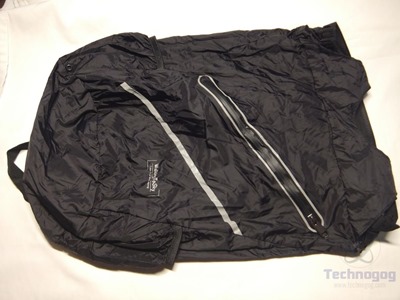 The front pocket is fairly large at about 13" high x 13" wide at the top but the bottom tapers down to about 7", it has a 'V' shape to it. On both the right and left side of the bag you'll find pockets for bottles with elastic tops on them.
On the back are the shoulder straps which aren't very padded but the bag isn't meant for long hikes or excursions, it's called a daypack for a  reason. The shoulder straps are adjustable of course as you might expect and there is a handhold at the top of the bag so you can pick it up fairly easily.
A little bit ago I reviewed a waterproof bag and this one works just like that one did, it rolls down and clips together to seal it. It actually surprised me to see this system on a backpack, but what matters is that it works well. This bag also has two clips that come from the back to the front to further secure the bag. The capacity is 24 liters with measurements of the bag essentially at 13.5 x 5.9 x17 inches, a little less with the front pocket and side pockets of course.
Conclusion
The Walking To Sky daypack is decent but I wish it had more pockets as it only has one of them and then the two side pockets, but just one small pocket for other stuff.
The back pack is water proof and tear resistant making it great for day trips or even short hikes, your stuff should be safe even in inclement weather.
I love the fact that the bag can be folded small for portability and storage, you can stow it in your car in case you might need it for something or other.
All in all it's a decent bag and worth the cost for sure.
Pros:
+Waterproof main pocket
+Folds compact
+Plenty of room
Cons:
-Only one small pocket
| | |
| --- | --- |
| Grading | Scores Out of 10 |
| Overall | |
| Design / Aesthetic | |
| Value / Price | |
| Performance / Usage | |
Disclosure: This product was given to me for review by the company for review purposes only for free or at a discounted price.
To learn more about our review policy please visit this page HERE.