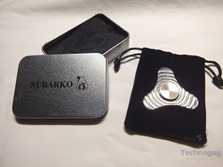 Yes I've got another spinner for review but this one is different, it's made of titanium and brass. The spinner is from a company called Nubarko and I have to say it's packaged very well with a nice metal tin and inside of a drawstring bag so you can carry the spinner with you if you want. It's an excellent spinner overall, it's very well made and just great really. Read on to learn more…

Specifications and Features
NUBARKO Fidget Spinner Toy – Titanium Tri-Spinner with Replaceable Stainless Steel Ceramic Hybrid Bearing
Innovative design to create amazing swirl and ripple wave effect when you spin it. Replaceable 623 ceramic stainless steel hybrid bearing. Quiet and smooth, 2~3 minutes spinning time.
Made of premium TC4 Titanium and Brass with precise CNC process. Durable, Non-Toxic and corrosion resistant.
Hand-polished with skilled craftsmanship, smooth surface finishing and comfort hand feeling. Compact and light weight, perfect small size for EDC pocket carry. Fit for both adult and kids.
Great for Relieving Anxiety, ADHD, Autism, Stress, Quitting Bad Habits, Staying awake on long car drives
The Swirl NUBARKO Fidget Spinner Toy is made with ergonomic design, skilled craftsmanship and high quality materials. Cool design to give you amazing Swirl or Ripple wave effect when you spin it. The Ceramic Hybrid bearing makes it very quiet and smooth and you can play it anywhere anytime.
How to use it: Hold spinner in one hand and use the other hand to spin it rapidly with small continuous strikes to keep it spinning indefinitely. With practice you can spin it using one hand only with the fingers to start and stop spinning.
Material: TC4 Titanium + Brass
Dimension: Length: 1.78″(45mm), Width: 1.78″, Height: 0.43″(11mm)? Weight: 1.5oz(42g)
Price: $34.99 (from Amazon at time of review)
The Review
Let's start with a video and then move on:
The packaging for the Nubarko spinner is excellent really. The spinner comes in a tin box with the Nubarko logo on it and inside you'll find foam padding and a cloth drawstring bag. Inside of the bag is a zip bag with the spinner for further protection, it's very nice packaging really.
This spinner is small, it has dimensions of 1.78″(45mm), Width: 1.78″, Height: 0.43″(11mm) and it's rather heavy for it's size at 1.5oz(42g).
This spinner is made of titanium and brass and it makes a very attractive color combination and of it's virtually indestructible as it's titanium. One of the really interesting things about this spinner is that one side is just circles but the other is a spiral so when you spin it the spinning pattern is different on each side.
So I found out it does come apart fairly easily actually. In the video I thought it popped apart like others but this one screws together.
So I tested it by spinning it and timing it, I averaged about 2:15 spin time, which isn't too bad overall especially for such a heavy spinner.
Conclusion
The price might be considered high by some but you do have to remember it's made of titanium and it is very high quality.
Spin time is decent especially it's such a heavy spinner.
The included cloth bag is a nice touch or you could use the metal tin box, either or works fine.

All in all this is one of the nicest spinners I've yet to own or review.
Pros:
+Very well made
+Decent spin time
+Includes carrying case
Cons:
-Might be considered expensive
| | |
| --- | --- |
| Grading | Scores Out of 10 |
| Overall | |
| Design / Aesthetic | |
| Value / Price | |
| Performance / Usage | |
Disclosure: This product was given to me for review by the company for review purposes only for free or at a discounted price.
To learn more about our review policy please visit this page HERE.