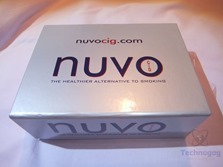 Yes I'm a smoker and I enjoy it, it's pretty much the only vice I have, I know I shouldn't but I enjoy it. I've tried to quit but I don't think I wanted to honestly, still don't but I like to try new stuff and I've tried several brands of electronic cigarettes and like anything, there are good ones and there are bad. Today for review I sort of have the NuvoCig Electronic Cigarette Deluxe Kit which I'll explain what I mean later in the review. These ecigs aren't bad at all, they're not harsh, they taste pretty good and you can get various flavors and strengths or nicotine levels of your choosing. Read on to learn more…

Specifications and Features
NuvoCig Electronic Cigarette Deluxe Kit
1 pack of electronic cigarette cartomizers (5 electronic cigarette cartomizers per pack)
1 standard electronic cigarette battery
USB charger and wall charger
Price: $59.99
Price: $42.99
The Review
Let's start off with a video unboxing:
The kit comes in a very nice looking box with a little info on the back for you to read and when you open the box you're greeted with the batteries wrapped in plastic for shipping.
I received several things in this kit, but not all are included in the deluxe kit, but most are. it is the deluxe kit yes, but it's supposed to have two standard batteries but I got one and their Vape Pen battery, which is essentially a larger capacity battery.
The Vape pen battery is large and has a single button on it that you press to activate it, in other words you don't just suck, you push the button and inhale. The button lights up blue to let you know it's activated.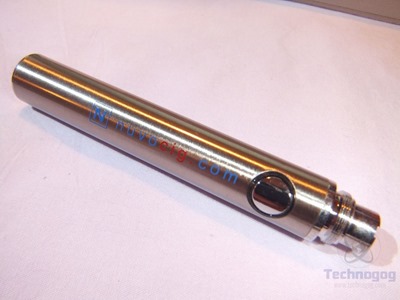 The standard battery is plain with the NuvoCig logo on it and on open end to insert the cartomizer. The front end does light up red when you inhale to let you know it's working and so it makes it looks like a real cigarette.
With the silver vape pen I received the charger which is basically a USB cable with the charger on the end. It's USB so you could charge it right from your computer.
Also included in the kit is a smaller USB charger for the standard battery and a USB wall adapter like you'd get with your cellphone or tablet.
Included in the kit is five cartomizers. I got menthol, spearmint, mango, peach and cappuccino flavors all in high strength. There are many other flavors to choose from and you can choose different nicotine levels as well.
The cartomizers just screw into the batteries and you're read to go really.
The sizes of both are quite a bit larger than a standard cigarette, especially the Vape pen battery.
So I smoked them as it were, or I vaped them as the correct term would be.
I found them to be decent actually. Some ecigs can be very harsh but these aren't, I didn't cough at all. I have another here that I'm going to review shortly and it's so harsh it hurts my throat, but the NuvoCig is rather smooth and not harsh at all.
They do produce quite a bit of vapor so it really does look like you're smoking a real cigarette . This can be a good thing and a bad thing as it can be mistaken for a real cigarette and you could get in trouble or at least questioned depending on where you are these days.
The battery life is fine for the standard battery, good enough to last the day or at least most of it.
The battery life on the Vape pen is huge, it should last a long time and I do like the push button feature. Sadly I really couldn't test the Vape pen as the other parts weren't included, but you can use it as a battery for the regular cartomizers.
Conclusion
The NuvoCig Electronic Cigarette Deluxe Kit cost $59.99 and it includes everything you need to get started with vaping and it's not  bad deal really. You can test it out and if you like it you just need to buy a few more cartomizers and then you can even try some different flavors and strengths.
The vapor is not harsh at all so this is a great beginner kit for sure as the harsh vapor can be off-putting if you're just first trying an ecig.
The batteries last quite a while and they can be charged over USB so if you're near your computer you've got power right there. You could be at work and charge it up for your cigarette break and you'll be set.
If you're looking to try ecigs then you really can't go wrong with the NuvoCig kit as I think it would be great for a beginner.
Pros:
+Numerous flavors and strengths to choose from
+Products seem well made
+Batteries last long
Cons:
-None really
| | |
| --- | --- |
| Grading | Scores Out of 10 |
| Overall | |
| Design / Aesthetic | |
| Value / Price | |
| Performance / Usage | |

Disclosure: This product was given to us for review by the company for review purposes only, and is not considered by us as payment for the review.
To learn more about our review policy please visit this page HERE.