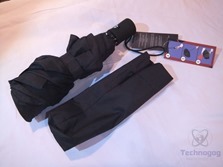 Not sure exactly what to file this review under, so I'm going with Home and Garden, it works right, it's an umbrella and I associate gardens with rain and then we have an umbrella. There's logic in there somewhere I think, but today for review I've got the Procella Travel umbrella and it's very made with a push button for auto open and auto close. The umbrella is nice and large with double layers so it will more than help keep you dry during the rainiest of days. Read on to learn more..

Specifications and Features
Procella Travel Umbrella Compact Double Canopy with Auto Open and Close to Keep You Protected on the Go
-Durability and Ease – Many travel umbrellas are conveniently compact, but the Procella Umbrella is also very durable with a 42″ sturdy canopy great for heavy rain and windy weather. Use the Velcro straps to keep it neatly tucked away.
-Perfect for Extreme Outdoor Weather – When you experience bad weather conditions, you can rely on this portable umbrella to be heavy duty. Its vented double canopy makes it wind resistant, and it also has an easy folding feature for your convenience.
-Simplicity and Strength – A fiberglass frame and super water repellent fabric make this one of the best umbrellas for men, women, girls, and boys. The easy auto open and close feature makes it a cinch to have instant rain or sun protection, or a sturdy windbreaker when watching outdoor sports.
-Waterproof and Packable – Enjoy a comfortable non-slip handle so it's easy to keep your grip, in rain or shine. The Procella Travel Umbrella can double as a collapsible golf umbrella or beach umbrella. No matter where you go, you'll be covered!
Product Dimensions: 11.6 x 2.5 x 2.4 inches; 1.1 pounds
Price: $29.95 (from Amazon at time of review)
The Review
Let's start with a video unboxing:
The packaging for the Procella umbrella is very nice, I'm impressed with jus the packaging. It's a very think box that separates to top and bottom with a window in the top to see the umbrella.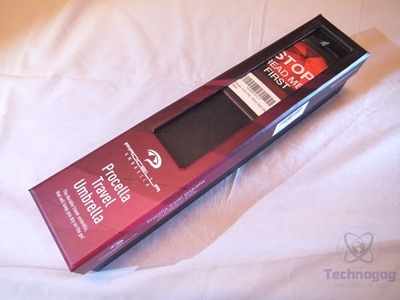 The Procella Umbrella comes with a storage case which is basically a slip cover.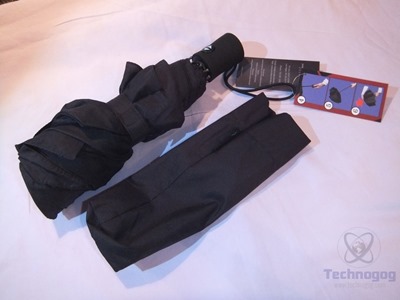 The handle is comfortable and it's non-slip with a nice large button on it to open and close the umbrella. The handle also has a very sturdy wrist strap attached to it.
When the umbrella is closed it's only 11.6 x 2.5 x 2.4 inches and it weighs about 1.1 pounds making it very portable for sure.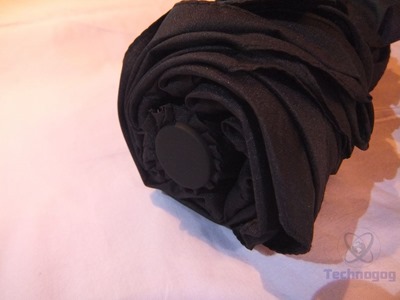 There's a nice sturdy strap attached to the umbrella with velcro on it to keep it closed when not in use and for storage.
The frame is made of fiberglass and metal so it's lightweight and sturdy.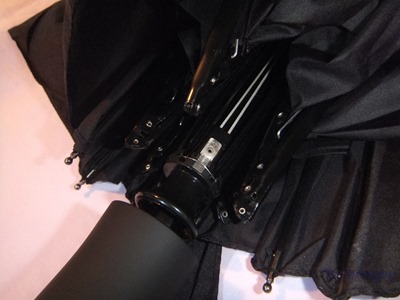 The top of the canopy is double layers, there's a smaller layer over the main umbrella to make sure you stay dry and it helps to reinforce the canopy itself, technically it's called  a vented double canopy. The material is super water repellent and of course it's water proof. It opens up to 42 inches which is more than enough to share space under the umbrella if need be.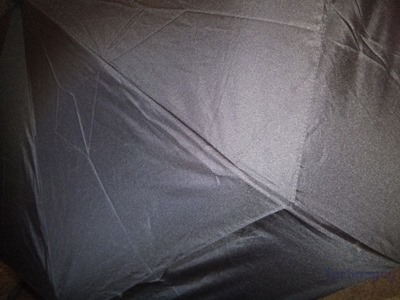 Conclusion
The Procella umbrella is very well made and well worth it, I've had no issues with it at all. I'm going to be keeping it in my car where I keep my old cheap umbrella that barely stood up to the wind and rain.
The Procella umbrella held up to strong wind and heavy rain with no problems, it kept me nice and dry.
The only small issue might be the price, some might think it's expensive at $29.95, but I've paid that much for an umbrella before but sadly my dog ate it. I think a quality umbrella is a good thing to have handy no matter the situation.
If you're look for a top quality umbrella then I can easily recommend the Procella Travel Umbrella.
Pros:
+Very well made
+Auto open and auto close
+Nice and large
Cons:
-Some might consider it expensive
| | |
| --- | --- |
| Grading | Scores Out of 10 |
| Overall | |
| Design / Aesthetic | |
| Value / Price | |
| Performance / Usage | |

Disclosure: This product was given to us for review by the company for review purposes only, and is not considered by us as payment for the review.
To learn more about our review policy please visit this page HERE.