If you've got a desk chances are you need a desk lamp for it so why not get an LED one as they've gotten better and brighter and they're just less expensive to operate and they last longer than incandescent bulbs do. Today for review I've got an dimmable LED desk lamp from a company called Oak Leaf and I'm very happy with it. This lamp has an integrated USB port in the base to charge your stuff and it has three different color temperature setting along with five levels of brightness for each temperature setting. The lamp is very well made and it looks great. Read on to learn more..
Specifications and Features
Dimmable LED Desk Lamp, Oak Leaf Table Lamp (10W, Eye-caring, 3 Lighting Modes w/ 5 Dimming Levels and 5V/1A USB Charging Port, Luxury Silver Grey)
-Superior Light Quality: Enjoy comfortable, non-flickering light for stress-free productivity and down-time. Light emitting panel provides powerful yet even light without harsh glare or shadows.
-2015 Best Design LED Table Lamp: Luxury Chic modern design that will naturally fits in any space; try it with your office, bedroom, study or living room
-Economical and Environmentally Friendly: These power-saving LEDs last over 25 years, so you'll never have to change a bulb again. Solid base with non-slip material ensures strong overall stability.
-Intelligent Features: Choose between 3 lighting modes (study, relax and bedtime) and 5 dimming levels. Adjustable lamp-arm with turnable base ensures you're able to get the perfect angle. Built-in USB port charges smartphones, tablets and e-readers
-24 Month Warranty & Friendly Customer Service: We have a commitment to every buyer 100% user satisfaction. After all, we are customers, too, so if you have any problem about our Oak Leaf Dimmable LED Desk Lamp, just contact us to refund or return. You Can Rest Assured That Your Investment is Protected.
Our Oak Leaf Dimmable Desk Lamp is not only an intelligent lamp for your home or work space, but also a chic fashion gadget to decorate your places. This luxury look table lamp is designed with 3 lighting modes- Study, relax and bedtime modes with 5 dimming levels, which ensure you're able to find the perfect light setting to suit your needs.
NO GHOSTING, NO GLARING
Enjoy this comfortable, non-flickering light for stress-free productivity and down-time. Light emitting panel provides powerful yet even light without harsh glare or shadows.
Touch Sensitive
With the highly sensitive lightest touch, the lamp will switch on thanks to the touch control. Slide your finger across the base pad to adjust the brightness over 5 different levels.
Adjustable Design
A rotating base, double-hinged arm and swiveling LED face let you point the light exactly where you want it.
USB Charging Port
Get ready to say goodbye to carrying multiple adapters and outlets for any type of USB Device
Dimmable LED Desk Lamp with 3 color temperature: 3000K/4500K/6000K
Price: $36.99 (from Amazon at time of review)
The Review
Let's start with a video unboxing:
The lamp comes in a larger box and the lamp itself is wrapped in cardboard for protection. Once you get everything unpacked you'll find the lamp, a brief user guide and a small white box with the power adapter in it.
The top of the lamp is the LED light , it's kind of like a big LED bar essentially. The head piece is 6.25" by 2.5" in dimensions and it  can move up and down and it can swivel up and down but it cannot move or turn left and right. The LED inside is supposed to last over 25 years so chances are you'll never need to replace it. The arm extends from the base and it's not straight as it has a slight curve to it and it's about 21.5" tall.
The base is gray in color and it's square with dimensions of about 6.25" x 6.25" and it's slightly over .5" thick. The control panel is touch enabled with six touch sensitive buttons. The bottom row has the power button in the center and the dimmers on the right and left. The top row is pictures of a moon, a book and a coffee cup which are supposed to represent bedtime, study and relax modes or lighting levels. The levels or color temperature are 3000k, 4500k and 6000k respectively.
On the left side of the base is single USB port for charging your devices, it can provide 5V at 1A so it should be able to charge most everything you've got, phones, tablets or anything else that can charge via USB. They do not include a USB cable but I think everyone has extras floating around. On the back edge of the base is the power connection for the adapter.
The  lamp bar or arm extends from the back corner so it's not exactly centered on the base which is kind of odd positioning. On the bottom of the base there are four rubber feet to make sure it stays where you put it.
I've been looking for a better desk lamp as I've got an older 40watt incandescent and the bulbs cost about four dollars each and they don't seem to last as long as I'd like and it does use a lot of power as it's an old style incandescent that I've had for years. This lamp from Oak Leaf actually worked very well for me, especially the curved arm as I placed it on my desk behind two of my monitors and the curved arm allows it to come over the top of the monitor to light my desk but it allows the base to stick out under the monitors so I can reach the controls and the USB port. The arm curves around the back of the monitor, a straight arm would not work as the back of the monitor slightly sticks out so the curve of the lamp works great in this situation.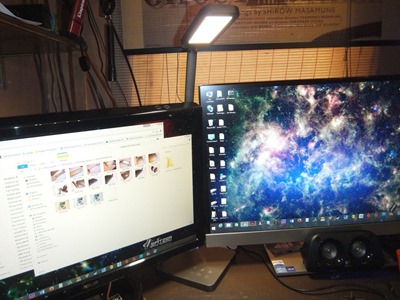 Sure it's not as bright as my old 40watt incandescent lamp, according to the specs it's 10watts and it took me a while to get accustomed to it but I've very much grown to like it. I use it on the study mode or 4500k color temperature which seems like more natural light to me and I use it on the highest setting of the dimmer. Supposedly natural daylight white light is 4000k and the the 4500k is the closest this lamp can produce.
I've also noticed that it's cooler in temperature at my desk now with the LED lamp. The LED lamp gives of a little bit of heat and you need to be very close to it to feel it, but my incandescent lamp really puts out the heat.
The 3000k light is more yellow, while the 4500k is almost like daylight and the 6000k has a bluish tint to it.  Sometimes I use the 3000k at nighttime but not normally, only if I remember but it's nice to have the option anyway.
Conclusion
The Oak Leaf Dimmable LED Desk Lamp is a great choice for a lamp, it's very well made and has numerous lighting options for you and it even has an integrated USB port to keep your stuff charged. The lamp looks great, it should fit in with most any modern style décor.
The lamp is only 10watts which might not seem like much and it might not be for you depending on what kind of light you're currently using. I went from a 40watt incandescent to this 10watt LED and it seemed very dim but after a few days I was accustomed to it and now I like it a lot.
An LED lamp is cheaper or less expensive than an incandescent to operate and you should never really need to change the bulb in this lamp as it has an estimated 25 year life, chances are you'll break the lamp before the bulb needs replacing.
The only small issue I have with this lamp is that you can't turn the head left and right, it can only go up and down and swivel around. If you want to move the light to the right or left you need to move the whole thing with the base. For me it's ok that it doesn't move right and left as with my setup it works where it is, I can position it and I just leave it there, but other people probably aren't like me, or at least how my desk it setup so not being able to move it could be a big issue.
I personally like this light a lot, it's now replaced my old style incandescent desk lamp for my normal everyday use.
Pros:
+Very well made
+Integrated USB port
+Bulb should never need changing
+Numerous lighting options
Cons:
-Head can't turn
| | |
| --- | --- |
| Grading | Scores Out of 10 |
| Overall | |
| Design / Aesthetic | |
| Value / Price | |
| Performance / Usage | |

Disclosure: This product was given to us for review by the company for review purposes only, and is not considered by us as payment for the review.
To learn more about our review policy please visit this page HERE.