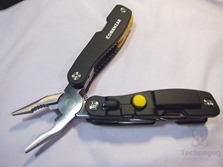 Outdoors, camping hiking and all that, we've looked at several products but one we haven't that is a must have and that's a multi-tool. Multi-tools are great for when you're outdoors as they're just really useful, it's almost like having a toolbox with you at all times and they're great really for any situation be it around the house or lost in the woods. Comenzar has sent over their multi-tool for review and it has numerous tools in it like other multi-tools do and this one even has a built-in LED flashlight. Read on to learn more…

Specifications and Features
Comenzar Multitool – Pocket Knife & 13-in-1 Reverse Pliers with Rechargeable LED Flashlight
Comenzar Multifuntion knife is Compact and portable, it is the ultimate multitool for long car trips, traveling construction work, or outdoor adventures like camping, hunting, hiking, and fishing. It makes a great gift for someone who like to be ready for anything!
-13 in 1 Versatility:Comenzar Multitool Pocket Pliers Include 13 Integrated Components.
-Super Quality:Comenzar Craftsman pliers is made of High-Quality Guarantees Stainless Steel
-Great Design :Built-in Rechargeable Led flashlights.
-Easy to Use:Easy Locking & spring-loaded functionality to reduce hand fatigue.
-Accessory:Comes with Charging Cable & Nylon Sheath
Features:
Length:100mm closed/155mm overall
Weight: 240G
Material: Stainless Steel 420; Anodized Aluminum Handle with Plastic Inlay
Our multitool includes:
1.Flat nose pliers
2.Regular Pliers
3.Wire Cutter
4.Sharp Knife
5.Phillips screwdriver
6.Bottle opener
7.Slotted screwdriver header
8.Fish descaler
9.Hook remover
10.Ruler(2 inch)
11.Saw
12.Slotted screwdriver
13.Can opener
14.Wood/Metal file
15.Large slotted screwdriver
16.Sheath
Item Weight: 8.5 ounces
Product Dimensions: 4 x 1.8 x 1.2 inches
Price: $23.99 (from Amazon at time of review)
The Review
Let's start with a video unboxing or product tour actually:
The multi-tool comes packaged in a small and sturdy black box with the Comenzar logo on it. When you open the box you're greeted with the sheath and microUSB cable. The tool itself is inside of the sheath and wrapped in plastic for protection. Under the sheath in the box is a piece of paper which has a diagram on it indicating all of the parts of the tool.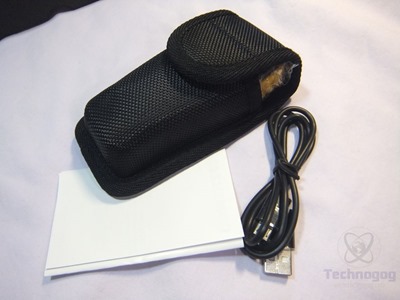 The sheath is nylon and it seems fairly well made, it's semi-hard and has a rather strong button for keeping it closed and then on the back is a belt look. it should do fine in protecting the tool and the tool should stay inside of it.
The multi-tool is a bit big I think,it's about four inches long when folded and about 1.75 inches in width across the fattest part and slightly over one inch thick.
On the right side when closed is a small yellow button which is for the built-in LED flashlight on the top edge. The microUSB port for charging it in on the inner edge of the handle next to the power button. There is no cover on the USB port to keep the weather and dust and dirt out which bothers me a bit. I would carry a multi-tool like this with me basically everywhere and use it outdoors and it's bound to get wet and dirty and all that dirt and water will get into the USB port which can't be a good thing. There is also no sort of LED indicator for the flashlight to indicate charging to let you know it's charging or to let you know it's done charging. There's no instructions either to even give you an idea as to how long it should charge for.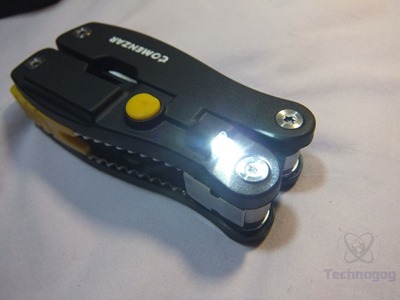 The tool looks plastic but it really isn't, just the outside is covered with plastic, inside is a metal frame for strength.
The tool unfolds into a set of pliers which are a combination of regular and needle nose and on the inner surface is wire cutters. The pliers are spring loaded which is a nice feature, but not one that's needed really as it's just something else that can go wrong or break. When the pliers are open they work fine but the handles just feel very fat, I really can't wrap my hand around them comfortably, the tool just seems much larger than it needs to be really. If you have small hands you will moist likely find it difficult and uncomfortable to use these for sure. The spring is a nice feature yes but I don't like it honestly, it springs open a bit too much, it's too springy, not sure how else to put it.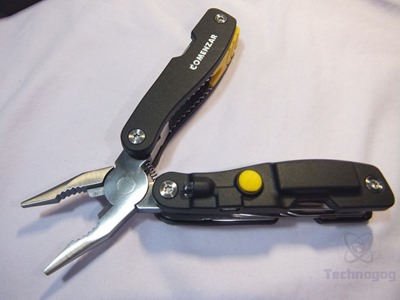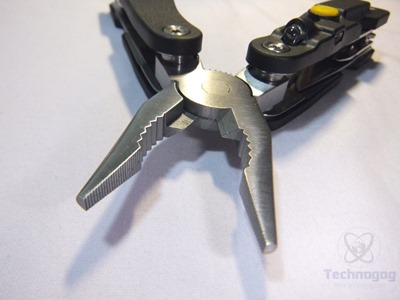 The various tool are located inside of the handles and they are a knife, Phillips screwdriver, two slotted screwdrivers,fish de-scaler with hook remover and ruler, bottle opener, saw, and a three sided file for wood and metal.
I have another multi-tool, the Leatherman Wave and it's a bit smaller than the Comenzar and it has the blades on the outside so you don't have to unfold the pliers to access the blades. Maybe I'm just accustomed to having the blades on the outside but I like it much better. The blades on the Wave also lock in place while the ones on the Comenzar don't, in fact none of the tools really lock into place. There's a bit a tension on them yes, but they don't truly lock, then again the tools on the Wave don't lock either.
Conclusion
For the price the Comenzar multi-tool isn't bad really, the quality seems fine for what it is and what it costs.
This multi-tool can be useful and the addition of the LED light is nice. There are plenty of common tools inside of the handles that are sure to come in handy around the house or in the woods.
This product isn't perfect though, it's a bit larger than it needs to be, it just feels really big in your hands and unwieldy to use honestly. If you have small hands you will have problems using this as it's just big.
The microUSB port needs to be protected, the addition of a simple rubber cover would be nice to keep the port protected from the elements and also it needs some sort of indicator for charging to let you know it's actually charging and when it's done charging.
Pros:
+Built-in LED light
+Numerous tool
+Handy and useful
Cons:
-No protection for USB port
-Larger than it needs to be
-No indicator for charging
-Blades don't lock
| | |
| --- | --- |
| Grading | Scores Out of 10 |
| Overall | |
| Design / Aesthetic | |
| Value / Price | |
| Performance / Usage | |
Disclosure: This product was given to us for review by the company for review purposes only, and is not considered by us as payment for the review.
To learn more about our review policy please visit this page HERE.