I know guns are a hot topic so we're not getting into any of that, I have my opinion and you have yours, just leave it at that. Up for review today I've got another product from Olight and it's a WML or weapon mounted light and it's made to be mounted on a firearm, be it a long gun or pistol. The product is called the PL Turbo Valkyrie and it's easy to install, rugged and of course very bright to light up everything no matter the situation. Read on to learn more…

Specifications and Features
PL Turbo Tactical Light with Spotlight and Floodlight
Long Focus & Wide Angle Simultaneously: with a max 66,300-candela light intensity, max 515-meter throw and 800-lumen output. The exceptional center spotlight and impressive floodlight helps to view both distant and nearby surroundings clearly.
100+ Compatible Builds: Thanks to the sliding block within its rail clamp, the PL Turbo fits a broad range of short and long set-ups with a Picatinny (MIL-STD-1913) rail or GL rail, a must-have one-for-all WML.
Battery Options Available: Included 2 x CR123A batteries. Also compatible with aftermarket CR123A batteries.
Screw-locking Mechanism: The solid screw ensures a secure attachment, which can be easily operated with simple tools or even by hand.
MATERIALS
Body Material
Aluminum Alloy
GENERAL DATA
Beam Distance: 1,689 ft (515 m)
Max Performance: 800 lumens
Compatible Batteries: 2 x Olight 1600mAh CR123A Batteries
Max Light Intensity: 66,300 candela
Light Source: High Performance Cool White LED
Mode Operation: Ambidextrous Switches
LIGHTING LEVELS
Turbo: 800~400 lumens
Run time Turbo: 4 + 116 minutes
Strobe: Yes, 13 Hz at 800 lumens
TECHNICAL CHARACTERISTICS
Waterproof: IPX6
Weight: 4.48 oz (127 g) (Including Battery)
Height: 1.36 in (34.5 mm)
Length: 3.53 in (89.7 mm)
Width: 1.44 in (36.6 mm)
Price: $62.99
The Review

Let's start off with a video unboxing and then continue on:

The PL Turbo Valkyrie comes in a sturdy box to protect the light inside, when you open the box you're greeted with a little note from Olight and then the light itself is tucked inside of a plastic tray for protection.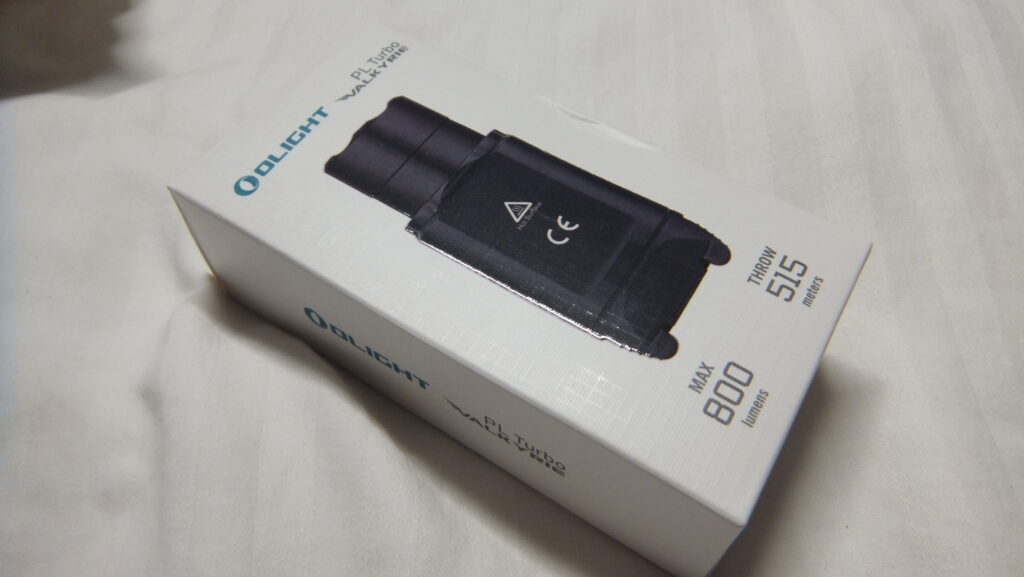 Under the tray you'll find the user manual, hex key and fitting adapter.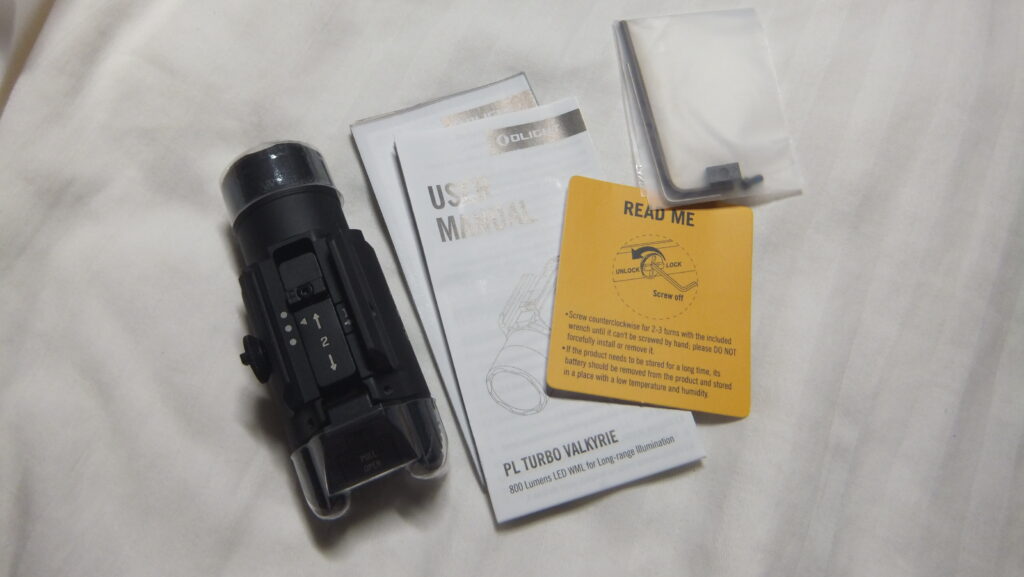 On the top of the light is the mount which can be adjusted in six ways by sliding to fit virtually any mounting system on the market today using the included tool and adapter. The Valkyrie can be mounted to pistols or long guns, whichever you prefer or you can just switch it out as you need and want.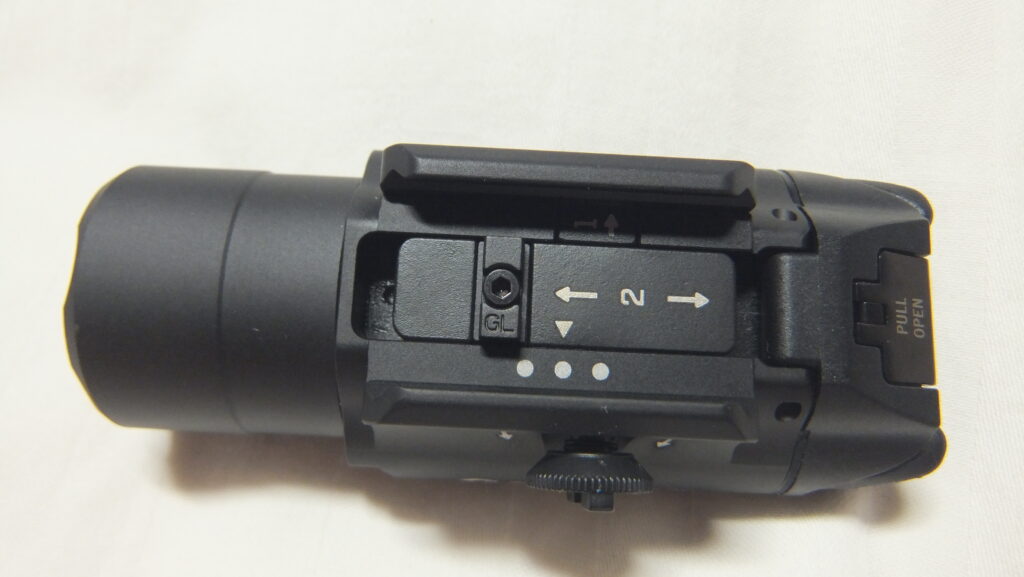 On one side of the light you'll see the Olight logo and the other has the PL Turbo Valkyrie logo, the bottom just as a hot surface warning. The light is heavy, much heavier than it looks for it's size, it's almost 5oz in weight, it's 1.3 inches high, 3.5 inches long and 1.4 inches wide or about 34mm 89mm x 36mm.
On the front of course is the LED light itself or lens which is combination of flood and spotlight in one to provide the maximum field of view and a distance of about 1700 feet or about 515 meters. The PL Turbo can be used in normal mode, or if you push both buttons simultaneously it will enter strobe mode which can be distracting for sure.
On the back or tail of the PL Turbo is the battery compartment and operating switches of which there are two, yes two switches so it can be activated from either side. I really like the dual switches, it's honestly something I never thought of before. The battery compartment is very secure with a metal latch that is honestly rather difficult to open, but it's meant to be. Inside you'll find two CR123A batteries giving a maximum runtime of about 116 minutes. I'm personally not sure about having non-rechargeable batteries, but whatever I guess.
The PL Turbo Valkyrie comes with the Glock adapter installed so we had to remove it for Picatinny use. We've got plenty or firearms to choose from for mounting the light but ultimately chose a tactical style shotgun that has a small rail on the slide which is the perfect size for the Valkyrie.
Installation was very easy, much easier than we expected, just slide it onto the rail and lock it into place, couldn't be easier really. It stays in place very securely. I think it's just the perfect shotgun light, if your gun has a rail of course.
Here's a shot of my son Nick posing with the shotgun and PL Turbo Valkyrie mounted and turned on. If you watched the video you would have seen the examples of the Valkyrie in use in the dark. We did a quick test in my basement at night and it lit everything up like it was daytime, very impressive.
Here's a quote from Nick about the PL Turbo Valkyrie:  "it's very easy to turn on and to turn back off. It fits tightly and doesn't move. And of course it's very bright."
Conclusion

The major takeaway from this review should be that the PL Turbo Valkyrie is just an excellent product, it's very bright, rugged, easy to install and it stays in place.

Overall I'm impressed by the Valkyrie, I love the dual switches they make it just that much easier to use no matter the situation you find yourself in.
I listed non-rechargeable batteries as a con below, but that's just my opinion on it, personally I would prefer rechargeable batteries as they seem to be everywhere. I guess you could buy CR123A rechargeable style batteries, but I would have liked to have seen rechargeability built-into the light itself. Not a big deal though really, just my thoughts on it.
Pros:
+well made
+very bright
+waterproof
+dual switches
+easy to install and stays
+sturdy battery clip
Cons:
-non-rechargeable batteries
| | |
| --- | --- |
| Grading | Scores Out of 10 |
| Overall | |
| Design / Aesthetic | |
| Value / Price | |
| Performance / Usage | |
Disclosure: This product was given to me for review by the company for review purposes only for free or at a discounted price.
To learn more about our review policy please visit this page HERE.