Our homes have become our entertainment centers, much more than any time in the past. We have huge TVs in our living rooms and access to high quality movies and audio to keep us from leaving our houses. Is that a good thing or a bad thing? Anyway, getting the media libraries from our computers to our TVs can be an expensive and a not so easy proposition. Today for review I've got an easy way to get your media to your TV from your computer, it's called the Orb TV and it works over your wi-fi network to stream everything you have and more right to your TV. One of the interesting features of the Orb TV is that you can control it from your phone with a free app.

The Orb TV comes in a rather plain brown box.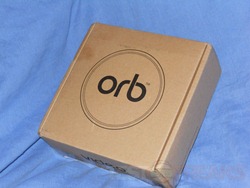 Inside you'll find the Orb TV, USB style power adapter, USB cable, user manual, component and composite cables.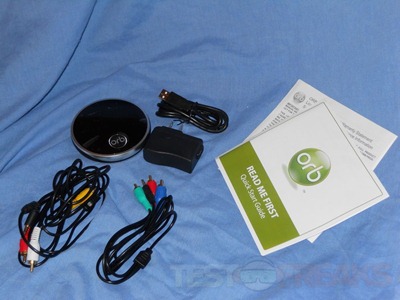 The Orb TV kind of looks like a hockey puck, it's small and black with a silver border and the Orb logo on it.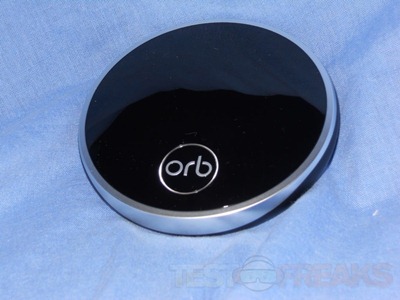 On the bottom is just the identification label.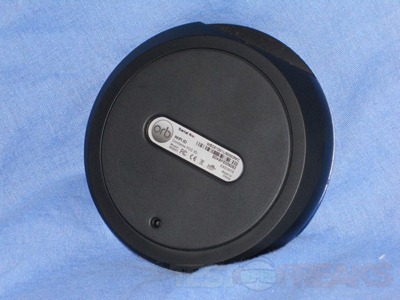 On the back side you'll find the connections for USB, IR, video and sound.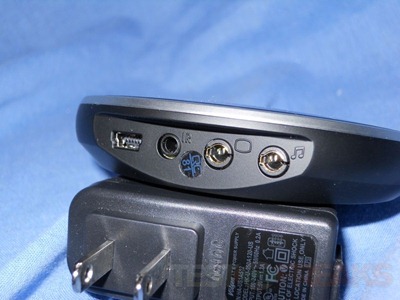 The Orb TV is powered by a USB AC adapter and regular USB cable.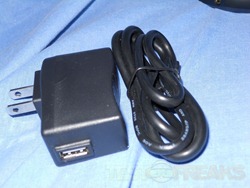 Specifications:
With Orb TV, you can finally get the content you're looking for – how and where you want it.
What You Want
Orb TV brings you thousands of TV Shows, online videos, movies, personal photos, music and more.
Where You Want it
Connect Orb TV to any television and you enjoy your favorite content where you want it most!
How You Want it
With Orb TV's Global Index, just tap the name of your
favorite show on your smartphone and let Orb TV do the rest –
Specs:
Size and weight:
Diameter: 3.74 inches (95.0 mm)
Thickness: 0.83 inches (21.0 mm)
Weight:  4.58 ounces (130 grams)
Wireless:
* Wi-Fi (802.11 b/g/n)
*video streaming requires 802.11g or 802.11n network with broadband Internet connection
Audio playback:
* 24 bit digital resolution
* Frequency response: 20Hz to 20,000 Hz
* Audio formats supported: MP3, MP3 VBR, Audible (formats 2, 3, 4), AAC, Lossless, WMA, WAV
* User configurable maximum volume limit
Video playback:
* TV standards NTSC, PAL
* TV output formats: Composite (CVBS), Component (YPrPb)
* Video formats supported: H.264 BP/MP/HP, VC-1 SP/MP/AP, MPEG4 SP/ASP, MPEG2 MP, MPEG1
Price: $99.99

The first thing you'll need to do is install the software, then it will ask you to plug it in via USB. If it needs a firmware update it will do it automatically or else it will just sync with your computer.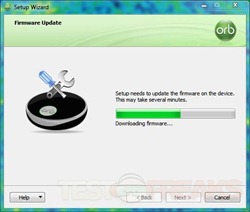 Once it completes the setup you can then go and download the Android app from the marketplace.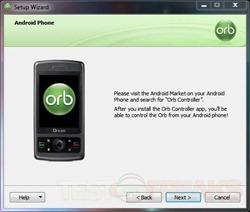 After that you can hook it up to your TV. I connected it to my HDTV via the component connections.
There are two things you can install on your computer, one is the Orb Caster which you must install, the other is called Orb Mini Controller. The Mini Controller is what you can use to control the Orb TV from your computer if you want or you can use the orb Controller from the Android Market which is much cooler to use your phone as a remote.
The Orb Caster software is what let's you stream your media to the Orb TV. In the settings you can configure the Orb TV and the Orb Caster software. The second tab is Users, here you can configure where your media is and you can password protect it as well and enable orb Remote access if you have it. The next tab is Orb Devices, here you'll find the Orb TV if it's connected and then you can configure a few small things like Video Standards and Aspect Ratio. The next two tabs are for TV Tuners and Webcams if you have them installed.
That's it really, there's not much to setting it up at all. Once you tell it where your media is you'll be ready to go.
I did install the Orb Mini Controller so I could show you, it's pretty much the same at the Orb Controller for Android. Here's a few pictures of the Orb Controller:
The Orb Mini Controller will allow you to control your media just like a regular media player. When you first turn it on you're greeted with categories for Audio, Video, Photo and an option for Switch User.  Selecting one of these will open up more selections depending on which choice you made. You can select music by Artists, Albums, Genres, Composers, Songs or Folders. If you go to your video library you'll se what you have there to play of course, I have 300 and Witchblade in my iTunes. Through the Orb TV you can watch your own videos, listen to your music and even view your photos quickly and easily right on the big screen.
If you select Video you can also find Video Services, Sports and TV Shows. The Video services available are Amazon VOD, Dailymotion, Hulu, Netflix and YouTube.
For the most part everything worked fine, except for Netflix which wouldn't work at all. I contacted technical support and they told me:
"Please be advised that this issue was identified in the recent version of Orb and we are trying our best to resolve it at the earliest. We will notify when it is fixed."
I emailed them back and asked for an ETA as to when it might be fixed, and they said:
"Sorry but unfortunately we do not have an ETA to share with you. Hopefully it should be resolved in an upcoming Orb Caster update which is expected to be released at the earliest (may be within two to three weeks)."
So that doesn't help at all obviously, maybe some day soon it will have Netflix.
Besides Netflix I watched some of my movies, some YouTube and even listened to some music and it all worked perfectly fine. The videos I streamed over my network, it's 802.11n, streamed perfectly with no skips or jumps and the picture was very nice. The picture quality depends on the source material of course, so what you put in is what you'll get out.
The Orb TV works well overall I think and it's useful little gadget to quickly and relatively easily stream your media to your TV. I like it quite a bit honestly.
Conclusion:
The Orb TV can be connected to any TV in your home and you've got virtually instant access to all of your media, just plug and play really after you get it configured. Not only does the Orb TV allow access to your own media but to other popular video sites like YouTube, Netflix and Amazon along with other services.
Setup is simple, just tell the Orb Caster software where your media is and what it's allowed to access and you're ready to go. Streaming is fine, but there's no HDMI connection sadly, but the component does offer a decent picture.
Sure there is a small issue with Netflix, but I have other devices that I can access it from until the problem is fixed. Still it would be nice if everything worked the way it should.
Pros:
+Simple setup and ease of use
+Control TV with your phone
+Can control with computer or phone interface
Cons:
-Netflix not working currently
-No HDMI
| | |
| --- | --- |
| Grades: | |
| Overall | |
| Design | |
| Performance | |
To learn more about our review policy please visit this page HERE.