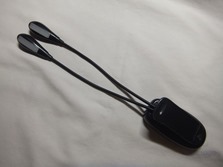 Up for review today I've got a simple yet very useful little product, it's an LED light that's sold for reading but it's got plenty of other uses. The lamp has two LED lights attached to flexible metal arms that can operate independently of each other and the base has a strong clamp so you can attach it most anywhere. The light is battery powered and charges over USB. Read on to learn more…
Specifications and Features
The light is a base and two LED lights attached to it with flexible metal arms that are about six inches in length, that's just the arms. The total length is about 12 inches from the top of the lights to the end of the base.
There are four LEDs in each light and they are controlled by individual switches on the tops of them. The lights have two settings for high and low, just press the button to turn it on low, then press again to switch to high and then press again to power off.
The base is where the battery is and on the back edge is the micro USB port for charging it. On the top of the base is the clamp with rubber non-slip pads on it. The clamp can open to about 1.25 inches so you could clamp it to a table if you wanted or a desk, but it will fit a book or many other things just fine I'm sure. The top of the clamp is on a swivel so you can even attach it to uneven surfaces.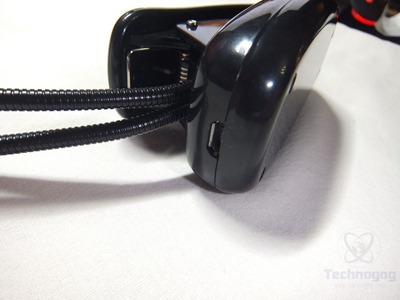 The light can stand on it's own as well as the base is heavy enough to keep it balanced.
Conclusion
The Orchid LED reading light can be used for many things besides reading obviously. I've got plans to use it with my 3D printer actually to provide light on my print bed and prints as they are printing.
It would have been nice if they had included a power adapter for the price.
As is the light is fine I think, it has plenty of uses for sure, I'm sure you can find a use or many for it.
The clamp is well made, I like the rubber pads on the clamp to make sure it stays where you put it.
The battery is rechargeable and the specs say it should last about 10 hours before needing charged again.
Pros:
+Easy to use
+Bright LEDS with 2 settings
+Long battery life
+Standard micro USB connector
+Large clamp
Cons:
-No charger included
| | |
| --- | --- |
| Grading | Scores Out of 10 |
| Overall | |
| Design / Aesthetic | |
| Value / Price | |
| Performance / Usage | |
Disclosure: This product was given to me for review by the company for review purposes only for free or at a discounted price.
To learn more about our review policy please visit this page HERE.