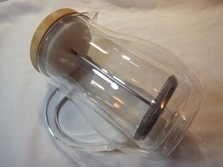 I love my morning coffee, at this point I need it, I get up at 4:30am and I need that little jolt to get me going and I've come to use a French press everyday now instead of my old automatic drip coffee maker as the coffee is just so much better tasting. The one issue with my press is that the coffee does get cold before I finish it all but today for review I've got a double walled glass press which keeps your coffee warm for a long period of time. REad on to learn more…
Specifications and Features
Osaka Cafetiere 6 Cup (27 oz) Double-Walled Borosilicate Glass, Coffee and Tea French Press, with Wood Lid "Zenrin-Ji"
-Double-walled Borosilicate glass will keep your coffee/tea hot for longer than standard presses.
-The glass is also resistant to thermal shock, and will not absorb any odors or residue.
-The beautifully designed hardwood cover will surely stand out, and is made of quality materials that will last you a long time.
-Durable stainless steel mesh filter will ensure no grounds get mixed into your coffee, but will let the essential oils though leaving a fresher better tasting coffee.
-Makes 6 (4.5 oz) cups of coffee. It is also dishwasher safe for easy cleaning.
Get the perfect brew with Osaka.
Brewing coffee is an art form, and it can be pretty challenging. We at Osaka would like to help you up your coffee game. If you follow our instructions and tips, and with some practice, you should be brewing the perfect cup of coffee in no time. Impress yourself and your guests with an awesome tasting coffee every time.
Zenrin-Ji is our double-walled Cafetiere with a beautiful wood lid that will impress.
Carafe:
The Carafe is made of hand-blown Borosilicate glass that will resist thermal shock, so it wont break when it goes from cold to hot or vice-versa. Another great benefit of Borosilicate is that it will not absorb any residue, or odors giving you a fresh tasting coffee every time you use it. It is also double-walled so it will keep your coffee or tea hot for longer.
Filter:
The stainless steel filter will ensure no grounds get mixed into your coffee, but will let the essential oils though leaving a fresher better tasting coffee.
Capacity:
The carafe holds up to 6 (4.5 oz)cups of coffee.
The carafe is also dishwasher safe.
"Osaka"what does it mean?
Osaka, is a large city on the Japanese island of Honshu, and is known for its modern architecture, boisterous nightlife and delicious coffee shops. We were inspired by their coffee brewing techniques, and from that "Osaka Coffee" was born. We carefully design each of our products to produce the best tasting coffee and not sacrificing on style. Every one of our products will look good enough to display, and will perform better than anything else. If you are not yet in love with the process of coffee-making, be prepared to be infatuated.
Price: $33.99 (from Amazon at time of review)
The Review
Let's start with a video unboxing and then move on:
The box for the is very nice looking and a bit of information about the press on it. Inside you'll find the press itself wrapped in styrofoam for protection along with a user guide as it were.
The carafe or press is very nice looking, I very much like the totally clear glass and the wooden top, it's very aesthetically pleasing. The carafe itself is supposedly hand blown so there is a very small imperfection on the bottom but it doesn't affect the carafe at all, it still stands perfectly flat and balanced.
The lid and plunger handle are bamboo wood and just look nice, the bottom of the lid has a plastic covering on it to keep the coffee from staining the wood and soaking in which is fine by me.
At the bottom of the plunger you'll see the screen and spring. The screen is between the bottom metal plate and the top metal plate with a spring on the outside edge. The spring creates tension on the screen and the carafe wall as it comes up on the sides of the spring and the idea is for it to keep the grounds separated from the brewed coffee when you push the plunger down.
The bottom section of the plunger is where the screen and spring are and it's actually four parts. The bottom piece is very small, a threaded fastener basically and I almost lost it down the drain when I took the plunger apart  to clean it. The fastener goes up through the bottom metal plate and then through the screen and then through the spring plate and then the metal rod gets screwed on to it to hold everything together. The system just seems more complicated that it needs to be really as if you lose that
I used this press like I use my current press, boil water, add coffee, add hot water, put top on, let brew for five minutes, push plunger down and then enjoy.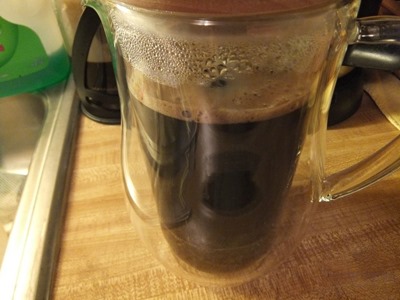 The instructions that come with this press are odd in that it's the same as the way I do it but after brewing they say to discard the coffee grounds and then drink the coffee. I don't know how to get the grounds out of the press with the coffee still in it. According to their instructions you'll need to dump the coffee into another container, remove the grounds, then put the coffee back into the press and drink it. They have pictures and everything showing this. If you've never used a French press you're going to be confused and have some problems with these instructions for sure. They do have an additional step in there that's optional where you boil double the water and add half to the empty carafe to warm it up, then add the coffee and hot water and continue on. I did try it this way as well and I really couldn't notice a difference in the time the coffee stayed warm. I will say that the double walled glass carafe really does keep the coffee warmer than my regular French press which I very much like.
This carafe supposedly can hold 27 ounces but I'm guessing that would be all the way to the top. My current French press can hold 34 ounces and it's the same up to the top. I use an insulated cup for my coffee so it's larger than a cup but the point is that the Osaka carafe gives me about 2 1/2 cups in my cup, but my other French press can give me about 3 1/2 cups of coffee in my cup but it's smaller in size than the Osaka press. Yes I know the Osaka press is double walled which makes it larger but it just feels deceptively larger in my opinion.
When I was first examining this press I noticed the plunger seemed looser than the one on my other press and I figured maybe that was how this one was supposed to be and waited to actually make coffee before making a judgment on it. The coffee I brewed was good tasting just like my other French press really but I noticed coffee grounds in the first cup, just a few floating there and I figured whatever it happens right. When I got to the second cup I saw even more grounds and I ended up with a lot of coffee grounds in my mouth which is not pleasant at all. I thought maybe I did something wrong so I dumped it all out and tried again, same results here too, gave up and made coffee in my other press. The next day I tried again and the same thing happened, grounds in my coffee. I took it all apart, cleaned it out, and made sure the screen wasn't bent or anything like that and I tried again and got the same results sadly. I tried again and this time I watched closely as I slowly pressed the plunger down and I noticed that as I was pushing it the screen would sort of give way or fold in on itself and coffee grounds would just shoot up into the coffee, it seems the screen and/or spring doesn't make a tight enough seal on the glass of the carafe to work as it should. So I did try again and got the same results, at that point I gave up and went back to my other press for my morning coffee, enough of my mornings were spoiled messing around with it.
Conclusion
The Osaka Cafetiere French Press seems well made and it looks very nice, I really do like the looks of it, the wooden lid just gives it a sort of rustic look.
The double walled glass really does work to keep your coffee warmer than a standard French press does which is something I can very much appreciate.
This is one of those products that I wanted to like, I really did but as is I don't like it, I don't like crunchy coffee and I don't think anybody does really. Coffee grounds are not supposed to be in your coffee cup but every time I used this press I had grounds in my coffee. I get up at 4:30am and I need my coffee and when my morning starts off with grounds in my coffee I'm not happy at all.
Pros:
+Good quality and looks very nice
+Does work to keep coffee hot for a longer period
+Simple to use
Cons:
-Plunger/screen not as tight as it could be
-Small capacity but large press
-Got coffee grounds in my coffee
-Screen/plunger is in four parts with fastener that can be easily lost
| | |
| --- | --- |
| Grading | Scores Out of 10 |
| Overall | |
| Design / Aesthetic | |
| Value / Price | |
| Performance / Usage | |
To learn more about our review policy please visit this page HERE.