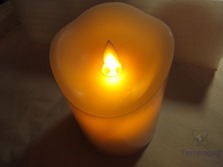 So I'm back with more LED candles for review, yes I like them I think they're rather neat. Today I have another set from our friends at Comenzar and it includes 4, 5 and 6 inches sizes with a remote that controls all of them. Read on to learn more…

Specifications and Features
Comenzar Flameless Candles ,Battery Operated Candles with Remote Timer of 2,4,6,8 Hours ,Flickering Flameless Candles Set of 3?4″ 5″ 6″? for Parties Gifts & Decoration Use.
-Smart control:With One Remote Control, You Could Control All Our Comenzar Candles of Different Sizes, & Our Candle Sets of 3
-10 Key Remote Timer-For easy & Convenient operation.Out Led Candles Lets you choose among 2/4/6/8 hours Timers as well as Static Flickering Light options and Brightness Levels.THE TIMER WILL CYCLE EVERY 24 HOURS
-Energy saving -Our flickering flameless candles Can Simply Switch on the Remote Control by Clicking . Click it off when no longer needed.
-Battery Operated-This flameless candle is operated by 3 x AAA battery with Flickering effect .Product Size:3″(D)*4″(H)/3″(D)*5″(H)/3″(D)*6″(H)
-Safe To Use Around Children and Pets – Led candles without real fire.Never worry about fire-related accidents again!
Price: $32.50 (from Amazon at time of review)
The Review
Let's start with a video unboxing and then move on:

The packaging is attractive and inside you'll find the candles themselves protected by styrofoam, included also is a brief instruction guide and a small remote control.
The remote is small at about 3.5 inches long and 1.25" inches wide. One the remote you'll find the buttons divided into sections for power, timer, mode and dimmer. The remote controls all the candles at once so you can have them altogether or you could have candles in separate rooms but you'll need to take the remote with you to control each one. The timer works on a 24 hours cycle, for example if you set it at 12 for 4 hours then it will stay on for 4 hours and go off but come back on again the next day at 12 for 4 hours again and then shut off and keep repeating the cycle until you change it.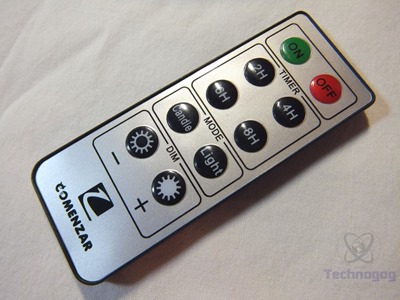 The candles look and feel pretty much like real candles thanks to the wax outer coating on them. The center of each candle is where the flame is which can light up and even move like a real flickering flame would. All in all they've well made and they look great. There are three candles in the set at 4 inches, 5 inches and 6 inches tall and each is about 3 inches across in diameter.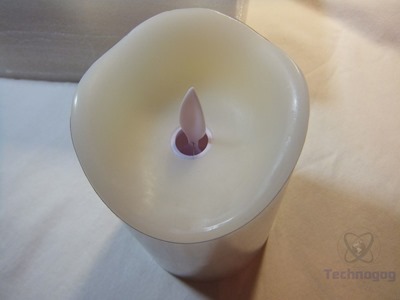 The candles have the battery compartment and power switch on the bottom, you'll need three AAA batteries to power each candle.
When powered on the candles look very real especially if seen from a distance or in the dark, up close of course you can tell it's fake. The candles have two modes for candle and light. In candle mode the LED inside flickers just like a real candle light would but the flame doesn't move. When it's in light mode the flame flickers and moves like a flame but the LED stays solid.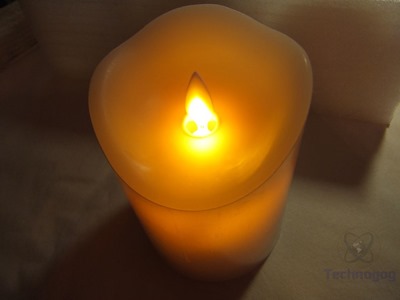 Conclusion

The Comenzar candles are very well made and they do look and feel real thanks to the wax layer on them. When powered on do look like real candles in the dark and from a distance. One remote controls all of the candles which can be handy I think. All in all these are a decent set of LED candles and worth the price.

Pros:
+Wax covering give real look and feel
+One remote controls all candles
+Do look like real candles when lit up
+Numerous modes
Cons:
-None that I could find
| | |
| --- | --- |
| Grading | Scores Out of 10 |
| Overall | |
| Design / Aesthetic | |
| Value / Price | |
| Performance / Usage | |
To learn more about our review policy please visit this page HERE.