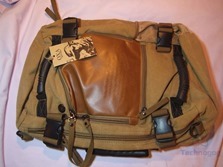 Up for review today I've got a canvas bag from a company called OXA, this bag is a combination type bag where it can be a duffle style bag or a backpack thanks to the hidden shoulder straps or it can be used as a messenger style bag. The bag looks great, and it's well made but sadly it doesn't have many pockets at all, really just one small one and all the rest are large. Read on to learn more…
Specifications and Features
OXA Military Vintage Canvas Shoulders Backpack Travel Bag Laptop Bag Outdoor Bag for Men and Women
-Cotton lining
-Main material: 90% High quality cotton canvas 10% PU Leather.
-Structure: 1 Main pocket, 2 zipped front pockets and 1 small side pocket.
-Overall dimension: Approx. 12″L x 18″H x 7″ W (Medium capacity)
-This bag can be used as a backpack, crossbody messenger bag and tote bag.
-Please allow little color difference due to different camera or light environment.
Features:
– Made of high quality cotton canvas and PU leather, classic and fashionable.
– Thicken breathable strap design, comfortable to carry.
– The big front zipped pocket can hold a 13-14″ Laptop, and the small pocket for wallet, Glasses and other small gears.
– This bag can used as duffle/handbag/suitcase/brief case when traveling.
– Two durable straps are in a hidden compartment to make this bag a backpack/rucksack/satchel.
– A detachable shoulder strap can easily turn the backpack into a messenger bag/crossbody bag/mail bag/shoulder bag.
– Convenient for hiking, traveling, shopping, school life etc.
Package includes:
– 1 * Backpack and 1* shoulder strap
Washing instructions:
– Washing with clean water with ordinary temperatures.
– DO NOT washing with hot water.
– Hang to dry.
– Washing separately to avoid staining.
Price: $45.99 (from Amazon at time of review)
The Review
Let's start with a video tour and then move on:
The bag comes packed in a plastic bag and then inside of cloth bag as well.
The bag is made of canvas with a larger leather section on the front and it's odd. The leather section has writing on it that says: "The heart has in a big bag, and the outside world is wide, respect for nature, the pursuit of freedoms is our pursuit of the true meaning of life, so that our freedom, random, and alive, it is OXA has always been the pursuit"  and I have no idea what that means. The bag looks nice and it seems very well made, it's about 20" by 13" in size and it expands to about 12", the bag is cloth so the dimensions aren't perfect as it does move and get misshapen, but it's close.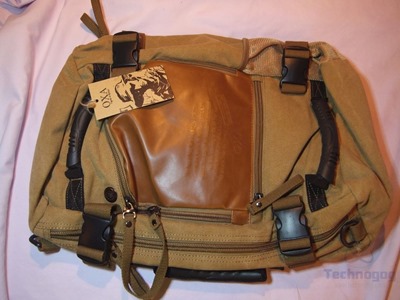 Below the leather section is a small pocket about 5.5 inches by 8 inches in dimensions, which should be big enough for a phone or whatever.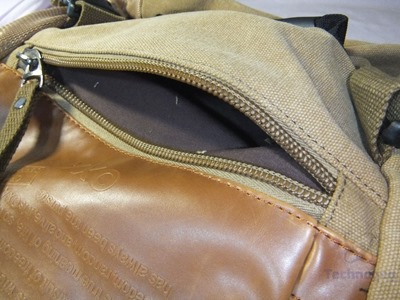 Behind the leather patch is a pocket held closed by a dual zipper. It's actually more like a double pocket with the main section being about 18 inches by 10 inches and then the small one is about 11x 10 inches in dimensions.  The zippers all of the bag are large with nice cloth zipper pulls on them.
The bag has four compressions straps, two on each side, and then there's a mesh and elastic bottle holder on the right side. The straps have large plastic clasps or buckles and they can be adjusted of course.
The bag has three large and thick, heavy duty rubber handles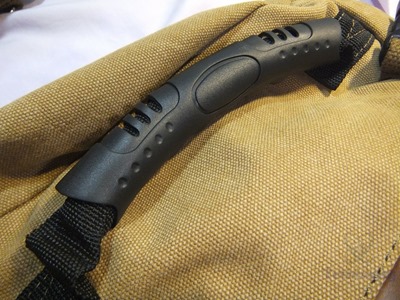 The zipper for the main compartment is on the side or top, it depends on how you look at it.  The main compartment doesn't have any pockets in it, just empty space and it's the size of the bag.
Inside of the main compartment you'll find the shoulder strap which is made of nylon and it has metal clips on the ends.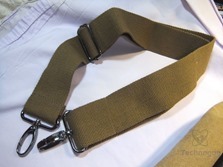 The bag can be a duffle or like a gym bag but it can also be a backpack, the straps are hidden in the back section which unzips. The flap over the straps can roll up and attach with velcro to the top of the bag. The straps are padded lightly and they're adjustable as you'd expect.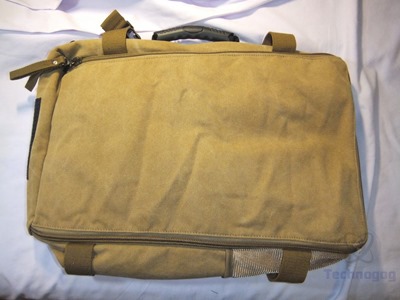 Conclusion
This bag is big yes, it's has lots of room inside of it for lots of stuff, but they're aren't many pockets at all, really just the one small one, the others are large.
I could see me taking this bag camping, but not hiking camping, I would be driving there and having all my clothes in it for example.
This bag would be fine for overnight stays, for vacations, or just as a gym duffle bag.
I'm not sure about the weird writing on it, not sure what that's all about, I'm sure people ill wonder what it says and then ask you what it means and I don't have an answer.
The bag does seems well made, it's sturdy and should be more than able to carry a lot of weight.
Overall it's a decent bag if you're looking for something to carry bulk in, but if you need pockets then this won't work.
Pros:
+Well made
+Numerous uses
+Large
Cons:
-Not many pockets
-Nonsensical writing on front
| | |
| --- | --- |
| Grading | Scores Out of 10 |
| Overall | |
| Design / Aesthetic | |
| Value / Price | |
| Performance / Usage | |

Disclosure: This product was given to us for review by the company for review purposes only, and is not considered by us as payment for the review.
To learn more about our review policy please visit this page HERE.