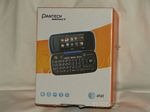 Today for review I've got another phone from Pantech for AT&T called the Impact. This phone is very unique and I've grown fond of it, it's a candy bar style phone but with a twist, it opens sideways to reveal a full QWERTY keyboard. The front of the Impact looks rather plain until you press a button and then the display lights up along with the number buttons which are touch sensitive. Call quality is decent, battery life though isn't that great, and the camera is rather poor for being a 2mp camera. So read on to learn more…

So we'll start off with the video unboxing then continue on:
Nothing much comes with the phone, just a charger and some documentation.
let me start off with personally i like the design of the phone, especially how the front buttons appear and are touch sensitive.
The Impact resembles a candy bar form factor, but it's really a flip phone, sort of, it opens to reveal a full QWERTY keyboard with display inside. There's a navigation pad on the right side, on the top below the screen you'll find five buttons for camera call, power, select and two buttons that correspond to selections on the screen.
Using the keyboard is fine, it works well though the buttons do feel a bit small, or maybe they're just too close together, I'm sure which it is or maybe it's combination of both.
On the back of the phone you'll find a 2mp camera that actually sticks out farther than the rest of the phone. This placement isn't that good really as when you put the phone down it touches first and you can easily damage the camera.
Speaking of the back of the phone, removing the cover reveals the battery and sim card slot.
On the phone you'll find a few ports and buttons but not many.  The right side has a hold button and volume, while the top has USB/headphone port, the bottom is where you'll find the microSD slot.
Specifications:
Experience an Impact new from Pantech.
These days your phone should reflect your character. Impact is thin, less than 1″, with a high-gloss blackout faceplate. Turn it on to find it is really a touchpad outfitted with music player controls plus standard numeric keys and LCD screen. Open up the clamshell design, and a full QWERTY keypad with shortcut keys is at your fingertips. Impact has one-touch access for IM, text, email, and multitasking to easily switch from app to app. A 2.6″ widescreen LCD, flanked by two speakers for enhanced sound experience, is perfect for browsing the Web, taking pictures or video, and playing games ? all to keep you connected to your world. It stands out in the crowd. It's always there for you. Impact is your digital BFF!
CAMERA/VIDEO:
– Integrated 2.0MP CMOS Camera
– Resolution up to 1600 x 1200
– Self-Timer Function (5 or 10 seconds)
– Mpeg4 Video Recording/Playing up to 15f/s (Qvga size)
– Video Share: share a live or recorded§ video during a call†
– Customizable Resolution,1 Brightness1, White Balance1, Color Effects1, Quality1, Self-Timer1
Tech Specs:
– Frequency: GPRS/EDGE Quad-Band, UMTS/HSDPA Dual-Band
– Dimensions: 4.19″ (H) x 2.04″ (W) x 0.7″ (D)
– Weight: 4.49 oz. (with standard battery)
– Display: 2.6″ ? 260K TFT LCD, 400 x 240 Resolution
– Battery Type: Standard Lithium-Ion (Li-Ion)
– Talk Time: Up to 5 Hours*
– Standby Time: Up to 14 Days*
– HAC Hearing Aid Compatible (M3/T3-Rating)
* Certain features may use more power and cause actual standby and talk time to vary.
Price from AT&T:
No Commitment Pricing: $239.99
2-yr Contract Price: $89.99
Online Discount: – $50.00
Total Due Today: $39.99

I mentioned about how the front of the Impact is touch sensitive and lights up, here's a couple shots:
Since we see a battery icon up there, let me touch on that, I didn't quite get the rated battery life, after about five days I needed to charge it again. I made a few calls yes, and browsed the web a bit and did use Bluetooth, but i didn't use it all that much really.
Call quality is very good on AT&T and the Impact, I had no issues there either. Calls were clear and crisp, and I had very good signal strength anywhere I went.
It does have Bluetooth and I had no issues with it.
Sadly the display is not a touch screen, it would be nice if it was though..
Here's the Menu:
Here's the individual sections:
In email you've got several choices there or you can pick one that's not on the list.
The Yellow Pages is included, but personally I see no need for it as I use the internet as the Yellow Pages.. Just Google it..
The internet browser start off with selections for local, web and popular, and they use Yahoo..
The browser is actually fairly fast, and it has a feature where you can move a transparent box around the screen to select what you want to magnify.
The left button below the screen is for shortcuts when you're on the home screen, there are several pre-sets, but you can assign others.
There a few games, but as one might expect, they're trials so they really don't count for much in my opinion..
There's an IM client as well, it's useful I guess if you're into all of that:
There's also videos too that you can access:
The camera is like the other Pantech phones, it does have many options for white balance, effects, self-timer, and picture size along with a few more under the advanced tab..
It is a 2mp camera and I was expecting good quality pictures but sadly didn't get them. You can take pictures in either landscape or portrait mode.
Here's the interface while taking a picture:
And here's some sample pictures in both portrait and landscape modes:
Distance pictures are decent, but close ups and pictures of dark things aren't. The moment you get within two feet of the subject the pictures get out of focus. The camera is just very poor.
For $40 on contract the price isn't too bad for this phone, having a full QWERTY keyboard in a fairly basic phone is very nice. You usually only see them on smartphones, so it's nice to see one here.
Conclusion:
The Pantech Impact is certainly a unique and versatile phone for sure, but I found the battery life quite lacking, I expected a bit more from it. It seems as soon as you start using, even a little bit of data, the battery drains quickly. The battery though is not as bad as you might get with a smartphone, and the Impact does feel like one.
The phone is stylish and I like the form factor, especially the front touch sensitive display with the buttons and how they appear and re-appear with the touch of a button.
The camera is another area where the Impact is lacking, but then again, it's not an expensive phone so poor picture quality is to be expected. The other problem with the camera is the physical placement, where it is now lends to possibly damage to the lens.
Pros:
+Very good call quality
+Full keyboard on basic phone
+Much more than just a basic phone
+Interesting and unique design
+Screen is nice and bright
Cons:
-Battery life not great
-Poor picture quality form camera
-Camera placement is not ideal
-Keyboard seems a bit cramped
| | |
| --- | --- |
| Grades: | |
| Overall | |
| Design | |
| Performance | |
To learn more about our review policy please visit this page HERE.