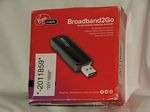 I've taken a look at a few cell phones lately from Verizon and AT&T, today we have a new company joining us which is Virgin Mobile, but it's not a cell phone, though it does use their services.
Today for review I've got the Virgin Mobile Broadband2Go  USB Modem that works on the Virgin Mobile wireless network offering you the ability to stay connected quickly and easily by just plugging in what resembles  USB thumbdrive into you laptop or netbook. It's very simple to use, it's plug and play really, and the Modem doubles as a microSD card reader so you can transport data with you or even read the card from you phone. The speeds I got are decent, but not blazingly fast, then again I'm accustomed to 20/30 FIOS, so pretty much everything seems slow to me, but they're what you'd expect from a wireless cell phone provider in terms of speed. So read on to learn more..

So it comes in a box, and inside that box is another plastic box.
Inside that plastic box you'll find a lanyard and the USB modem itself. it looks just like a UBS thumbdrive, maybe a little bit bigger than average though, but not much.
I should note also that on the back you'll find a microSD slot, so you can pop a card in there and use it for extra storage as well, or actually as a USB drive or microSD card reader basically.

Specifications:
It's 3G Nationwide Wireless Internet Without A Contract
Get 3G web access from your laptop. Just connect a Broadband2Go device, choose a plan, and you're good to go.
GREAT NEW BROADBAND2GO RATES: Most plans now include even more MBs for no extra cost.
-Connect without Wi-Fi or hotspots
-Pay As You Go with no monthly bills
-Use cash (Top-Up), credit, or debit
-Plans start at just $10
Key Features:
-Plug and play with automatic installation
-Built-in usage meter lets you know how many megabytes you have left in your Broadband2Go Plan
-"EVDO REV A" technology for fast transfers
-Doubles as a flash drive with microSDTM reader (microSD card sold separately)
What's Included:
-Broadband2Go USB Device (Ovation MC760 by Novatel Wireless)
-Quick Start Guide
-Preloaded Novatel Wireless Software & User Guide
-Lanyard
Pricing & Service Details
Virgin Mobile USA's customers have access to broadband service on the Nationwide Sprint Network reaching more than 280 million people. Customers also have access to high speed broadband service with average downlink data speeds between 600 and 1400 Kbps. High speed broadband service not available in all areas.
Data usage per activity is based on an average. Bandwidth varies by website, video, email and other Internet applications.
Price: $99.99

The Broadband2Go USB modem is just like a USB thumbdrive, plug it in and you're ready to go really. You will of course have to install the software that's already on it to access the Virgin Mobile network, but that takes only a minute of so.
I used this with my Acer Aspire One D250 netbook running Windows 7 and I had no issues with the installation of it.
The interface is a small box that appears on your screen and gives you signal strength, along with connected time and data used and there's a Connect/Disconnect button as well.
There are also some other options that you can select from the drop down menus.
When you first start up your browser you'll be taken to your account page where you can see how much data you have and information about your plan with options to renew of course.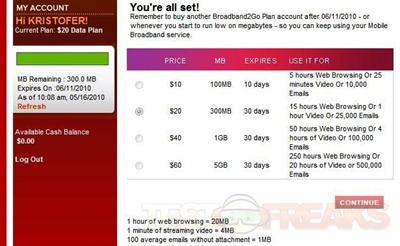 As far as speeds go, to me it seemed slow, but I'm accustomed to 20/30 FIOS, and wireless G as well on there. Obviously 3G speeds are slower, so it's going to feel slower to me.
I went to SpeedTest.net and DSLReports.com with both FireFox and internet Explorer. The reason I use both browsers is because I've come to realize that they both report different speeds for almost the same distances.
Here's FireFox:
..and here's Internet Explorer results:
As you can see for the DSLResports test there's quite a big difference in the browsers. On SpeedTest.net though we have similar upload speeds but the download speed vary quite a bit, almost halved..
Here's the rates for this service:
Now at first I was thinking that it's a bit expensive, but then I started browsing a bit, for over an hour actually and found I didn't even really use that much of the 300mb I was allotted for this review. I honestly didn't think that 300mb was going to really give me the 15 hours of web browsing that it claimed to. I used about 30mb in an hour just browsing around sites like Digg, Engadget, technogog and many other sites and I was surprised when I checked the balance. Granted some of these sites I visited were picture heavy, but most sites are these days.
If you add it up and I averaged close to 30mb per hour, that gives us about 10 hours of browsing which is close to what's stated, sort of. Of course it all depends what kind of browsing you do as to how much data you'll use for any given time period, so I think in the end it might all average out to very close to 15 hours of web browsing as stated. I can't exactly test the whole 25,000 emails statement, but I think it's fair to say that's more than enough email for anyone. As far as video, that 300mb supposedly gives you one hour of video and that isn't worth it at all, personally I wouldn't waste the broadband time on watching videos. 300Mb costs $20, which means essentially you're paying $20 for one hour of videos, that's not even enough for a full movie. It's truly not worthwhile to use this service for watching videos, at least I personally wouldn't use something like this in that way…
It's not bad, but the speeds vary, and the signal strength does too. It was fairly clear and sunny day when I tested the Broadband2Go modem so there shouldn't have been any interference. According to the map for the Pittsburgh Are where I am I should have very good coverage through Virgin Mobile.
Here's both coverage maps, regular and high speed for my area:
According to the maps I should have very good speeds and signal strength, and for the most part speeds and signals were good, but as I said they varied at time.
If you looked closely at the screen shots of the interface you may have noticed one said that I was on EVDO and the other said I was using 1RXTT, which means I went from 3G to 2G or 2.5G essentially somewhere along the way.. What I'm trying to say is that it switched yes, but I didn't even notice the difference at all until I actually looked at it and saw I was not on EVDO.
One small complaint I could have about this product is that the data comes in 30day or 10day allotments and whatever you don't use won't roll-over so you'll lose it. From what I read if you buy more before you use what you have you'll lose them as well, so if you have a few MBs left when you refill you lose them and they're not added to the total, and the cycle begins anew.
Conclusion:
The Virgin Mobile Brandband2Go USB Modem is not a bad choice if you need internet access on the go, it's simple and easy to use and seems to offer decent speeds overall. The speeds are comparable to those you'd get on your phone, but you'll be able to use your laptop or netbook and have a nice big screen. What's nice is that it's not a contract, you're not stuck paying a monthly bill, and you can use it whenever you need to basically after you buy it.
It's great for just browsing the web and email, but I wouldn't use it for watching videos as there it becomes quite costly.
I had no issues with connectivity, in a few seconds I was online and browsing the web and I never lost connection either.
I don't like the fact that there is no roll over and the fact that if you refill before you run out you'll lose your remaining minutes. That just doesn't sit right with me at all. Personally I would want to refill before I ran out, but if you do that you'll lose money essentially…
Pros:
+Easy usage and installation
+Small and portable
+Includes microSD slot for storage / card reader
+Worthwhile for email and web browsing
Cons:
-Speeds and signal can vary
-Cost for video use is expensive
| | |
| --- | --- |
| Grades: | |
| Overall | |
| Design | |
| Performance | |
To learn more about our review policy please visit this page HERE.